Demonica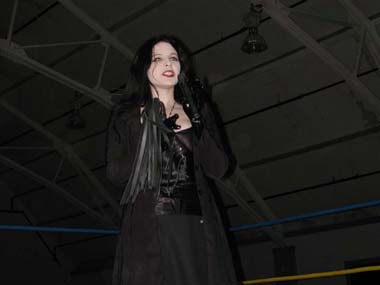 Many different managers and valets have tried to control the awesome power of the Damned. What is it about the mysterious and charismatic whip-wielding woman named Demonica that has harnessed their power?
Demonica first started appearing with the Damned at World Wrestling Alliance events. After a match where the Damned lost to Jeff Starr and Shockwave, Demonica got into a physical confrontation with PWF star Allison Danger. Only a month or so later, Danger began to manage the tag team sensations "The Spanish Announce Team", Jose & Joel Maxmo and The Amazing Red. Looking for a way to counter Danger's presence at ringside, The Damned called on Demonica to return to their side.
In her time with the Damned, Demonica has shown that she is not afraid to get physically involved, letting many a wrestler feel the kiss of her cat-o-nines. She has also been at the receiving end of many vicious moves including the SAT's Spanish Fly and Da Hit Squad throwing her nearly fifteen feet out of the ring onto the Damned. She also is an accomplished wrestler herself, but has kept much of her arsenal a secret, giving fans only a taste at PWF Northeast's "Convergence" event. That night she walked halfway across the top rope, before nailing "Psycho Mike" Osbourne with a spinning DDT.