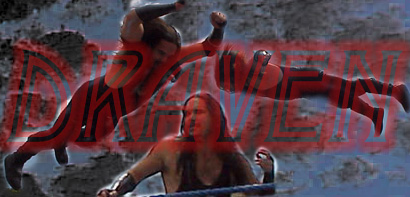 Height: 5'11
Weight: 210 lbs.
Years in wrestling: 8
Titles Held: NEWA Tag Champ (4X), NEWA RI Champ, NEWA Continental Champ, Mayhem Tag Champ (with Johnny Angel), Chaotic World Wrestling Hardcore Champ, UCW Cruiserweight Champ, IWA Tri-state Champ, PLW New England Champ, Nittany Wrestling Federation Tag Champ 2X, PLW Tag Champ, Eastern Wrestlling Alliance Tag Champ 3X, Chaotic Wrestling Tag Champ, ICCW Tag Champ, Intercontinental Wrestling Alliance Tag Team Champ, Northeast Championship Wrestling Tag Champ 2X, Premier Wrestling Federation Tag Champ 2X
Favorite Move:The Frogsplash
Toughest Opponent: The Spanish Announce Team
Most Hated Opponent:Da Hit Squad
Greatest Match: Anyone where my opponents leave knowing they wrestled me.
Saying: Wrestling is a Religion... Bow Before your Gods!
Hobbies: Reading, Writing, Art, Music, Vampire: The Masquerade
Favorite Movie: The Green Mile
Favorite Book: Coldfire Trilogy
Favorite TV Show: The Simpsons
Inspirations in the world of wrestling: Anyone who makes it obvious that they give their all in the ring.

Click the logo to hear Draven's Sonicnet Radio station.. it is "Me Music"