"Mr Muscles"
Frankie Armadillo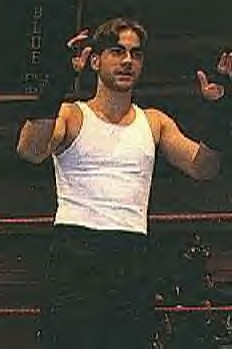 Hometown: Portland, ME
Height: 5' 10"
Weight: 176 lbs
Pro Since: 1999
Federations Worked for: SCCW, YPW, EWA, PLW, HOPWF, IIW, and GMW
Titles Held:
Finishing move: Frankie-sault
Best Match and Why: Triple threat for the EWA's Hardcore Championship, Cause I showed everyone how hardcore I am and that I am a true contender.
Have any catch phrases: If you think I'm kidding, just try me, cause I'd love it
Strenghts: I'm a great high flyer with a solid ground attack.
Weakness: Smaller than some of my opponents.
Frankie was the original member of Dr. Payne's Hard-Core Institute, turning on long-time friend Damian Houston and joining with Payne.
Also known as "Mr. Muscles" for his amazing physique.
Ring music: J. Geils Band's "Centerfold"