Mad Dog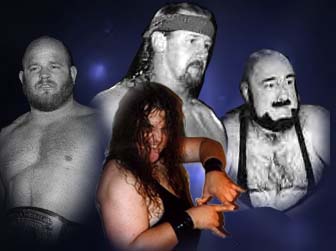 Height: 6'1"
Weight: 290 lbs.
Years in wrestling: 10
Titles Held: NEWA Tag Champ (2X), NEWA RI Champ, YPW Tag Champ (3X), Mayhem Team Champ, Mayhem Hard-core Champ, UCW Tag Champ (2X), IWA Tag Champ, NWF (RI) Tag Champ, Nittany Wrestling Federation Tag Champ 2X, PLW Tag Champ, Eastern Wrestling Alliance Tag Champ 2X, Chaotic Wrestling Tag Champ, ICCW Tag Champ, Intercontinental Wrestling Alliance Tag Team Champ, Northeast Championship Wrestling Tag Champ 2X, Premier Wrestling Tag Champ 2X
Favorite Move: Last-Ride Powerbomb, Frog Splash, Bossman Slam;
Toughest Opponent: The SAT (Jose & Joel Maximo) or The Backseat Boys (Trent Acid and Johnny Kashmere)
Most Hated Opponent: Da Hit Squad
Greatest Match: versus Trent Acid 6/20/01 or with Draven vs. The SAT in December at the PWF International Ironman Match.
Saying: Wrestling is a Religion... Bow to Your Gods!
Hobbies: Reading, Music, Training younger wrestlers
Favorite Movie: ICP's Big Money Hustlers
Favorite Book: Meg or The Trench by Steve Alten
Favorite TV Show: The X-Files, The Simpsons
Inspirations in the world of wrestling: Terry Funk, Buzz Sawyer, Maurice Vachon, Mick Foley, Bruiser Brody, Barry Windham, Steve Corino, Steve Williams, and many many others who gave their lives to the fans and the biz.

Click the logo to hear Mad Dog's Sonicnet Radio station.. it is "Me Music"