Date: April 15, 2002
Holy Overdue Update Batman!!!!
PATRIOTS ARE WORLD CHAMPIONS!!!!!!!
Welcome to another issue of the Damned Newsletter. We will be offering two versions in each mailing from now on. The text only version and the Web Version with graphics and more. The second offering will be well worth the time to load and you will be able to read it through your web browser.
---
In this issue:
Results
Commentary
Upcoming shows
and the Usual bunch of Plugs.
---
March 9th: United Wrestling Federation debuts at the Hanson-Whitman High School in Whitman, MA. This show was probably one of the greatest collections of talent in New England Indy history. The show was to benefit My Boys, inc. and was HIGHLY successful, making upwards of $8,500! Here are the results:

Blade/KL Murphy/Damian Houston w/Mercedes defeated Kid Krazy/Frankie Armadillo/Johnny Curtis w/ Alexander Worthington III

Kevin Landry pinned Andy Jaxx

Chi Chi Cruz beat "Sudden Impact" Dylan Kage

Adam Booker beat "Big League" Brian Black w/ Alexander Worthington III

The Damned defeated The Egomaniacs

Slyk Wagner Brown w/ April Hunter beat Jeff Rocker w/ Allison Danger

Curt Daniels w/ Francine pinned "Gorgeous" Gino Giovanni w/ Talia

Low Ki defeated K-Kwik and Xavier in a Triple Threat Match

Overall the place was packed. This was our first time meeting K-Kwik, who instantly got over with us by getting involved in ribs on Chris Hamrick. It culminated in us crank calling Hamrick's cell phone for shits and giggles. Any time you can work a rib in on Hamrick, it is good stuff. Kwik was mad cool. Also notable was seeing our buddy Allison Danger (even if we aren't over like Red) and Francine. We ended up hanging with Allison for some of the night as she feels it is important to remind me of how I nearly killed The Amazing Red in the PWF Iron Man Tournament... Hashimoto on your ass INDEED! Our match with the Egomaniacs continued on our streak of really good matches with Johnny & Mike. They are without a doubt one of the best tags there is, next to the SAT, probably my favorite team to wrestle these days.

Afterwards, Draven and I hit a local place called Stingers for dinner. We ended up running into Andy Jaxx there and bullshitted a bit before taking off. I guess we missed the real good story though. Bobby Cruise took Kwik out after and a Major rib-fest ensued on PWF NE's Mike Paiva. LOL.
---
March 15th: EWA returns to the Stevens Avenue Armory in Portland, ME with new production and a great new look for the Armory. Here are the results:
-EWA New England Champion El Tornado def. Johnny Curtis
- Chris Venom (w/Dr. Payne) def. Louis Barboza to win EWA Hardcore Title
- Chi Chi Cruz def. Orion and Super Hentai
- Damian Houston def. Stephan Ramsey (w/Alexander Worthington III and Gino Giovanni) in hair vs hair match
- KL Murphy (w/Donny Marine and Bernadette) def. Flash McKenna (w/Dr. Payne)
- Adam Hastey def. Larry Huntley (w/HCI) via DQ. Egomaniacs def.
- The Damned, EOS, and Stephan Ramsey and Gino Giovanni in 4-way tag to win EWA Tag Team Titles
- Brian Black def. Alexander Worthington III (W.Stephan Ramsey and Gino Giovanni) in blindfold match
- Adam Booker (w/Christy Thompson) def. Dr. Heresy and Frankie Armadillo (w/Dr. Payne) in handicap match to win EWA Heavyweight Title.
Here is an excerpt from the EWA Live Reports by Dan Herman, Chris Thompkinsson and Roel Torres on our match:
Match 7: The Egomaniacs (Johnny Idol & Mike Steel) v. The Elements of
Suicide (Onyx & Sinna) v. Ramsey/Giovanni v. The Damned (Mad Dog and Draven)
in a four way for the vacant EWA tag titles
DH: This is quite the impressive collection of tag talent in the ring.
Giovanni rounded it out by having the most styling ring gear I've seen in a
while (slacks, shirt, sequin vest).

Ramsey came out wearing a mask, which was removed by Onyx in short order.
Ramsey kept stealing hats from fans at ringside to hide his head. Onyx
taunted Ramsey by wearing the hood as a bandana briefly. After an opening
eight-way brawl and train-wreck, the match settled into the story. The
Egomaniacs sat smugly on their corner, refusing to tag in. The Damned, the
only faces, kept getting isolated. EOS and Ramsey & Giovanni worked together
on Draven to start. Giovanni showed what he brought to the ring that Dominik
didn't: big bumps. Draven made the hot tag to Mad Dog who tossed out
Giovanni and then took out Ramsey with the Total Damnation (Last Ride by Mad
Dog followed by a Draven frogsplash). EOS then immediately pounced on Mad
Dog, working on his leg. On his way backstage, Giovanni won even more bonus
points by trying to pull himself together to flirt with Gina Marie. Mad Dog
made the hot tag and they eliminated the EOS with Total Damnation with the
positions reversed. Seeing Mad Dog do a frogsplash was a nice surprise. Once
the EOS were eliminated, the fully rested Egomaniacs ran in. This last
segment had several double teams and hope-spots including Draven making a
hot tag. However the Egomaniacs took out Mad Dog's leg and put Draven away
for the belts.

Similar to the three way, the fact that this match told a smart and coherent
story was a nice surprise.

CT: Ramsey was funny, coming out to the ring in a mask. He wound up covering
his baldness with a baseball cap. He even worked spots designed for him to
lose his hat. The giving never stops.

Solid story in this one--EoS and Ramsey/Giovanni work on the Damned's knees
as the Egomaniacs wait in the corner. Another advantage of keeping one team
out of the ring is that the match could keep its flow. Onyx's crowd
interaction and mocking of the Damned was great. Giovanni was a nice
surprise in terms of his work, and he had the world's most stylin' sequined
outfit. After the Damned hit Giovanni with their Total Damnation, Ramsey
came over to him and stole his vest to cover his bald head. Giovanni
regaining consciousness only to flirt with Gina Marie was awesome.

Great psychology for the finish, as the Damned had the Egomaniacs set up for
the Total Damnation (they had pinned Giovanni and Cinna with the move
earlier), but Draven got thrown into Mad Dog's knee, leading to the
Egomaniacs win. Really good, and WAAAAAY better than a 4-way on an Indy card
had any business being.

RT: In my book, this was the match of the night. I could not believe how
clean this match was. They managed to establish strong psychology and tell
the perfect story. They did this thing masterfully all the heel teams would
gang up on the only face team. The faces did all the bumping, taking turns
at it. The Damned would overcome all odds, eliminating one team after
another. The teams were eliminated in order of their credibility. The
Egomaniacs refused to tag in, playing it smart and stacking the odds. The
EoS brought an edge, and acted tougher than everyone else. And Ramsey + Gino
brought helpful heapings of comedy to keep everyone amused. (And if my deep
respect for Ramsey weren't already beyond excessive, he was working double
duty here without even breathing hard. Are you kidding me? Write this down
and memorize it: Ramsey is a machine. No joke.) Everybody played their roles
right on pitch. It was really a textbook lesson on how to construct a 4-way
elimination match. This was top notch work by all the teams.

The train wreck sequence in the middle always makes me hold my breath,
because all the ringdives make me worry that someone is going to get hurt.
And Draven almost pulled it off by slicing through the crowd of workers
waiting to catch him on his chair-assisted tope. Plus, Gina Marie climbs to
the top and throws a front flip in just to add on the degree of difficulty.

This was a great way to establish new tag champs, and a fantastic way to end
the tournament. The Egomaniacs are excellent workers, and it's good to know
that they will be a regular part of the EWA in the future.

Overall it was a very good match, and we planned on working the Egomaniacs the following month in Portland at EWA's return. After the show we hit Applebee's with KL Murphy, Dean Ripley, and a few others (aka my memory is really bad for details right now... damn you chairshots... DAMN YOU!!!)
---
March 30th: PWF Northeast Debuts in Rhode Island at the Almeida VFW Hall in Bristol. PWF President Rob Dimension traveled up for the event, which can be deemed nothing but a huge success. The show was close to standing room only.
Results:
In the "dark match" not taped for the WWN: Kid Mikazi & Mark Malibu defeated Antonio Thomas & Aaron Morisson w/ Evil Nick. Mikazi won the match for his team with a gorgeous Shooting Star Press. This match was a tryout for a few of the guys. Expect to see some of these guys returning in the near future.
Full Results:
Ring Announcer Dean Ripley introduced Rob Dimension to the crowd. HE did not endear himself to the fans at all. He basically talked about PWF Northeast being the less-important underling of PWF's main roster in PA.

In the first match taped for the upcoming WWN Internet-TV show, Johnny Curtis faced NY Indy standout Damian Dragon. Both me traded moves and holds for the better part of fifteen minutes. Dragon managed a German suplex on Curtis, and the bell rang just before the ref counted three. The match was a time limit draw. In a show of sportsmanship after the match, Curtis went to shake the hand of Dragon. Dragon instead sprayed Curtis with his noxious mist and hit him with a Shining Wizard.

PWF Northeast TV Co-host TJ Wyld debuted his new interview segment "The Wyld-side". Wyld called out Triplelicious to talk to him about attacking Chris Venom. Triplelicious showed a great deal of remorse, calling his former partner to the ring and asked for forgiveness. Venom decided that Triplelicious would be his tag partner in the main event.

"Trendsetter" Adam Booker, with Miss Kristy, faced Psycho Mike in a match to determine the number one contender to the PWF Northeast Heavyweight Title. Psycho Mike had Booker up in a Samoan Drop position, when he was distracted by Kristy. He dropped Booker and went to the gorgeous young valet of his opponent. Booker recovered and capitalized the distracted by hitting the Trendsetter combo (Powerbomb followed by a "Styles Clash") for the win and the #1 Contendership.

In the next match, "Toxic" Tommy Knoxville faced Duff. The match went back and forth, but after Knoxville hit his springboard DDT finisher, PWF's The Damned (Draven & Mad Dog) ran in and hit Knoxville with Total Damnation (Last Ride Powerbomb followed by a frogsplash). Mad Dog then got on the mic and taunted Knoxville about who he was trained by and that he would never amount to anything in PWF Northeast. As the Damned left, a local worker named Kyle Storm, who was not booked on the show, entered the ring and basically commandeered the microphone from Dean Ripley. In a completely unplanned shoot, he tore apart his former tag partner and friend Matt West (Mad Dog of the Damned). West, being held back by 3 of the workers on the show eventually came out to the ring enraged. What ensued was an unfortunate incident with West and Storm coming to blow in the ring until a number of the boys on the show who were friends with both broke up the fight. As soon as Storm was escorted from the building, West apologized to the fans that they had to witness such an unprofessional event. At this time, PWF's offices have announced that West is suspended from Northeast events for the next 30 days pending further investigations of the matter.

Trying to pull the show back together, the next match came out. "Big League" Brian Black faced the debuting Striker, of ECWA fame. The two tested each others limits in a great contest, with the crowd solidly behind Striker. In the end, "Big League" hit his Full Nelson Slam finish and thought he had won the match. He did not see Striker get a foot on the bottom rope. While Black argued with the referee, Striker crawled over and managed to schoolboy Brian for the pinfall victory.

In the last match before intermission, the PWF Northeast Tag Team Titles were on the line. The champions, Hardcore Institute members Frankie "Mr. Muscles" Armadillo & Kid Krazy accompanied by Dr. Everette Payne and Marketing Department member Zachary, faced top contenders, Emerald Fusion (Mike Paiva & Blade) with Mercedes. This show stealer of the match opened very hot as Fusion threw great high flying at the champions. After a bit the champs too over dealing serious punishment on the challengers. Paiva, taking the brunt of the beating, managed to make a take to Blade, who cleaned house. Kid Krazy went to hit Paiva with a superkick, and instead hit the referee. Mercedes came in and hit Krazy with a great 'rana. Ref Paul Sherman ran to the ring to take over. Seconds later, Blade hit a picture perfect moonsault on Krazy to win the titles. Emerald Fusion are announced the PWF Northeast Tag Team Champions. PWF President Rob Dimension came to the ring and announced that he had been looking over his records, and ref Sherman had failed to renew his referee's license. Therefor, he was forced to declared the title match null and void. The HCI retain the titles in a huge injustice. The crowd chanted obscenities at Dimension as he walked back to the dressing rooms.

After intermission, Tim Kilgore debuted a much more Goth look and received a great applause from the crowd. His opponent, Killer Kowalski protege "Broadway" Kenn Phoenix, also debuted a new look complete with yellow feather boas and a yellow robe. The crowd gave him the exact opposite reaction as Kilgore. The two traded off, with Kilgore demonstrating his great high flying abilities, with quebradas, forward sentons, and more. Phoenix overpowered Kilgore catching a high cross bodypress, and spiking him into the buckles. Kilgore managed to reverse a powerbomb attempt into a victory roll position, then hit a reverse pedigree on Phoenix for the win. The crowd was very happy to see Kilgore defeat "Broadway".

"Schoolboy" Derik Destiny and his tag team partner The Beast comprise "Man's Best Friend". A fairly new combo, they sometimes bring a little comic relief to the crowds. "Heartbreaker" Ruy Batello, and his manager Sean Gorman, is seeking more respect from the PWF Northeast championship committee. Although the match started with some Comic Elements, Ruy Batello was able to upend Destiny in this single's match with his new "Ru-a-nation" finisher (Chris Daniel's Angel's Wings). After the match, Beast clamped his submission on Sean Gorman, much to the crowd's delight.

PWF Northeast Jr. Heavyweight Champion KL Murphy came out to the ring knowing that he was scheduled to face a member of the Hardcore Institute. Dr. Everette Payne came to the ring and announced Zachary (Zachary is a mid-teen weighing maybe 120 pounds, wearing a pair of dress slacks, and dress shirt/tie who hands out HCI propaganda to the fans). KL Murphy hit his Moonsaulting Reverse DDT "Murphy's Law" on Zachary and went for the pin. Payne laughed and said he would not have sent Zachary out for this match, he sold the title shot to someone very classy. Out comes Premier Wrestling Federation regular, "Gorgeous" Gino Giovanni". Gino verbally tears into Murphy with one of his all-time best promos. Finally the bell rings and the match is on. Giovanni uses his experience to get the better of Murphy. Gino hits his neckbreaker finish, but then taunts the crowd. As he picks up Murphy for a second neckbreaker, KL cut him off and hit Gino Giovanni with the "Murphy's Law" to win the match and retain the title.

In the main event, Criminal Intent (PWF Northeast Heavyweight Champion "Bad Boy" Billy Black and "The Enforcer" Larry Huntley) faced "Revolution" Chris Venom, once again teaming with best friend Triplelicious. Venom showed a lot of fire early, as did Triplelicious really wiping the mat with the champ and his sidekick. Huntley and Black managed to cut down Triplelicious and began to really beat him up badly. A few times Triplelicious came close to making the tag to Venom, who ended up not being there in the corner, but distracted by one of Criminal Intent. Finally. Triplelicious made the tag to Venom, who came in leveling Huntley and the champ with clotheslines, slams and more. "Bad Boy" snuck out of the ring to get his title belt, but was cut off in the ring by Triplelicious. Triplelicious teased hitting Black with the championship title, but instead turned and nailed Venom. Criminal Intent and Triplelicious all joined together beating Venom down, until finally Tim Kilgore, KL Murphy, and Striker ran out and cleared the ring. The crowd applauded as the helped Venom to his feet as the ring announcer told the fans that Venom was winner by Disqualification.
There is a lot of speculation on the internet about what happened between Kyle and I at the show. People are asking if it is a "work" or a "shoot". You can think what you want. Kyle and I have not spoken to each other in the last 3+ years. Seeing him daring to get in the ring at a show I was running was too much to handle and I acted unprofessionally by getting in the ring and confronting him. Another person on the internet claimed this was a work due to my working a few weeks later at a PWF event in Pottstown, PA. The explanation behind that... PWF Producer Steve Corino had already advertised a match that had been set up at the previous show. With Scoot Andrews already being hurt and his match with Christopher Daniels being changed, they did not want to have to change another match. He convinced Mr. Dimension to allow me to work the PWF show and then continue my suspension from PWF and its territories after the event.
Despite the negative incident, overall the show was great. Afterwards we hit Johnny Rockets with Striker, Damian Dragon, Draven, his girlfriend & Hippie Mandi, Tim Kilgore, his girl Rhyanedd, Adrienne, Dean Ripley, KL Murphy with his girl Rose, and myself. There was much singing and fun. Johnny Rockets is SUCH an awesome place and we all were pretty stoked after a great show.
---
April 5th: The EWA made another stop at the Stevens Avenue Armory in Portland, ME. Adrienne and I drove up with the juvenile Kid Krazy. We had a fun ride just listening to stoner rock and talking about all sorts of things. We arrived in really good time to the Armory. I headed in and chilled out in the locker room. Soon I get a yell from Draven that we have a new locker room. I go out and there is a large storage closet that has been converted to a locker room. On one side of the door it says "Egomaniacs Only", and as much as we get called egomaniacs, I knew this didn't mean US. The OTHER door said "The Damned Only". There was a table splitting the room in half, with a nice selection of sandwich items from the EWA Buffet. With only a table separating us from the team we would be facing, it could be quite a turbulent night. Did I add to the fact that I was sick as a dog with a nasty case of Bronchitis? WOOOO HOOOO! Anyhow, on to results:
EWA Hardcore Champion Chris Venom (w/Dr. Payne) beat Damian Houston and Johnny Curtis in a 3-way dance
Stefan Ramsey (w/Alexander Worthington III) pinned El Tornado to win the EWA New England Championship
Adam Hastey defeated Larry Huntley in a Lumberjack match
Alexander Worthington III beat KL Murphy
EWA Heavyweight Champion Adam Booker (w/Miss Kristy) and Brian Black beat Frankie Armadillo and Dr. Heresy
The Damned beat the Egomaniacs to win the EWA Tag Team Titles
Damian Houston won a Battle Royal to become the #1 Contender to the EWA Heavyweight Title
Here is an excerpt about our match from the EWA Live Event Report by Dan Herman and Roell Torres:
Match 6: The Damned (Mad Dog & Draven) v. The Egomaniacs (Johnny Idol & Mike
Steel) (c) for the EWA Tag Championship

DH: Johnny Idol has really good pantomime and showed that here before the
match. He slid into the ring but looked up and saw The Damned and slid back
out. The Egomaniacs have an impressive arsenal of double-teams and ran
through them on Draven, constantly tagging out, keeping a fresh man in the
ring. This was a really good traditional tag match, which lead up to a
ref-bump to end The Damned's comeback. EOS hit the ring and teased taking
out their old foes, The Damned, before taking out Johnny Idol instead. The
Damned won the EWA tag belts for a fourth time.

After the match, Onyx of the EOS, cut a promo talking about their past with
The Damned, putting over the battles they've had all over New England. They
offered their hands to The Damned in respect and cemented their face turn.

The match was good and the turn is an interesting development. EOS were
borderline faces recently as Onyx is very good at getting his character
across to the audience and the character is edgy enough to be popular.

RT: Dan thinks Idol is the Egomaniac with the most charisma, while I think
it's Steele. Idol has superb body language and physical gestures, and Steele
has tremendous facial expressions. Hard to call.

Draven always works his tail off in every single match, bumping flawlessly
for major portions of the match. He never seems to blow up, and the guy
looks like a total pro in there. The Damned are an excellent team, but I
hope that losing the straps doesn't mean the Egomaniacs will be featured in
less prominent roles in the fed. The team is one of my favorite attractions
in the EWA, and I enjoy their work a lot.

The EWA is lucky to have such talented tag teams on their roster. This was a
really good match, and probably should have been the last match on the card.
Yup, you read that correctly, we set an EWA record becoming 4x EWA Tag Team Champions. The match was awesome. I once again have to put over how awesome it is working the Egomaniacs. I know why they have been given the huge push they have by Sheldon Goldberg in NECW. I have known Johnny and Mike for years, and Idol has been a friend for much of my pro career. I am glad we get to work now on a regular basis. After the match, I was busy coughing up really attractive looking gook. Regardless, we hit the local Applebee's with Draven, Mandi, The Murph, Rose, Dean Ripley, Adrienne and myself. Our waiter Tony is the MAN. Frigging awesome. He let us big league the hostess and sat us at a comfortable table rather than the damn Bar table they wanted to seat us at. Im lieu of a proper cough medicine, Tony brought me the strongest Long Island Ice Tea EVVEEEERRRR. Now I never claimed to have a huge alcohol tolerance, but this made me look like a lightweight. Having eaten nothing all day, being sick and all, this drink hit me in like ten minutes. I had dark red cheeks and the buzz was on. It DID help me sleep through the trip home, as coughing as hard as I was would have made it a horror show home.
---
April 7th: Adrienne dropped me off to pick up the rental van, when I realized I forgot to set the clock ahead an hour... DOH! Luckily I was "early" by MY time, making me only a half hour late and I headed to Draven's place to pick him and Mandi up. We shot straight down to New York to pick up Guillotine LeGrande, Demonica, and TSW ref Mark. As Guillotine and I agreed... God Damn we HATE PARSLEY! We hit the awesome Valley Caterers for food, I got some smokin popcorn shrimp. Draven got his usual Stuffed Chicken. Guillotine got my usual Pizza Rolls.
The trip was relatively traffic free, with a lot of parsley bashing by both Guillotine and myself. We arrived at the Academy Hall and headed in to chill out. What a HUGE collection of talent!!! There was a virtual who's who of indy stars. We would be teaming with former ECW official Mike Kehner to face Gino Giovanni and Liberty Allstar Wrestling's Well Hung Warriors. We got ourselves in a comfortable, yet crowded spot in the locker room. In from PWF NE to take in the show were Emerald Fusion, with Mercedes, Psycho Mike, Chris Venom, Tim Kilgore, Dean Ripley and TJ Wyld.
Steve Corino was scheduled to face former WWF Star Gangrel, who some of you may remember worked one of the original Mayhem Wrestling shows. I was the one who had picked him up and we talked a lot that day. Gangrel and I talked for a few minutes catching up and then I got geared up, despite the continuing ingestion of cough drops and Robitussin. Also in for the show was, as Corino said it best, "pound for pound the best wrestler in the world" Chris Daniels (who is soooo f'n cool), Zero One's Samoa Joe (who easily could pass for a giant Chris Venom), Christian York & Joey Matthews, Jack Victory, and many more. Just before showtime, word hits the back the the event was sold out with no chairs remaining in the hall! Why does parsley have to be so bad?
The Results:
Rockin' Rebel and Matt Vandal defeated Stormchaser and Stryker. After the match, Doomsday Danny Rose and Adam Flash stormed the ring and took out Rebel. Vandal escaped safely, as the duo formerly known as The Rachies in the PWF, told everyone that wherever Rebel goes they will be there to kick his rear end.
PWF newcomers White Lotus and Rob Eckos were having a highly competitive match, when out of nowhere former ECW star Tom Marquez hit the ring and laid out both men with devastating suplexes. He claimed that he was used to tougher competition, and asked if there was any in the building. Out of the locker room emerged the one and only Harley Lewis, who looked bigger and badder than ever. He made short work of Marquez, and laid a claim to being the toughest competitor in the company in the process.
The Damned and Mike Kehner (with Demonica) defeated The Well-Hung Warriors and Gino Giovanni in six-man action. Kehner, who of course is a senior PWF official, looked comfortable inside the ring, as he battled tooth and nail every step of the way. Mark Smark was the unfortunate recipient of an elevated powerbomb/frog splash combo by Mad Dog and Draven, leading to Kehner making the pin.
Rapid Fire Maldonado defeated "Platinum" Mike Preston after hitting an enziguri with his loaded right boot. Maldonado, who has been radically proud of his heritage lately, got into a physical altercation with a fan, which lead to a confrontation with President Rob Dimension. Rapid Fire manhandled the chief officer of the company, and had to be restrained by security. Dimension promptly suspended him for 30 days, which no doubt further irritated the already agitated grappler.
Next up was the tag-team title match, as champions Guillotine LeGrande and Jack Victory faced "High Profile" Dylan Night (with Candi) and a mystery partner. It looked like Night was going to go it alone, until "Hi Flyin" Chris Hamrick made his return to the PWF, accompanied by Selest. Hamrick, who had problems with Night in the past, threatened to kill the former Universal champion if he turned on him. The match quickly broke down and was turned into a no- disqualification, falls-count-anywhere contest. From this point on chaos ruled, as the four men battled throughout the building, with Hamrick and Victory becoming bloodied in the process. Towards the end of the contest, Selest low-blowed Night, turning against Hamrick's partner. This infuriated Hamrick, and he went ballistic on everyone involved. During the confusion, Samoa Joe hit the ring and destroyed Night with a half-nelson suplex, dropping "High Profile" directly on his head. LeGrande made the cover, and the champs retained their titles.
In a number one contender's match, The SAT defeated Joey Matthews and Christian York with the Spanish Fly. The SAT will now face LeGrande and Victory on May 5th at Academy Hall. Can they overcome the size and experience disadvantages to once again wear the Universal tag titles?
"Fallen Angel" Christopher Daniels defeated Samoa Joe, successfully defending his ECWA (Pittsburgh) title. The match relied heavily on the strong style that Joe uses in the Zero-One promotion, and he dominated much of the matchup with stiff kicks and submission tactics. Daniels, as resilient as they come, managed to fight back and hit his picture perfect double-jump moonsault for the victory.
In the Double Jeopardy match for the PWF Junior Heavyweight title, The Amazing Red (with Allison Danger) retained his title. In the openers, Red pinned Quiet Storm, while Billy Bax used his belly-to-belly suplex to defeat Chris Devine. Words do not do this match justice, as all four men put life and limb on the line in a quest to take home the gold. Red used his amazing Red Star Press to finally put away Bax, who conceded that he was beaten by the better man seconds before leveling the champion in an act of cowardice. He then called out his "hired help" Big Slam to administer 3 devastating powerbombs on the much smaller Red, who had to be carried out of the ring by his cousins, The Maximos.
In the main event, PWF Universal champion Steve Corino was disqualified for outside interference, as LeGrande and Victory got involved in his match with former WWF superstar Gangrel. Gangrel, who had hit his feared Impaler DDT, was on the verge of winning the gold until LeGrande made his presence felt. Samoa Joe came out to make it 4 on 2, until Christopher Daniels, Chris Hamrick, and Dylan Night made the save.
Our match wasn't exactly as good as we had hoped. We hit a nasty Total Damnation on Mark Smart for Kehner to make the pin and get us the win. I then told Demonica to get in and whip the hell out of our opponents, which she did very happily, LOL.
After the match we headed out to the local Limerick Diner and grabbed an early table, usually not a big deal.. tonight a GREAT THING! Soon virtually the whole locker room files in to the place. A very tired Corino came in with Prince Colby in tow. Colby and his tag partner Gabe spent the time talking about Spiderman... coolness. We talked with Dylan and Candi a bit. Jack Victory was full of accusations at people who got their food first, something on servicing the elderly waitress. At another table, Samoa Joe, Hamrick, Chris Daniels and Chris Devine called over Red. Daniels proceeded to give Red a memorable talk on the birds and the bees using spoons to demonstrate. Sitting between the very tall Samoa Joe and Hamrick, Red looked tiny... Draven and I decided to help him by bringing him a few phone books to sit on, getting a laugh from the boys. As usual, the SAT decided to let us know how much the hate us LOL. Overall it was a very crowded diner. Finally after 20 minutes of asking, the old waitress brings us our check. We pay and head out. Ripley calls to tell us we will be stuck in big traffic. We hit the local WAWA for provisions, and run into Dylan and Candi. Dylan is buying the WAWA versions of Slurpee's ! Truly a beverage of champions. Striker and the SAT follow us back to the highway and get stuck in the same traffic we did. We are constantly pulling up alongside each other and giving exhausted looks back and forth. Did I mention how bad Parsley sucks ass?
After losing an hour and a half in traffic, we get back to drop off Guillotine, Demonica, and Mark. Mandi, the speed demon hippie, takes over the driving and I pass out in the back coughing and hacking up pleasant stuff, but at least it isn't parsley. I wake up and we are nearly home. I went home and slept for a good long time, I think I woke up at like 4 PM or something. Well I was sick and tired... of Parsley!
---
---
Commentary: I don't have a huge commentary today. I will just explain the lack of updates for the past few weeks. I guess you could tell from the last issue that we were getting very burnt out by everything. This included the 2+ hour task of writing the newsletter that I do voluntarily. I also did not have as much time with added work responsibilities. Anyhow we are back and I guess I will comment on our pending retirement. We have basically decided that rather than quit altogether, we are going to just be ultra selective on what bookings we take. This is not a commentary on any promotion we currently work for that we may not work for as regularly anymore, it is just what we feel we need to do. We informed Steve Corino that we would be remaining in PWF and not retiring there. His reaction made our decision completely worthhwhile. We are also in preliminary talks with a very new promotion in New York that has a GREAT buzz. Finally I have been in talks with a promoter in Michigan who seems willing to make our trips very worth our while.
As far as the PWF Northeast production, all I can tell you is that we are about to announce a BUNCH of big stuff following our smaller event on Sunday April 28th (it is a free event at the "Loomis Arena" in Plainfield, CT.)
I will let you know this, we are currently in negotiations with PWF and PWF Mid-south talent to bring them in for our June 15th event. Included will be a PWF Mid-south Heavyweight Title match and an interpromotional PWF Mid-South Jr. Title defense. It should be huge. We'll let you know more at www.pwfnortheast.com.
---
---
Krimzen Report: Mark your caledars! The next Krimzen gig is this Friday April 19th at Fester and Friend's at Club 125 in Bradford, MA. We are one of five bands playing, including Throne and Likewise, and I think it is a "WFNX Night". http://www.krimzen.net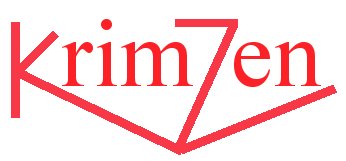 The last gig we had at the Living Room on March 14th was not bad. The crowd pretty much sucked, except for 20 or so really cool local fans and wrestlers who came to check it out. Thank you all. Basically the other bands who played before us (the headliner), packed up and screwed rather than support the rest of the acts. We debuted "Welcome to my Mind" our Iron Maiden-esque song as our finale. To Quote Mandi "We fucking nailed it". On the negative, I will say this, other than the one band before us... the other 2 bands sucked ass. This is something I would not have said had they stayed and checked us out. Petty? maybe, but the lack of support for each other is what makes the Providence Music Scene weaker than it should be. Special thanks to Mike from Freakshow for coming and checking us out. If you like heavy sounds like Reveille, check out Freakshow if they come near you.
Speaking of checking bands out... COME SEE US!!! We also make our return to the Station in West Warwick, RI as part of a GREAT Saturday Night May 25th show. We open the show, followed by Masque (who Draven, Krimzen singer Jeff, and I saw... I bought their disk), and the headlining reunion show of the Dio Tribute "Holy Diver".
---
---
Upcoming Shows:
THIS THURSDAY!!! April 18th: UWF debuts in Fall River, MA at the Ankgor Plaza Function Hall.
*** This show WILL be phenomenal. Some of the top talent of the Northeast will be on hand as well as PWF Universal Champion "The King of Old School" Steve Corino, PWF Universal Jr. Champion The Amazing Red, The Hottest Tag Team in the country The SAT, CZW's The Briscoe Bros, former ECW star Julio Dinero, and more!***
April 28th: PWF Northeast returns to the Loomis Arena in Plainfield, CT with a 2PM start.
May 5th: PWF returns to the Academy Hall in Pottstown, PA.
May 11th: Tentative show in North Reading, MA.
May 24th: EWA at the Stevens Ave Armory in Portland, ME.
June 15th: PWF Northeast presents "Convergence" Location TBA soon!
Dates in May and June Already being set... will be announced soon.

For more information go to the following websites:

www.ewaprowrestling.com
www.PWFProWrestling.com
www.unitedwrestlingfederation.com
www.powerleaguewrestling.com
www.pwfnortheast.com
---
Drink of the issue:

SEXY BANANA
This is a SHOT!!!
2 shots Hot Sex
1 shot 99 Bananas

In a shaker over ice; Strain into shot glasses. Perfect for two!



(We do not condone underage drinking and/or alcohol addiction)

---
Phrase of the issue: "Trouser Mud" & "Bunny-Hop"


Origination of word: Mad Dog & Draven

Meaning: Trouser Mud: "n. The brown stuff that comes out of your butt, Poop, feces."
Bunny-Hop: "v. The act of trying to quickly make it to the bathroom, while attempting to NOT shit your pants!"

Ex: "God, after that long car ride, I bunny-hopped to the bathroom to make some trouser mud."

There is your new word.... use it, learn it, make it known!
---
To check out the most recent Eastern Wrestling Alliance shows with all of
the Damned's matches as well as an NCW tape featuring many of the
athletes currently training with The Damned (like Chris Venom, Tim
Kilgore, Triplelicious, Ruy Batello. KL Murphy and more):

www.puretapes.com

To see The Damned versus Mind & Matter from the UWF Benefit show OR any of
the events from Intercontinental Wrestling Alliance and the Premier Wrestling Federation:

www.smartmarkvideo.com

OR

www.rfvideo.com

For Tapes of the Damned at the Premier Wrestling Federation, or for ANY of
their shows. Go to:

www.pwfprowrestling.com

To buy Steve Corino, Allison Danger, Chris Hamrick, Gino Giovanni, or PWF
shirts... or to get your OWN affordable and professional screen printed
shirts or merchandise made go to:

http://www.oldschoolsportswear.com
---
Finally for the Website of the Week:

Due to the fact that I took such a long time off the newsletter, I also took a hiatus from going to Rocky Horror at the Castle Cinema. I returned this past Saturday and saw a huge change. They now have a stage and lighting set-up... Fantastic. Anyhow. As usual here's the plug for them: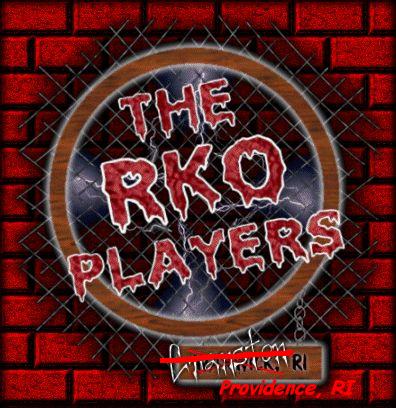 Special props go to the insanity thought up by The People's Frank, Violent Ray, and Matt "Don't call me Ted" Dominguez. It culminated in Ted getting superkicked by Rich and taking a huge plunge off a 10 foot balcony through two tables. Normally I don't condone this stuff by the untrained, by Ted has worked with us to make his stuff safer. He knows how to bump properly and took it like a trooper. This past week Ted made a return and attacked Rich after a month long layoff. That will teach people to mess with friends of the Damned.
---
To buy the Damned Shirts (currently XL)
They are usually $10 at events, $15 by mail (this includes Priority S&H)
e-mail us at damnedsite@aol.com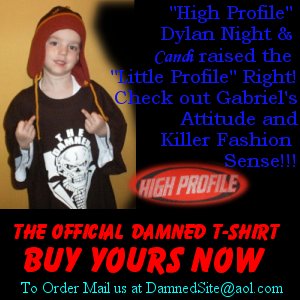 We will give you the address to send a money order to to get your very own.

---


Next issue...
Info coming off of all our events.. and more talk about our pals at Rocky Horror!!!!

See yah folks!

"He put gum in your hair? Why don't you just shit in his cereal? It'll be great he'll be expecting strawberries and find poop instead!" -Tim Kilgore to a young girl who was upset at a little boy.