Date: May 16, 2002
PATRIOTS ARE WORLD CHAMPIONS!!!!!!!
Welcome to another issue of the Damned Newsletter. We will be just the web-based version from now on. This newsletter goes out to Jay-rod... You are a pain in the ass bugging me about when you'll get your newsletter. (LOL)
---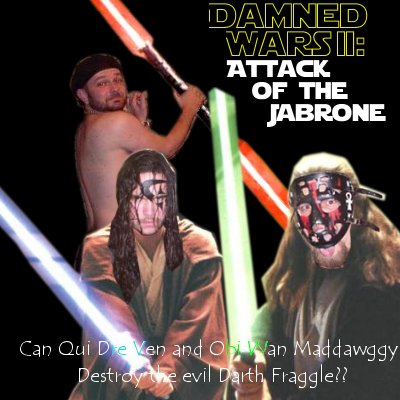 In this issue:
Results
Commentary
Upcoming shows
and the Usual bunch of Plugs.
---
May 2nd: Krimzen played The Station in West Warwick, RI. Most of the people who came to see us had been to our other shows as well. They said we sounded the best on this night, I thought we had played better other nights, but hey... the people went home happy. Kudos to "Premonition" who opened for us. More on how cool Premonition is in my commentary.
---
May 5th: Premier Wrestling Federation at the Academy Hall in Pottstown, PA. Draven and I traveled down to New York, where we picked up Guillotine LeGrande, our fellow road crew member. The ride down to PA was pretty quick and we made good time getting to the Academy hall. We made our rounds greeting people, and realized that we managed to get to the hall BEFORE the PWF Northeast crew who left some 2 hours before us (that's what you get for traveling with a Fraggle). Oh, quick note "Valley Caterers in New York"... SOOOOO Awesome! In from PWF NE: Dean Ripley, K.W, Psycho Mike, Chris Venom, TJ Wyld, new Damned Trainee/future ref Mary Jo and Chi Chi Cruz.

The show was stacked with talent. Here's a run down:

Devine Storm (Chris Devine & Quiet Storm) defeated "Tornado" Tony Kozina & Chris Kole when Quiet Storm hit the devastating Storm Cradle Driver on Kole.

"Platinum" Mike Preston defeated Biggie Biggs.

It was mad cool seeing Biggie Biggs again. He is one of the coolest guys out there, and a great big man with a TON of talent. Preston just gets bigger and more cut up. He ditched his old singlet and now has trunks, which really show off how huge he is now.

Billy Bax defeated Stryker when he blocked a Majistral cradle attempt.

Steve Corino, fresh off a brutal tour of Zero-One in Japan, relinquished the title to PWF President Rob Dimension, due to the fact that he could physically not defend. Guillotine LeGrande and Jack Victory were not happy that he would abandon a title they felt they helped him win, and they proceeded to use the samurai sword Corino carries to bloody his face. No one emerged from the back to help Corino, as he had burned all bridges, or so we thought.

Steve's bicep was a mess from the Zero-One PPV (which he was successful defending the PWF Universal Title on), do to the injury sustained, he opted to "do the right thing" and vacate his title.

In a 3 Way elimination match, "Doomsday" Danny Rose used the Death Valley Driver, pinning Rockin Rebel, who had previously pinned Rose's former Rachie teammate Adam Flash.

Joey Matthews and Christian York defeated The Damned with a doubleteam Burning Hammer.

During the match, Draven suffered a concussion. When I was sent into one of the ring posts, he was easy prey for the impressive finish of Joey & Christian. The match could have been better, but Draven was working with a concussion from about halfway through the match, and I KNOW he was dizzy, that coupled with the ring being soaked with water from a previous match, caused a big of unsteadiness on the ropes. After the match, we took him outside to be attended on by the ring doctor. Thanks to the whole PWF NE crew for their help in the situation.

In a Strong Style match, "High Profile" Dylan Night w/Candi defeated Chris Hero with a series of rolling "Good Night" piledrivers.

Chris Hero, who we prefer to call "Piss Taco", one of his names on the ICP: JCW Volume 2 tape, met a fairly quick defeat to Dylan.

The SAT won the PWF Universal tag team titles by defeating the team of Jack Victory and Guillotine LeGrande. Afterwords they were confronted by York and Matthews, who demanded and were granted a best-of-three falls match with the champions on June 9th.

The SAT continue to be incredibly over in Pottstown (and everywhere for that matter).

The Amazing Red w/Allison Danger defeated Billy Bax's "hired help" Big Slam with a missile dropkick. Bax, enraged at Slam, confronted him and received three chokeslams for his efforts. Meanwhile, out of nowhere, Jay Briscoe hit the ring and assaulted Red in what turned into a PWF Junior Heavyweight title match. This match was action packed, and it appeared that Briscoe would win when he hit the J-Driller, but Red somehow made it to the ropes to break the count. Red hit a Red Star Press off the second turnbuckle, along with a high impact top-rope sunset flip that saw Briscoe land directly on his head. Red took home a hard-fought victory with a legsweep/Red Star Press combo.

Red pinned the 400 Pound Big Slam in less than 3 minutes with his Red Star Press. Jay Briscoe was also well-received by the fans, as he and his brother Mark have just left Combat Zone Wrestling and were one of the more popular tandems there.

Rob Dimension announced that the planned "surprise" would not occur, as there were circumstances beyond his control. He pledged that all seats at the June 9th event would be $10 and that kids under 12 would get in free. He also made the following match between C.W. Anderson and Chris Hamrick a PWF Universal Title match. Anderson took home the victory using his patented spinebuster, but was immediately attacked by Legrande and Victory. Steve Corino hit the ring with a steel chair to save the day, and was joined by Hamrick and Dylan Night. It looked like Anderson, Corino, Hamrick, and Night were all on the same page, but then they started brawling. Corino stated that he and Anderson were reforming the XTreme Hrsemen in the PWF. The main event for the June 9th event, known as "LOCKDOWN IN POTTSTOWN", would be a 3 Way match between Anderson & Corino, Hamrick & Night, and LeGrande & Victory...inside a 15 foot high steel cage! The PWF may never be the same.

For those who know me, I have become a HUGE fan of CW Anderson's work. The guy is one of the best in the business. Hamrick... what can you say about Chris Hamrick other than "man.. FUCK". These guys put on a GREAT main event, with CW becoming the new PWF Universal Heavyweight Champion. The Brawl and promo after got the crowd all excited with the prospect of a cage match at the June 9th event.

After the show, we got stuff together and our car was suddenly under attack by the whole SAT crew and Striker. Due to Draven's concussion, Mike drove with us, and drove the CT leg of the trip home for us. Chris Devine dove THROUGH my open drivers window onto me & Guillotine. We finally managed to get away, and hit a local place to grab a quick bite and a Drive home. I got home after dropping the rental car off and I crashed hard-core!
---
May 11: Atlantic Wrestling Federation at North Reading High School, N. Reading, MA. Draven and Mandi came by and we hopped in the Mad Dog Mobile. We made the hour trek up to North Reading. As we drove by the High School, we noticed that we'd be using Kevin Landry's ring... Bonus!!! We get to the event and say our hellos to Sylvano Sousa, the promoter. We then find out we'd be wrestling The Power Company. Anyhow, we head down to check out the ring and see PWF NE's KL Murphy, Kenn Phoenix, Brian Black and Emerald Fusion member Blade. We joke around a bit and head back to the locker room to get ready... and that is when I realize... My boots are at home!! *DOH!!!* Luckily, Grand Wookie Chris Blackheart, has an extra pair of black boots I can use. I take a 10 1/2-11.. they are a 10. My fault for forgetting my boots. I have to deal.
On the show:
Kid Mikazi & Mark Malibu beat Aaron Morisson and Evil Nick.
Blade defeated KL Murphy and Kenn Phoenix in a Three Way dance.
The Power Company defeated us when I was hit with a Double Flapjack.
Brickhouse Baker defeated Brian Black.
Nick Steel beat "The Punisher" Don Vega
Richard Byrne pinned Blackheart
Alex Payne won a Battle Royal.
After the show, we headed to The Golden Panda for some YUMMY Chinese food. Draven, Mandi, KL, and his g/f Rose all went. I called Kid Krazy on the way and he came to chill while we chowed too. Always awesome to hang with the lil bro.
After eating, I headed home and took a nap before heading to the Castle Cinema for the RKO Players and The Rocky Horror Picture Show.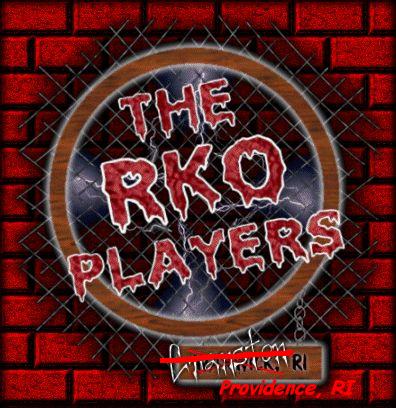 The show was really good, as usual. There was an abundance of Virgins and Toilet Paper. The theater was quite the mess after the show. Our good friend Nicole "The People's Columbia" was doing her last show for a while, as she is staying in NY with her g/f and another good friend of the Damned, Becky. She was, as always, a GREAT Dr. Frank N. Furter. "The People's Frank", Rich, was taking the night off and sat in the crowd, accidentally pelting me in the face with a roll of toilet paper. *DOH!* As always, we had to work our potshots on TJ "Ted" Wyld into our Audience Participation. He was rolling around as Dr. Scott. As usual, a fun time. For only 6 bucks, it is a ton of entertainment. If you have yet to go, or haven't been in years... Get there some Saturday night!
---
---
Commentary: Well it has been a busy few weeks with writing new songs with the rest of Krimzen and preparing for "Convergence" & the July 20th PWF NE Event. I have talked in depth to our assistant producer, Spence Money, about the show. We feel that the card has some surprises as well as one of the best collections of talent. Tickets are available now for only $7. (Available at PWF Northeast's www.pwfnortheast.com).
So last issue I talked about my horrible luck with equipment and stuff. Let's add to the story. At our studio space, two other bands rehearse. One is the former "Amish Alcoholics" and the other is Freakshow (a very popular RI "loud" act). The other person who uses the Studio is "Uncle" Pete, who does the Damned Shirts, The PWF Northeast shirts, The One Night Stand's shirts... and many other screen printing things you almost certainly have seen. In my lack of a bass cabinet, I called Mike of Freakshow. He told me of an old cabinet "belonging to a kid named Will who owed money to the studio. His gear had been there for like 2 years and Freakshow brought it on tour as their Bass Cabinet lost a speaker just before." Mike told me to go ahead and use the cabinet. I got in one practice with it and was good to go. We headed to the Station and set up. Five minutes before Premonition went on the stage, a kid comes up to me and asks "Who are Krimzen?" I said "We are." He then says "You have my bass cabinet and I am taking it NOW." I asked him to hang out and wait until after the show, or to just come get it the next day at the studio. He said no and very callously took it from the stage, leaving me with NOTHING to play on stage. (Well guess what shitlips... one of the parts of your cabinet fell off.. and I trashed it). Will Farley, you piece of shit. You could have easily hung out, I would bought you some beers. Instead, you self absorbed jock rash, you tried to sabotage our show. Well guess what douche bag, the way you handled things made you a BUNCH of enemies, some not in Krimzen, some you think are your friends. Someday it WILL come back at you. I hope I can be there to laugh in your face. Anyhow, Screw you Will Farley, I hope you get butt-raped by a 500-pound well-hung mountain gorilla with a (say it with me Krazy) TWWOOOOO FOOOOTTT CAAACCCCKKK.
---
---
Krimzen Report: Mark your caledars! We return to the Station in West Warwick, RI as part of a GREAT Saturday Night May 25th show. We open the show, followed by Masque (who Draven, Krimzen singer Jeff, and I saw... I bought their disk), and the headlining reunion show of the Dio Tribute "Holy Diver". I believe we will have a full 45 minute set, which should rock totally solid.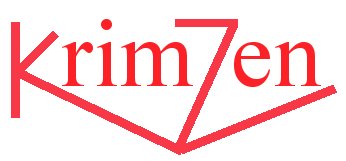 ---
---
Upcoming Shows:
May 19th: PLW at Central Falls High School, Central Falls, RI
May 24th: EWA at the Stevens Ave Armory in Portland, ME.
*Defending the EWA Tag Titles against Garf Garrison and Flash McKenna of the HCI*
May 31st: UWF in New Bedford, MA.
*We face our favorite opponents, Joel and Jose Maximo... The SAT*
June 9th: PWF Universal at the Academy Hall in Pottstown, PA.
June 15th: PWF Northeast presents "Convergence" at the Elks Lodge in Smithfield, RI!
*The Unsanctioned Match against Kyle Storm & Psycho Mike*
July 20th: PWF Northeast presents "Mayhem Revisited: Another Drive By" in Providence, RI.
Dates in June and July already being set... will be announced soon.

For more information go to the following websites:

www.ewaprowrestling.com
www.PWFProWrestling.com
www.unitedwrestlingfederation.com
www.powerleaguewrestling.com
www.pwfnortheast.com
---
Drink of the issue:

MILLIONAIRE'S MARGARITA
3/4 oz. Grand Marnier 100th or 150th Anniversary Blends
2 oz. Ultra-premium 100% Agave Tequila.
1 1/2 oz. Fresh Lime Juice
Combine in a shaker filled with ice; shake vigorously. Strain into a chilled martini glass and garnish with an orange peel.



(We do not condone underage drinking and/or alcohol addiction)

---
Phrase of the issue: "kneebuckler"

Origination of word: Guillotine LeGrande.

Meaning: n. A blowjob.

Ex:
"So how is that girl in bed?"
"I don't know, I haven't gotten in her pants, but I got one hell of a kneebuckler from her!"

There is your new word.... use it, learn it, make it known!
---
To check out the most recent Eastern Wrestling Alliance shows with all of
the Damned's matches as well as an NCW tape featuring many of the
athletes currently training with The Damned (like Chris Venom, Tim
Kilgore, Triplelicious, Ruy Batello. KL Murphy and more):

www.puretapes.com

To see The Damned versus Mind & Matter from the UWF Benefit show OR any of
the events from Intercontinental Wrestling Alliance and the Premier Wrestling Federation:

www.smartmarkvideo.com

OR

www.rfvideo.com

For Tapes of the Damned at the Premier Wrestling Federation, or for ANY of
their shows. Go to:

www.pwfprowrestling.com

To buy Steve Corino, Allison Danger, Chris Hamrick, Gino Giovanni, or PWF
shirts... or to get your OWN affordable and professional screen printed
shirts or merchandise made go to:

http://www.oldschoolsportswear.com
---
Finally for the Website of the Week:

Check out the website of a Legend in Japan, a Stampede Champion, and former WWF Tag Team Champ. While you are there, order a copy of his book, which is a GREAT read!
The Official Website Tom Billington... The Dynamite Kid.
---
To buy the Damned Shirts (currently XL)
They are usually $10 at events, $15 by mail (this includes Priority S&H)
e-mail us at damnedsite@aol.com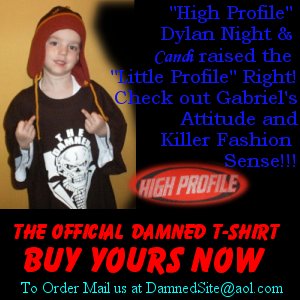 We will give you the address to send a money order to to get your very own.
---


Next issue...
Info coming off of all our events.. and more talk about our pals at Rocky Horror!!!!

See yah folks!

"Now I'll NEVER be a teen model" -Tim Kilgore, on various occasions.