Date: September 25, 2001
Welcome to a new version of the Damned Newsletter. We will be offering two versions in each mailing from now on. The text only version, and a web version with graphics and more. The second offering will be well worth the time to load and you will be able to read it through your web browser. This is basically a new way to spice up the already popular Newsletter format.
---
In this issue:
Results
Commentary
Upcoming shows
and the Usual bunch of Plugs.
---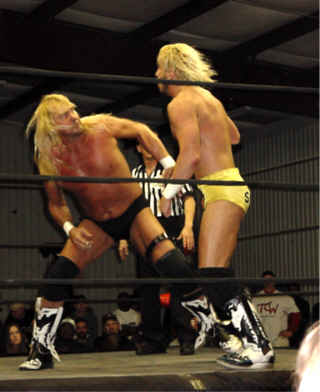 The following issue is dedicated to our good friend Steve Corino. Steve announced his forthcoming retirement this week. I could go into talking about the indy titles he won, or his ECW/NWA Title Reigns, or even his feud with "The American Dream". Instead, I wanted to say a few words about him personally. Steve is one of the people in the business I am glad to say I have gotten to know and become friends with. In the last year, Steve has given Draven and I a number of great opportunities, and continues to help us. His words of encouragement help fuel our fire to succeed. On a completely non-wrestling side, Steve is a great guy. He is a loving father. (His son Colby is one of the greatest little kids I have ever met and done the job for LOL). I honestly am bummed out that Steve is retiring, but I understand why he feels the time has come. I wish him the best of luck in the future, and I hope that he continues to reach all the goals he sets for himself in his personal life, as he did in his wrestling life. Take care bro! The Damned love ya! In retrospect, the mark in me knows that some day, I'll have my grandchild on my knee and will say, "Yes, I once wrestled the World Champion!" Thanks again Steve!
---
Friday September 21: Draven and I pick up the juvenile Krazy and head to the near-by Norwood Civic Center for a night of World Wrestling Alliance wrestling. We arrive and find comfortable spots in a kitchen. There were two choices of places to change. A good sized kitchen or downstairs in a locker room. We opted to share the upstairs area with Tim McNeany, Tre The Smooth Operating Gangsta, and a few others. We soon found out from Bobby Cruise (Ring Announcer Without Equal...unless you heard how good I was at ICCW LOL) that we would be wrestling in rare singles matches due to a smaller roster of workers. Draven was to wrestle Shockwave and I would be facing Jeff Starr. We would be graced by the managerial skills of one "International Karaoke Champion" Kenny Cassanova.
Draven and Shockwave had a great match, I figured I needed to get involved. I walked out after Shockwave was mounting a comeback and pushed him off the top rope. Draven then capitalized with his frog splash for the win. We celebrated in the ring until Jeff Starr made a quick save. Draven and I had won round one and taunted the pretty boys on our way back to the locker room. While awaiting my match, Tre was getting ready to face Tony Mamluke of the former ECW tag champs FBI. I just want to say that this promo by Tre was HILARIOUS!
Next Jeff Starr and I were scheduled to face. First off, let me mention how much more time it took me to get to the ring for this match than any other I have ever been in. After the "Broadway entrance" with Cassanova, we awaited Jeff Starr. The match featured an opening of Jeff Starr's flurrying high-flying offense. He injured his leg on a attempted dive to the outside of the ring. I worked his leg over for the rest of the match. One crucial mistake was me deciding to try and hit a top rope splash on the leg of Starr. He managed to move his leg and fought back again. As he hit a superkick, Starr climbed the ropes for his patented swanton bomb. Draven swept his legs and he crotched himself. As the ref began to berate Draven, Shockwave came out and hit me with a wheelbarrow into a bulldog. Starr recovered and won with the Swanton. Honestly, the match was pretty good, if I do say so myself.
Here are the results of the show:
Curt Daniels defeated Kid Krazy and Rayza in an Elimination Match
Draven of The Damned beat Shockwave
Big Slam Vader beat "Hippie Freak" Nicholas Richards
"FBI's" Tony Mamaluke defeated Tre The Smooth Operatin Gangsta
Jeff Starr beat Mad Dog of The Damned
The Patriot beat "The Graduate" Timothy McNeaney
After the show, they allowed two local kids to get in there for selling a bunch of tickets or something. After they finished their match (untrained kids blowing just about every spot they had planned), the heels ran out and put the boots to both. How dare they end our show like that?!?! Suddenly The Patriot ran out again and made the save sending us all packing with multiple USA Stunners.
Draven, Krazy, Bobby Cruise, and myself hit the local Friendly's. Waitress Stacey gave us lots of free stuff and our bill was like 15 dollars less than it should have been. That did rule pretty solid! The trip home was quick and I was able to get home and get some decent sleep for the next day of wrestling.
---
Saturday September 22: Once again the plans are to wrestle for the WWA, this time in Amesbury, MA.I was having my new computer installed as I awaited Draven and ultra-special guest star to the Damned Road trips... the lovely Allison Danger. They finally get here and we watch the tape of the last PWF show where Draven and I lost to the SAT, with referee Donnie B. interfering on the SAT's behalf. If you recall, I was most displeased with my work that night, despite that feeling the match looked very good on tape. That was a little enlightening. Anyhow, back to the day. We drop off Ms. Danger's car and take the Mad Dog mobile (complete with nifty American Flag Magnet on the back). The trip to Amesbury would get delayed as we had to make a side trip to meet up with Kid Krazy, Dr. Reginald Heresy, and Frankie Armadillo. Although we hit traffic, we still make pretty good time to the hall in Amesbury. Once again, Draven is scheduled to face Shockwave earlier in the night. This time, we had a surprise. A new manager... by the name of Demonica would be with us.
Draven beat Shockwave (who had Allison Danger in his corner) and then Jeff Starr ran out and started to cut a promo. By the time they were done, we couldn't move without the crowd taunting us with chants of "DAMN!" They also challenged us to a tag match later in the night... we accepted!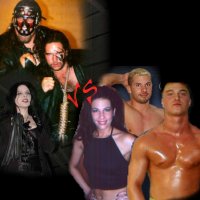 The tag match was probably one of the best we have had in a while. Everything was tight and the crowd was way into the match. The baby tandem of Shockwave, Starr and Allison got great cheers, while we were constantly taunted. Our spots did get great cheers as well, however. The match broke down as Starr and Shockwave went up for ten punches to our heads, but we cut them off dumping them to the outside. Allison ran in and hit Draven with a flying head scissors. She then ducked my clothesline and hit me with a head scissors. Demonica came in and nailed Danger with her Cat and Nine Tails. I knew we hired her to manage us for a reason. She beat up Allison, until somehow Allison hit a DDT. I had seen enough and came in attacking Allison and setting her up for a piledriver. Shockwave ran in and attempted a sunset flip on me, to no avail... but then Allison hits me SQUARR in the beans! As I stand holding my meat and taters, Jeff Starr hits me with a superkick and Shockwave pinned me. I rolled out of the ring and then had to face the ire of Demonica, who obviously was not pleased that we lost.
Also on the show:
Kid Krazy beat Frankie Armadillo and Rayza in an Elimination Match
Big Slam Vader defeated Dr. Heresy (with Pat Piper)
Tony Mamaluke beat Tre The Smooth Operatin Gangsta
The Patriot beat "The Graduate" Timothy McNeaney
Once again, Tre's promo was classic... and somewhere, somehow... one of the Chicken Hedz (a faithful group of young female WWA fans) supplied Tre with his favorite kind of peanut butter... SMOOTH! Tre ended up WEARING the butter.
After the show, we headed on out to a Chinese Restaurant for some eats. The food wasn't too bad... but the people singing karaoke WERE. Bobby Cruise's jokes... BETTER THAN ADVERTISED! That and we found out that Allison Danger may be one of the biggest shooters on the circuit!
We drove home and that was about it for the night.
---
The next day, we had band practice. Krimzen Reign is really coming along now. We've added a good friend of ours (Jeff) as the new lead vocalist. Songs are taking on a whole new shape. Come January, I might be hawking dates for when you all need to come out and see us play in person!
After that we headed up to the Loomis Arena to work on some new stuff with Allison and met up with Timmy Kilgore and KL Murphy. Both made it entertaining as usual. I think Allison left with a handful of new moves that will surprise the HELL out of the Indy fans.
WWF PPV: Unforgiven. JC Marxxx, Ruy Batello, Chris Venom, and Draven came to see it at my place. We all pretty much agreed that overall the show was a YAWNER!
---
Due to my great powers of procrastination, this becomes an Ultra-long issue of the Damned Newsletter!
Friday, September 28th: Draven took the night off and I resumed the guise of an OLD gimmick. Hiroshi Asai, complete with a new hood and JC Marxxx and Chris Venom in tow, would return to the wrestling ring after a seven year hiatus. The ride up was pretty interesting, driving with Venom and Tim Kilgore. We hit Pawtucket to pick up Triplelicious and Mrs. Triplelicious (ICCW's Ms. Green). The ride up to Oxford, MA isn't a long one, and we seemed to get there fairly quickly. Once we hit Oxford, we met up with JC Marxxx, Ruy Batello, and the juvenile Krazy. We dealt with the erratic driving of Ruy continually trying to rear end us. We finally arrived at Bay Path High School. We arrive and settle in to see the Phoenix Brothers, who were running the show. I got into the Hiroshi Asai gear and all the wrestlers came out for the National Anthem. Question: Is a heel, who is supposedly from Osaka, Japan supposed to act patriotically to the National Anthem??? Then the Principal of the school leads us in the singing of God Bless America... one problem... how many of us actually know all the words of God Bless America... AND it was a cappella... no music. Basically a really nice idea gone horribly wrong. By the end, it was obvious that the principal wasn't a singer, or anyone who knew the anthem.
Start the show. In the opener, Chris Venom (along with manager JC Marxxx and stooge Hiroshi Asai) fought Ruy Batello. The match was very good, with Ruy doing well as the babyface, despite secret Asian tactics of silly string down Ruy's gear... and the dangerous mist of doom. Venom won with the BTf'nR.
Beast beat "Bad Boy" Billy Black
In the first match back in seven years, Hiroshi Asai was defeated by Triplelicious. The match was very good. I watched it a few times now on tape. The match was simple but pretty good. The heat was pretty good, dead at times, but the fans popped for the finish. I had JC and Venom with me at ringside. Ref Pepe Sanchez got hit accidentally with the ceremonial salt. Over all the match was a good time, and it was fun becoming Hiroshi once again... note to self... why does Hiroshi sound way more like Nikita Koloff when he talks rather than any Asian???
Beast won a battle royal.
Rush beat Predator
Tim Kilgore & KL Murphy (Team Crash & Burn) defeated Jimmy "Jacked" Cash and Shawn Tayzer. Overall the match was pretty good. There was one spot where Kilgore almost had his neck broken by an over-eager Tayzer. Luckily for Tim, his ring presence and body control allowed him to turn and protect himself. He did, however, suffer a minor hairline fracture of his orbital bone. No time missed out of ring though, just a little abrasion and soreness. Our boys won with simultaneous pin falls following Murphy's "Goodnight Kiss" and Tim Kilgore's 450 splash.
Dr. Heresy beat Kid Krazy.
Kenn Phoenix beat Mike Phoenix in the main event.
Poor Jim Aches, during commentary he was besieged by my bad imitations of Dusty Rhodes, Hulk Hogan and a few shaving cream attacks.
After the show, Tim, Venom and I big-leagued the offer to go to Dr. Heresy's for a cook out and instead hit Johnny Rockets. By the way, Johnny Rocket's absolutely rules... it is definitely one of the Mad Dog's favorite restaurants!
---
September 29th: NCW at the Natick, MA American Legion Hall. Draven and I drive up, accompanied by Herr Fraggle (aka Dean Ripley). First problem... the ring is not there when we arrive. So we find things to do to waste time. We go to a pizza place for a lunch. As Draven and Ripley order, I am told that ordering one piece of pizza will be much quicker than two. (Citing that there was a slice left on one pizza, but for a second piece I'd have to wait). So I opt to have just one. Of course fifteen minutes later as I am STILL waiting for my pizza, I wonder why I was so convinced by the hard-to-understand foreign pizza vendor. The best part of it is she DID charge me for one piece, made me wait... but I got 2 slices.. SWEET! After we ate, we headed back to the Hall.. to see the ring was not there YET!!! In fact, the ring doesn't end up arriving until close to 8PM. The ring truck from U-HAUL had broken down and needed to be towed to the hall. UGH. The ring was "thrown" together and although the bump was nice, the ropes sucked and it looked crappy (no skirts, padding hanging out). The show, however, pulled it together and kept the loyal Natick fans happy, despite the show starting almost 2 hours late.
Draven and I were originally scheduled to work for Nittany Valley that night, but due to a near-cancellation due to lack of insurance, Mike of NVW advised we should find alternate bookings, just in case. We did just that. So we were supposed to do a promo and stuff, but instead we challenged the members of the Dream partner tag match to let it be a 3 way with the titles on the line. Our promo that night was also pretty good stuff. (Mind you Chris Hamrick was there selling gimmicks).
We sold a shytload of tee-shirts and then had the match. Damian Houston teamed with Johnny Curtis and Chris Venom chose Kenny Majors II (who?? LOL). Anyhow, the match started with some good opening sequences and then there were dives! Houston/Curtis hit simultaneous stereo somersault sentons. Draven then hit his cannonball dive off a chair. I set for my plancha suicida, when Curtis tripped me up. I retorted with a short to his gut as he attempted a second dive and put him up for the "Last Ride". Instead of slamming him to the canvas, I ran and threw him over the top rope on top of the wrestlers outside the ring. We then brawled near the bar, where Curtis recovered enough to hit an awesome running Shooting Star press on all of us off of the bar. The match went back to the ring. Venom later hit Houston with the Suplex-stunner (Chris Hamrick's finisher) taunting him while he did. Hamrick hit the ring and hit Venom with the same move and pulled Houston on top of him for the 3 count. This got a big ECW chant from the crowd. The match went on with the remaining two teams going back and forth. Somehow, Curtis and Houston managed to reverse an attempt at an LOD-type finish by us into a pinfall win. The crowd stood as we handed the belts in respect to Houston and Curtis.
Also on the show:
"Hollywood" Johnny Nash defeated SCW's Rukkus for the NCW TV Title- Gina Marie turned on Nash and sided w/ the SCW
Beast defeated Psycho Mike w/the Talented Dean Ripley w/ a spear- after the match Psycho Mike fired Ripley and gave him a sit out death valley driver for his troubles and for costing him the match-
Legion Cage & Rain w/Sean Gorman defeated the Pheonix Bros. when Sean Gormam reveiled that Kenn Pheonix was the newest member of Team Gorman-
Tim Kilgore defeated Tommy Knoxville- Knoxville in his NCW debut was attacked earlier in the night when he had interrupted Kilgore's promo, Kilgore attacked Knoxville's ribs and went to town later on in the match, Kilgore took out Knoxville w/ a new finisher that can only be described as an inverted pedigree-
K.L.Murphy retained the NCW New England Title against "Big League" Brian Black whom was subbing for Dr.Heresy...Murphy eeked by the big man Brian Black but not before Natick and NCW would be "Big Leagued" and Murphy would be manhandled by Black but Murphy hit the "Last Kiss Goodnight" on Black for the victory-
The Elements of Suicide(Cinna & Onyx) defeated Zero Tolerance(Ruy Batello & MTE) when the Stretcher Crew(Postal Pete & Mighty Moco)came through the crowd & jumped ship back to SCW and helped Luke Gemma's SCW crew to victory over Batello & MTE...after the match a slew of NCW wrestlers including Chris Venom,the Damned and many others came to the rescue of Batello & MTE-
Triplelicious retains the NCW Heavyweight Title against Frankie Armadillo- Armadillo came extremely close to becoming the new NCW Heavyweight Champion but Trip pulled it out but not before a bitter Tim Kilgore viciously attacked him after the match and Kilgore hit an incredible move something reminisant of a diamond cutter from the top rope...Triplelicious had to be carried off as it was apparent Kilgore was going for his neck-
Overall a good show. Dean Ripley continued his initiation to the business. He thought he would try to get over and nizut Shizot me, but found himself bowing to the master and watching his gear bag sit in a urinal. Once again, our Fraggley little friend knew that he would never be able to be on par with The Damned!
---
Krimzen Reign is now simply "Krimzen". We thought the shorter name sounded better. The practice went fantastic on Saturday. We will probably be playing out sometime in January or February. Our originals are really good stuff, if I do say so myself.
---
Wednesday October 3: Draven and I ventured to Long Island to meet up with the Fraggle. We then drove to pick up the newest member of the Damned Road Trip crew.... GUILLOTINE LEGRANDE!!! We hit a KFC, and taught LeGrande how we buy for road trips LOL. The Guillotine shared some great stories on the way about his time driving with the ECW crew. He seemed amused at our ways of keeping the Fraggle in line (denial of head-rest privileges and then the use of the head-rest as a weapon). We all arrived at the Sunnybrook Ballroom in Pottstown, PA for the Premier Wrestling Federation show.
We were scheduled against our biggest challenge on the indies The Backseat Boys (with "Big 80's" Donnie B.) and Gino Giovanni/JD Powers. The first fall would win the match. The Backseats would look to have things going their way, hitting Draven with the triple Superkick. The ref was distracted in their celebration, and I hit Johnny Kashmere with my chain. He rolled out of the ring, and JD Powers attempted to hit Draven with a bulldog. I caught him on mid-move. From there, it was an easy "Total Damnation" on Powers, and the 3 count and number 1 contendership to the PWF Universal Tag Titles was ours.
Also on the show:
Slambo the Clown defeated Norm the Barfly.
Bax retained the PWF Unified Junior Heavyweight title against "The Amazing" Red thanks in part to interference by "The Smooth Criminals".
Guillotine LeGrande, accompanied by The Fun Athletic Guy, retained the PWF Television Title by disqualification against "Hi Flying" Chris Hamrick, with Selest, when referee John Finnegan caught Hamrick using a chair to execute the Van Terminator.
The Rachies, "Doomsday" Danny Rose and Adam Flash, defeated The SAT to become the new PWF Unified Tag Team champions. Prior to the match The SAT were jumped by "The Smooth Criminals" and laid out in the aisle.
"The Smooth Criminals", "High Profile" Dylan Night, Ty Street, Candi, and Allison Danger defeated "King of Old School" Steve Corino, Nova, and Psycho Bitch. As Bax came out to celebrate with his "Smooth Criminal" partners, The Maximos and Red charged the ring and hit the Junior Heavyweight champion with their patented Spanish Fly. As "The Smooth Criminal" regrouped on the outside, Red spring-boarded off of the top rope to the outside with a twisting 360º to wipe out the entire "Criminal" group. Another PWF event had ended, but a new rivalry had just begun.
Overall, the show was well-received by the PWF fans. We then grabbed some food at the local Limerick diner and then headed for home. On the way home, we were joined by the new Fraggle-girlfriend Stefi... who is MAD COOL! Guillotine showed his prowess for the wrestling name game, defeating all challengers. I won the second game, when LeGrande refused to defend his title... typical heel. Draven also discovered that Stefi is quite the brawler, as they began what will become and epic rivalry where even bystanders are injured (I caught a knee to the nose... SKITTLES!).
We dropped Guillotine home and agreed that he would definitely have to be a part of ALL Damned PWF road trips from now on... More of Guillotine LeGrande to come... maybe to ICCW? We'll see!!!
---
Commentary:
Oh yeah! This is a great commentary about to come your way. You see it is affectionately subtitled "F.O.P.W.I"... check out the neato graphic.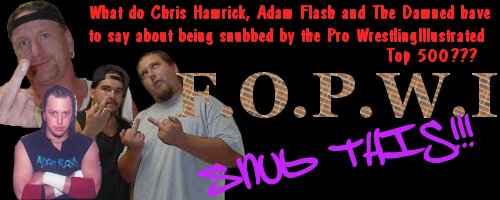 As you can see, once again we were not included in the Pro Wrestling Illustrated Top 500. You know what? This doesn't even really bother us. What does is the inclusion of guys who are not even workers, but managers, the horrendous rankings of some of the most talented people out there and the overrated shots of others. For example... Where was former ECW star Chris Hamrick???? He was on PPV earlier this year. No Rating. Perennial heel and Damned fave Joe Rules... No Rating. Adam Flash... not only is he a big fan of Chris Hamrick, he's a great worker... and also NOT RATED. I'm sure I'll be made aware soon of more talented workers not on the list. The former commissioner of NWA New England Vinnie Capelli USED to be a wrestler in the EWA. He has since acted as a manager and doesn't wrestle much at all. He was rated in the 300's. In fact, a few of the guys from the NWA NE were rated higher than all three members of the SAT (Jose & Joel Maximo and Red). I happen to like some of the NWA NE guys, but I challenge you to show me one match of theirs that is better than an SAT match. How about Jeff Starr? He was in the VERY high 400's (like 494 or something). This is a guy who has done TV for the WWF. He is young and extremely talented. Rated almost dead last.
My one positive is that the horrendously undertrained guys who made it in the past are not on there any more. Speaking of which... why is it that for two years BEFORE I got trained I was in the top 500... now that I have been trained and am constantly working hard on improving, not a second glance. Anyhow, my biggest gripe is not the actual aspect of not being included in the magazine. Seeing my name in a magazine does not get me all excited. I don't mark out to myself in the mags. Well.. maybe if my PICTURE is in there.. .kidding people! The Top 500 is aimed at the fans. Fans perceive this to be a credible evaluation, whether it is or not. By being omitted, regardless of however many shows a month we have been doing and the countless miles spent on the roads, we are just not that good in the minds of their readers. We have stepped in the ring with MANY of the top 500. Steve Corino, Sandman, The Backseat Boys, Dylan Night and Kevin Knight (both of whom deserved to be way higher),the SAT (who also should have been at LEAST 150 spots higher). Although many of these matches were above average and got great heat from the fans in attendance, PWI overlooked us.
Despite my rantings, I will end this on a positive note. To all our friends and family in the biz who DID get the press... Congrats peops! Oh and one last potshot... I bet Bill Apter would have put us over in the Top 500.
---
Upcoming Shows:
October 13: ICCW at the Loomis Arena, Plainfield, CT
October 16: Tune into Wrestling Spotlite on Massachusetts cable....
October 17: PWF returns to the Sunnybrook Ballroom, Pottstown, PA.
October 21: NCW at the Natick, MA American Legion Hall... Rematch with Curtis/Houston for the Tag Titles.
October 26 & 27: WWA Locations TBA.
More to be added soon.

For more information go to the following websites:

www.easternwrestlingalliance.itgo.com
www.PWFProWrestling.com
www.theNCWOnline.com
www.powerleaguewrestling.com
www.wwanewengland.com
iccw2000.tripod.com
---
Drink of the issue:

Jack & Coke

Served Ice Cold on ice. Pour the Coke and add a nice shot or double of Jack Daniels. Prepare to go to LaLa Land.

(We do not condone underage drinking and/or alcohol addiction)

---
Phrase of the issue:

"Grunyon"

Orgination of word: Draven, when walking by and greeting an exceptionally bad ring announcer.

Meaning: Anyone who is just not worth your while...

Ex: Get outta my way, ya grunyon!

There is your new word.... use it, learn it, make it known!

---
To check out the most recent Eastern Wrestling Alliance shows with all of
the Damned's matches as well as a new NCW tape featuring many of the
athletes currently training with The Damned (like Chris Venom, Tim
Kilgore, Tripleicious and more):

www.puretapes.com

To see The Damned versus Mind & Matter from the UWF Benefit show OR any of
the events from Intercontinental Wrestling Alliance and the Pennsylvania
Wrestling Federation:

www.smartmarkvideo.com

OR

www.rfvideo.com

For Tapes of the Damned at the Premier Wrestling Federation, or for ANY of
their shows. Go to:

www.pwfprowrestling.com

To buy Steve Corino, Allison Danger, Chris Hamrick, Gino Giovanni, or PWF
shirts... or to get your OWN affordable and professional screen printed
shirts or merchandise made go to:

http://www.geocities.com/oldschoolsportswear/
---
Finally for the Website of the Week:

http://www.guillotinelegrande.com

Brutal in the ring and on the stick. "Guillotine LeGrande is now in the PWF and going nowhere!" Check out the site of one of the few men holding a dishonorable discharge from the Foreign Legion.

---
To buy the Damned Shirts (currently XL aka One Size fits Most)
They are usually $10 at events, $14 by mail (this includes Priority S&H)
e-mail us at damnedsite@aol.com
We will give you the address to send a money order to to get your very own.

---


Next issue...
More info on the progress of our band and more on what is going down in the world of the Damned!

See yah folks!

"Now you sell the Ribs" - Tim Kilgore explaining to a hungry Ruy Batello, who later had 60 french fries in his mouth at one time... this is no exaggeration... here's proof!!