Date: October 15, 2001
Welcome to another issue of the Damned Newsletter. We will be offering two versions in each mailing from now on. The text only version and the Web Version with graphics and more. The second offering will be well worth the time to load and you will be able to read it through your web browser.
---
In this issue:
Results
Commentary
Upcoming shows
and the Usual bunch of Plugs.
---
Unlike a few other issues, we actually had an easy going week, without much action. I will talk in this issue about the ICCW show that Draven and I Produced and ran Saturday night. Also Draven returns with his commentary.
---
October 13th: Independent Connecticut Championship Wrestling at the Loomis Arena in Plainfield, CT. Basically, the plain text will be Basic Results with my commentary below in colored italics.
New Ring announcer Dean Ripley announced that due to his inability to make his mandated title defense, Young Guns Champion Damian Houston forfeits the title to Tim Kilgore, who was scheduled to fight for the belt tonight. Unfortunately, the fans didn't get the match we had planned to give them with Damian Houston versus Tim Kilgore. Due to Transportation Problems, Houston couldn't get to the show. Kilgore was awarded the title to forward the angle. Let me also mention that our training facilities, "The Loomis Arena" as it is affectionately called, was about as full as it has been in a long time. There was basically standing room only for the show.

The Opening match was billed as the 20 minute CT Title Invitational. The match would run for a full 20 minutes with every pin-fall/title change being recognized. The man holding the belt at the end of the match would be the CT Champ. CT Champ "Heartbreaker" Ruy Batello (with Sean Gorman) faced Young Guns Champ Tim Kilgore (with JC Marxxx) and the debuting Frankie Armadillo. This match may have set a record for title changes in a night at an independent wrestling show. Here is the order of the title changes. 1) Frankie Armadillo pinned Ruy Batello. 2) Tim Kilgore pinned Armadillo. 3) Ruy pinned Kilgore. 4) Armadillo pinned Ruy. 5) Ruy pinned Armadillo. 6) Referee Pepe Sanchez pinned Ruy. 7) Manager JC Marxxx pinned Sanchez. 8) Manager Sean Gorman pinned Marxxx. 9) Armadillo pinned Gorman. 10) Referee Pee Wee Sherman pinned Armadillo. 11) Kilgore pinned Sherman. 13) Ruy pinned Kilgore. 14) Kilgore pinned Ruy. 15) Armadillo pinned Kilgore. 16) Ruy pinned Armadillo. 17) Kilgore pinned Ruy. 18) Joe Dirt ran in and rolled up Kilgore with less than 10 seconds left and fled the ring area with the CT Title as the time ran out. All title changes will count in the title history. Honestly, this was an immensely entertaining match that must be seen to believe. Another Problem on the show occurred when the Scheduled opponent for Ruy Batello called us and reported that he was sick and couldn't make it. Without Johnny Curtis there, we needed something as a replacement match. Almost to our benefit, Frankie Armadillo's opponent no-showed. Draven threw this match together, using the same rules as we we going to have for Ruy vs. Curtis. This match was far better than I could have ever imagined. I have not been this entertained by an indy match in a long time. The opener was actually great as well as funny. The people really enjoyed this match. The Joe Dirt thing was a last minute idea to add another short angle to the show. Basically because we had so many important angles have to get shit canned due to people cancelling.

Next up, Commissioner MTE named Draven of the Damned as his new Deputy Commissioner and Mad Dog of the Damned as the official ICCW Spokesperson. Draven's first order of the night was to rescind the 24/7 rule on the CT Title in one instance only. Ruy Batello would not be able to directly win the title from Joe Dirt on this night. This is basically to set up for future plans, and if MTE is at school and can't make it to the shows, we have an alternative now.

In the next match, the stiffest tag team in New England "Criminal Intent" ("Bad Boy" Billy Black and "Enforcer" Larry Huntley) faced two of the top fan favorites, Triplelicious and KL Murphy. The match was pretty exciting with the fans solidly behind Trip and Murph. Huntley and Bad Boy proved they had the strength and aggressive advantages by battering Murphy all over the ring. Finally, Murphy was able to use his athletic prowess to tag Triplelicious in, who cleaned house. Eventually, Criminal Intent came back in the ring and the match broke down into a big brawl. The referee had no choice but to rule it a no contest. After the match, Criminal Intent relentlessly beat down Trip and Murph, until ICCW Champ Chris Venom made the save. Immediate plans have Huntley and Black to remain as an Alliance, not to do too much tag team stuff, but we'd have a hard time doubting that they would be a GREAT heel combo. Larry Huntley has found himself a new niche as a heel and "Bad Boy" is getting back into his old form of being a dirty old time heel. Murphy and Trip both were on the money in this match as well. KL showed why he is going to be one of the best cruiserweights around and Triplelicious really has improved things that used to be his weaknesses. Great Fire by both.

In a scheduled interview with new CT Champion Joe Dirt, it was revealed that Ruy Batello had not actually left the ringside area after the opening match, and had been hiding under the ring. He ambushed Dirt with a Ru-anizer (stunner) and went for a cover. He was reminded that he was not allowed to defeat Joe Dirt for the title. He one-upped the ICCW Officials and hit ANOTHER Stunner on Dirt, then climbed out of the ring and took the Damned Wrestling School's dummy "Stumpy" and placed it on Dirt for the three count. A stuffed dummy used for practicing high-risk moves had actually won an ICCW title. Ruy celebrated, until he realized that the dummy was the champion. He then hit the dummy with the Stunner and pinned it to regain the title (yes you read that correctly).
FYI: Ruy Batello is now a 7 time CT Champion.
Ruy is simply one of my favorite guys to watch these days. You aren't going to see anything high risk with him, but his personality outshines most of what you see on the local indies. He is just naturally entertaining. To see him actually hit the stunner on a dummy was outrageous. Even funnier was his dialogue with the dummy beforehand. The fact that he has worked tirelessly to get to be a decent wrestler to back up the charisma just makes him an even better showman.

The next match was scheduled to be an ICCW Tag Team Title match between The X3-Rated Posse (Kenn Phoenix and Kid Krazy) and The 80's Connection (Duff and Derik Destiny of NECW). Destiny was hospitalized the night before legit, so Duff was given the chance to name another partner. Instead, Duff chose to go it alone. Duff started out strong, until the champs cut him down with an illegal double team. Phoenix and Krazy beat on Duff gaining near falls. Frankie Armadillo came to ringside to begin to rally the crowd behind Duff. Kenn Phoenix missed his top rope leg drop attempt and Duff recovered as Phoenix tagged in Krazy. Duff managed to become a house of fire and knock Phoenix from the ring and then hit his finisher on Krazy. As ref Pee Wee Sherman went to count the pin, Armadillo pulled him out and knocked him out cold. Soon it was obvious that Armadillo was aligned with the Posse, eliciting a DQ win for Duff.
Duff was supposed to tag up with Derk Destiny for the show. Destiny called me and was really upset having to cancel on us. Destiny is one of the most genuine guys in the business and everyone in the ICCW, especially Draven and I wish him a speedy recovery. If things should not work out for him to return to wrestle for us, we would definitely find him some sort of spot on every show anyhow. We trusted that Duff could step up and work with The Posse and make it a good match. He did. This match made Duff look a lot stronger to the people. The Posse was once again entertaining as hell. Kenn Phoenix impressed me as usual, with his maturity in the ring for such a young guy. This is definitely one guy who got his money's worth at the Walter Kowalski's school. Krazy, as usual, worked his ass off and seems to enjoy working with Kenn... maybe because for once he is OLDER than his partner LOL.

After the match, JC Marxxx revealed that they had attacked and ousted former Posse member Craig Steele the night before and the new Posse was complete (Tim Kilgore, Kid Krazy, Kenn Phoenix formerly Lionel, and Frankie Armadillo). Original show had Craig teaming with Kenn and Krazy later facing Randy J. Due to Craig getting stuck at work and Randy injuring his back during the week, both matches had to be scrapped. Unfortunately, this was the basis of most of the show. We worked around it and had the Posse brag about injuring Steel. This was not as strong a way to have the story progress, but you do what you have to.

In a match to decide both the Eastern Wrestling Alliance Championship and #1 Contendership to the ICCW Title, #1 Contender "Shooter" Adam Booker faced off with EWA Champ Dr. Heresy. Ref Pepe Sanchez was knocked out and busted open hard way by an errant title belt shot by Heresy. Booker then hit a Power bomb-Boston Crab-Pancake combo (about only thing I can describe it as). Ref Pee Wee Sherman ran out and made the three count. The crowd celebrated with Booker over his title win, until Sanchez regained his composure and disqualified him for using the belt. Booker retains his #1 Contendership, but Heresy remains EWA Champ. This was a really good match. Booker has yet to completely find his groove as a babyface. When he does, he will be a BIG favorite of the fans. He has the look, the build, the size and the skills. Heresy pissed the crowd off as usual and drew laughs with his sells. Chris Santone did get a minor cut from the belt shot. He comes up bleeding and I look at Draven... color at the ICCW Loomis shows? Anyhow, he was fine.

Mimic, a wrestler who basically rips off any other wrestling personality, rather than develop his own, came out as Stone Cold Mimic. He faced the Beast. Good comedic moments when Beast countered the mud hole stomp and Thesz Press punches by grabbing a limb and gnawing on it. Finish came after the Mimic Stunner didn't affect Beast and he slapped on his submission (combination half nelson attempting to pry a head off one's shoulders) for the win in about 4 minutes. Mimic was dead on with his Austin impersonation. Unfortunately the match didn't flow how we wanted. We wanted a little more haha than we got. It was pretty short, though. The Beast showed that he is one of the most over guys in the ICCW. As soon as the first words of his music played, the crowd erupted. I'd like to see more of Mimic in ICCW.

The main event was an Anything Goes, No Count Out, No Disqualification match between "Big League" Brian Black (no relation to Criminal Intent's Billy Black) and ICCW Champion "Revolution" Chris Venom. The match began as a brawl all over the Loomis arena. The standing room only crowd had to move aside as Venom used chairs, Trash cans, sodas and even the walls as weapons. Brian fought back using his large strength advantage, ramming the champion into the ring post headfirst. The match continued going back and forth, with even a ladder being brought in by Venom and used as a weapon. Brian was able to hit his finisher (The Full Nelson Slam) as Ref Pee Wee Sherman went to get the ladder to a safe spot of the ring. He turned with a late count and Venom was able to kick out. Brian pushed Sherman, who fell but then got up and pushed Brian right back (Brian Black probably outweighs Sherman by 120 pounds). Brian didn't budge and press slammed the ref to the floor. At this point, Venom got up and hit his BTf'nR (modified T-Bone suplex) and pinned Brian for at least a 15 count. Criminal Intent then hit the ring. Huntley attended to the ref as Bad Boy fought with Venom. Bad Boy was able to counter a Venom suplex attempt and hit his "Crop duster" (reverse twisting neck breaker). Huntley rolled Sherman in the ring who counted as he saw Brian Black laying on Venom for the win. "Big League" Brian Black is the new ICCW Heavyweight Champion. Brian Black celebrated all the way to the locker room
This main event match was FANTASTIC. They had the crowd solidly behind the whole match. Brian continues to amaze me. He just has the perfect look for a heel. He talks awesome and backs it up with great work for a guy who hasn't been working all that long. I liked the mix of hard-core and wrestling. Also, there was a GREAT bump by Pee Wee Sherman over the the top to the outside. I look forward to seeing what Brian can do as champ in the future.
After the match and the new champ leaving, Venom got on the mike appealing to the Commissioner MTE that he had been screwed. He was reminded of the No DQ stipulation. Venom focused his anger on taunting Bad Boy who came running out. He and venom erupted into a brawl, which Venom soon took over finally clothes lining Bad Boy from the ring. The crowd was unanimously behind the former champion as he challenged "Bad Boy" Billy Black to a grudge match at the next show.
This set up for the next show. Bad Boy and Venom have been on a collision course for a little while now. It will come to a head at the next show.
---
Hail to the King…. A commentary by Draven

It's been a while since I've written a commentary to go with this newsletter. However, I recently heard some news that hit home with me. People come and go from this sport all the time. Whether by injury or retirement the time always comes for a wrestler to "hang up his boots". Well this past week I heard news that Steve Corino was retiring from the wrestling business. It hits me so much because Steve is not just another person I met through wrestling. He is someone that extended himself to all of us who were privileged enough to share a locker room with him and through that he became a close friend to me.

I met him over a year and a half ago at an IWA show in PA. He worked against a man named Tommy Golden that night. All that was said between us was a simple hi and bye, I admit I was intimidated at the time to say more than that.

Not long after he took over the booking of IWA and wanted us to work for him. Needless to say I was honored, and the mark in me came out when I received and e-mail from him. We first walked into the building for the show and Steve was there to greet us, asking to bring the mask and face paint back because it set us apart. That was the first of many suggestions Steve has made to help us out in the wrestling world.

Over the next year I got to know Steve a lot better. Maddog and myself would be on various shows with him and there was no shortage of the three of us cutting ribs in the locker room. It certainly made for a fun and memorable time.

Outside of the ring Steve is a man I truly respect, a solid father figure and all around good friend. It's rare in this day and age to see a single father, let alone one who shows such an outpouring of love. Colby Corino is a great kid with one helluva role model.

So this is my tribute to Steve. You've become one hell of a friend to me…and more of a mentor than I ever expected. I'll do my best to take all the advice you gave me and use it to the best of my ability to grow within this business. I'll remember the locker room professionalism you showed every time we saw you; the matches you put on that entertained us, and the man you are outside of the ring. May you be as successful in retirement as you were in the ring…Thank you Steve Corino…HAIL TO THE KING!


---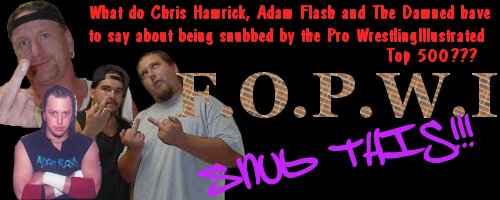 ---
Upcoming Shows:
October 17: PWF returns to the Sunnybrook Ballroom, Pottstown, PA.
October 21: NCW at the "NCW Arena" The American Legion Hall in Natick, MA.
November 17: EWA at the UNE Gymnasium, Portland, ME..
More to be added soon.

For more information go to the following websites:

www.ewawrestling.com
www.iwachampionshipwrestling.com
www.PWFProWrestling.com
www.theNCWOnline.com
www.powerleaguewrestling.com
www.wwanewengland.com
iccw2000.tripod.com - Soon to be updated
---
Drink of the issue:


BANANA SPLIT
1/2 oz. Baileys
1/2 oz. Godiva Liqueur
1/2 oz. Banana Liqueur
1/2 oz. Strawberry Liqueur
1/2 oz. Cherry Liqueur
Shake with ice to chill and strain into a rocks glass.

(We do not condone underage drinking and/or alcohol addiction)

---
Phrase of the issue:

"Yo That Shit is Tight"

Orgination of word: Some kid on the corner of the street where I live.

Meaning: According to Draven. who apparently has a degree in ghetto-speak, this means that something is really good.

Ex: Check out my ride homes... Yo That Shit is TIGHT!

There is your new word.... use it, learn it, make it known!

---
New Segment: In Each issue we'll review what we were doing a year ago in Damned History.(Yeah, we ripped this off of Joe Rules' Newsletter gimmick)
Funny how some things haven't changed. The newsletter still kisses the butt of Allison Danger. (Note her name is in RED... I guess that is her favorite color as she is always telling me how much she loves RED) What has changed is the ribbing of Mike Dutch. Mikey has basically left the business and only touches base once and a great while. A few months later, the Hooches won the IWA Tag Titles and then dropped them soon after to... US!!! Funny how I was actually talking about how cold this show was earlier today to someone. My hands were literally numb from holding the chains I carry to the ring.
SHOCKTOBERFEST: Outside of Reading, PA for IWA Championship
Wrestling.

"WOW they really ARE dredging the Sludge of the indies for this show!"
-Allison Danger (prolly the hottest valet in the biz talking about the
Damned just seconds before running over and giving us HUGE hugs).

Anyhow, this show was part of Pennsylvania's Horror Theme Park (kinda like
the New England Spookyworld). All the wrestlers and ref Mike "Elmer Fudd"
Dutch were in Halloween style-stuff. Dutch had a hella-sweet bullet-hole
through his head. The Damned... well... we just went back to OLD School...
and wore the full regalia of mask/paint/chains/noose. The show was OUT F'N
Doors.. and it was COLD as HELL. We were scheduled to Face local faves
the Hooch Holler Boys... But tonite we instead faced the Hooch HOWLING
Boys. The two guys were in Werewolf makeup and accompanied by Marcie
Mae... who was a sexy-looking Vampiress. First spot in the match, we get
reversed and whipped into a section of chairs. It WAS a section of chairs.
We literally took out four full rows. The match went back into the ring
and about ten minutes later... the Damned won with the Draven Headbutt off
the top rope.
After the show, we hit a local eatery with Allison Danger, The Brooklyn Bomber Tony Montana,
JD Powers, and Elmer Fudd Dutch. After a sub-par meal, we headed home...
with an added rider. We drove Montana to New York on the way home. He
joined in the festivities of Ribbing Dutch... always FUN!

---
To check out the most recent Eastern Wrestling Alliance shows with all of
the Damned's matches as well as a new NCW tape featuring many of the
athletes currently training with The Damned (like Chris Venom, Tim
Kilgore, Tripleicious and more):

www.puretapes.com

To see The Damned versus Mind & Matter from the UWF Benefit show OR any of
the events from Intercontinental Wrestling Alliance and the Pennsylvania
Wrestling Federation:

www.smartmarkvideo.com

OR

www.rfvideo.com

For Tapes of the Damned at the Premier Wrestling Federation, or for ANY of
their shows. Go to:

www.pwfprowrestling.com

To buy Steve Corino, Allison Danger, Chris Hamrick, Gino Giovanni, or PWF
shirts... or to get your OWN affordable and professional screen printed
shirts or merchandise made go to:

http://www.oldschoolsportswear.com
---
Finally for the Website of the Week:

http://www.hippiefreak.com/

The Hippie Freak Nicholas Richards is online. The 9 year veteran has been in the ring for the WWF and many other promotions. Check out his site.
---
To buy the Damned Shirts (currently XL aka One Size fits Most)
They are usually $10 at events, $14 by mail (this includes Priority S&H)
e-mail us at damnedsite@aol.com
We will give you the address to send a money order to to get your very own.

---


Next issue...
More info on the progress of our band and more on what is going down in the world of the Damned!

See yah folks!

"Did you just call me BABBY?" - Tim Kilgore to JC Marxxx after JC sputtered the word BABY... now it is JC's new petname for Tim.