Date: October 27, 2001
Welcome to another issue of the Damned Newsletter. We will be offering two versions in each mailing from now on. The text only version and the Web Version with graphics and more. The second offering will be well worth the time to load and you will be able to read it through your web browser.
---
In this issue:
Results
Upcoming shows
and the Usual bunch of Plugs.
---
October 17: A ROAD Trip story! Whoo hoo! Shenanigans a plenty. I woke up around 8:30 AM to the doorbell ringing. ICCW's Beast had decided to go to PA with us to watch PWF, and was 1/2 hour early. I finished getting my stuff together and then he and I headed to get Draven. From there we went to the household of one Gino Giovanni. At Gino's house, we left Draven to play Gauntlet Legends, while the rest of us went to the airport to get the rental. While there, we made sure to say hello to Gino's Mom and then got our Grand Caravan for the ride. We headed out and made pretty good time to New York, where we hit some mega hella traffic. That delayed us about and hour, and then crappy internet directions killed another 30 minutes or so. All in all, we end up at the Abode of Guillotine LeGrande. We pick him up and the "Heel Mobile" is on its way. We make it down to Pottstown in relatively good time. I get on the phone and call our friend Steffie, who was coming to watch the show (she's about 20 minutes away). She eventually arrives and comes in to hang. Danny Rose asks if Steff is my girl, to which I have to inform him that I am virtually married. I let him know that she is officially the Damned Groupie (LOL). A bunch of us are in the ring hanging out, watching Christopher Daniels, The SAT, and Chris Hamrick try different springboards and what have you. Beast meets owner Rob Dimension and volunteers his help as security. The rest of us head back and get ready. Before the show, Mike Kehner privately awards Steve Corino with the second PWF Hall OF Fame membership (the first being Mikey Whipwreck a few months back). We were on early in the show, working the team of Adam Flash and "Doomsday" Danny Rose. I'll be the first to say that I am a fan of the Rachies as it is, and thought working them would make for a great match. I was right. We grabbed a seat and begin to prepare for the match, while throwing ribs back and forth with the SAT, which has become a common occurence. In fact, people who DON'T know us, probably would think there is heat with us and the SATs (which is SOOOO far from the truth). They are just jealous of how awesome we are (j/k).
We prepared to face the PWF Universal Tag Champs, and headed to the ring. We got good heat, as the crowd seemed pretty hot so far. The Rachies headed out and got a good pop. The match was great. It started out with the Rachies taking control and hitting with some HIGH IMPACT moves on Draven (check out the tape and you'll see why that is all caps). After Flash hit me with a top rope splash, Draven managed to hit Danny Rose with a reversal of his DVD. We then begand to work over Adam Flash with clotheslines, splashes and my axe kick (back from the dead). Flash and Draven hit some great dives, with Draven getting a little Holy Shit chant for his cannonball. Finally in the end, the Rachies won hiiting their finish on Draven (Rachie Rat Splitter: DVD followed by top rope leg drop).
Also on the show (courtesy of www.pwfwrestling.com):
TRENT ACID w/DONNIE B defeated "GORGEOUS" GINO GIOVANNI w/Quiet Storm. Acid, who with Johnny Kashmere forms The Backseat Boyz, finished the match with The Backseat Driver, and restaked his claim as a top challenger for the PWF Junior Heavyweight championship.
THE PROPHET defeated NORM THE BARFLY by using his feet on the ropes for leverage.
"HI FLYING" CHRIS HAMRICK w/SELEST defeated a returning RAPID FIRE MALDONADO with the Confederate Jam. Unbeknownst to Hamrick, The Smooth Criminals had attacked Rapid Fire, in an attempt to re-injure the shoulder they had separated at The Legacy Cup show.
"FALLEN ANGEL" CHRISTOPHER DANIELS defeated JOHNNY KASHMERE w/DONNIE B in a best two out of three falls contest. Kashmere took the first fall, pulling Daniels off the top turnbuckle and hitting the explosive cradle breaker. Daniels came back to score the second with his "Angel's Wings", and both men had many opportunities in the third fall, but it was Daniels who hit the springboard moonsault for the victory. Another stellar performance from both athletes, and this rivalry shows no signs of being over soon.
THE SMOOTH CRIMINALS, PWF Heavyweight champion "HIGH PROFILE" DYLAN NIGHT w/CANDI, PWF Junior Heavyweight champion BILLY BAX, and TY STREET w/ALLISON DANGER defeated THE SAT team of JOSE and JOEL MAXIMO and RED. The SATs hit maneuvers that many in the audience had never even dreamed of and had The Criminals running early. During the match, Allison Danger tried to interject herself and was treated with The Spanish Fly, the most impressive move in tag team wrestling today. During all of the confusion, Bax hit Red with his belly to belly finisher to take home the victory. Nothing appears to be settled in this rivalry.
PWF Television champion GUILLOTINE LeGRANDE w/Fun Athletic Guy & adult entertainment star KRISTI MYST (!!!!) defeated "King of Old School" Steve Corino in a bizarre turn of events. LeGrande was scheduled to take on a surprise former ECW star, but no one expected Corino, who was making his last PWF appearance in the ring. Corino laid down for LeGrande, and then proceeded to rip on the PWF fans and American wrestling fans in general, donning a Japanese flag headband, and complaining that he had bled buckets for them, and received nothing in return. He stated that after all he had been through he was still standing, and that nobody could put him down. Cue "ENTER SANDMAN". The Hardcore Icon, who had some unfinished business with Corino from the last days of ECW, made his way to the ring and proceeded to take apart Corino. A ladder was used liberally, and Sandman put the match away by putting Corino through a table, bloodied and bruised.

After the show, we were going to grab some pizzas at Steve Corino's place, but due to the Prince of Old School sleeping, we all headed to the Limerick Diner instead. Lesson number one for me tonight: Christopher Daniels is HILARIOUS!!! "Tremendous". I was tutored by Allison "I Love Red" Danger on the art of making a male porn star name. Mine is David Linton... Word up to my homey Casey Prospect LOL.
Line of the night came from Steve Corino... "Have a fun ride home with Hoooo Hooo... Tugboat" (Referring to Beast's Tugboat-like appearance). After we all ate and headed out, we stopped at the local WAWA for gas and beverages. we said goodbye to Steffie, who headed home her own way.
Now here is my time to brag. Rematch: The Wrestling Game!!! We head out, with Beast being eliminated on the letter "F" in the first round. (How weak is that?). Gino Giovanni was next eliminated, with Draven out third. That left Guillotine and I... the two champions of the previous trip. We go for literally two hours head to head. Who would get stuck? Obscure names from the past were dredged up when the letter X started to come up. I managed to come up with Xavier (from the Northeast Indies)... and waited as we pulled into his driveway. I knew he would say X-pac... but somehow, he didn't Guillotine conceded after a 2 1/2 hour wrestling name game. I won!!! Woo Hoo. The ride home was abnormally easy and I stayed awake the whole way. first talking with Guillotine, then Gino and finally Beast. I arrived home wired and could not sleep until late that night.
---
October 21st: NCW at the Natick American Legion Hall. Head to head with a pay per view on a Sunday night... UGH. That spells disaster. The fans in attendance DID however get a great show. Some of the best wrestling to date in NCW history. Draven and I defeated Johnny Curtis and Damian Houston to regain the NCW tag titles.
Also on the show (courtesy of www.thencwonline.com):
Zero Tolerance for MTE & Ruy?
CEO JC Marxxx brought out his Zero Tolerance members MTE and Ruy Batello during MAXIMUM CARNAGE and told them point blank that if they lost a Three Way Dance against SCW's Elements of Suicide & the team of Moco and Luke Gemma that they would be kicked out of Zero Tolerance for good. With this added stress, plus fending off two dangerous teams Ruy and MTE were able to overcome all the odds and won the match, with The EOS being counted out while MTE crossbodied Ruy (who was being press slammed by Moco) on top for the three count, leading an army of NCW stars to fend off the aftermath of SCW.
Respect all over
The Damned stepped into there match with Tag Team champions Damian Houston and Johnny Kurtys with only one thing on the mind, regaining the NCW Tag Team titles. After an unbelievable display of high flying including a corkscrew plancha from Kurtys and a moonsault of the bar from Draven it was a blocked attempted hurricanrada from Kurtys on Mad Dog that was reversed into a 'superbomb' off the top rope allowing Mad Dog and Draven to become two time NCW Tag Team champions. After the match Mad Dog got on the microphone and gave Johnny Kurtys a emotional tribute, as Kurt is leaving in November to joined the Armed Forces. Everyone in the NCW wishes him the best of luck. The respect must have been contaminated in the water in Natick as Chris Venom promised to shake Trip's hand if Triplelicious could pin him in their No DQ title match. The match was wild, with both men using there the others finishers on them, leading to Trip giving Venom the H-Cubed with the NCW title wrapped around Venom's face for the win. Venom did live up to his end of the promise and shook Trip's hand, although #1 contender Tim Kilgore tried to stop them, but ate an H-Cube of his own.
Kilgore does it again
Speaking of Kilgore, Tim became the #1 contender after eeking by Adam Booker in a hellacious match which saw Booker gore referee Chris Santone and Kilgore break his toe. After Booker finished off Kilgore, another ref came in to count the three giving Booker the win, but Santone reversed the decision and DQ'ed Booker for the gore, allowing Tim to sneak into his shot for the title November 30th.
The New England title
Dr. Heresy finally went one on one with KL Murphy for the NE title, but when Adam LeClair got knocked out by accident Heresy used the New England belt to clock KL out, almost allowing Reggie to become champion. The unlikely savior? Returning ring announcer Tommy D! Tommy grabbed the belt from Heresy, hit his own 'couch trip' on Heresy, and counted LeClair's hand for him while KL made the cover!
Other shenanigans...
Hollywood Johnny Nash continues to dominate, getting by in a tough title defense against Kenny Majors The 2nd... Even without Sean Gorman by there side Team Gorman came out on top with Kenn defeating Adam Hastey in an awsome match, while thanks to Kenn's help Legion Cage and Rain were able to defeat the team of Psycho Mike & Beast... Brian Black continues to piss off the Natick crowd by running them, and his opponents down, although he was on the losing end of a 4 Corners match with Kid Krazy, Tommy Knoxville, & Frankie Armadillo we're in. Mr Muscles Frankie Armadillo came out on top... Who would think, Adam LeClair; NCW referee, Hardcore champion? LIFETIME Hardcore champion at that. After JC Marxxx gave Mini-Marxxx the belt for being so good to Marxxx, LeClair jumped Mini-Marxxx and won the belt, much to the delight of the crowd... All in all a fun show for everyone, and sets up a huge event Nov 30th at the BIG CITY RUMBLE.

I slept through most of the PPV, despite what I heard was at least an above average show.

---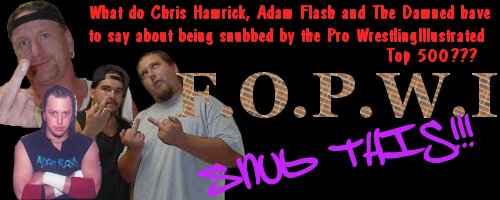 ---
Upcoming Shows:
November 3rd: SPW in Clinton, MA: The Damned w/Dean Ripley(our fraggley manager) face "American Eagle" Shane Simons and WWF Tag Team Legend Jim "The Anvil" Neidhart.
November 10: ICCW at the Loomis Arena, Plainfield, CT.
November 15th: PWF at the Sunnybrook Ballroom in Pottstown, PA.
November 17th: EWA at the UNE Gymnasium, Portland, ME. (Vs. Tag Champs EOS in a Portland Street Fight)
November 21st: PWF at the Skating Ring in Warrinton, PA.
November 30th: NCW at the American Legion in Natick, MA
More to be added soon.

For more information go to the following websites:

www.ewawrestling.com
www.iwachampionshipwrestling.com
www.PWFProWrestling.com
www.theNCWOnline.com
www.powerleaguewrestling.com
www.wwanewengland.com
iccw2000.tripod.com - Soon to be updated
---
Drink of the issue:


Kahlúa Banana Mudslide
Ingredients:
Hiram Walker Creme de Banana

Carolans Irish Cream Liqueur
Mixing Instructions:
Combine 1/2 part Kahlúa, 1/2 part Carolans Irish Cream Liqueur, 1 part vodka, 1 part milk or cream and 1 part Hiram Walker Crème de Banana. Add ice and blend.


(We do not condone underage drinking and/or alcohol addiction)

---
Phrase of the issue:

"TREEEMENNDOUS"

Orgination of word: "Fallen Angel" Christopher Daniels aka Curry Man.

Meaning: Anything ripe with entertainment value or excellent. (Feel free to deepen voice and add whatever extra feeling to the word)

Ex: "Christopher Daniels quoting the Simpsons repeatedly??? That was Tremendous!"

There is your new word.... use it, learn it, make it known!

---
Last year in Damned History (10-23-00 newsletter)
Friday night in Worcester, MA: Chaotic Wrestling at the Palladium.

We defended the Chaotic Titles against The Innovators of the One Night
Stand. (Edward Extasy & Ronnie D. Licious). The match was pretty evenly
fought, with the crowd rallying behind us. When it seemed that we had
things going our way, Derik Destiny decides to try and interfere,
distracting me for a brief moment. This gave the talented Extasy the
chance to DDT me and hit their tag finisher.

This turned out to be our last match for the promotion. For whatever reasons, Chaotic decided to sign its workers to "contracts". This kept them exclusive to only Chaotic. Wrestling everywhere that we do, did not make this an attractive offer to us. The One Night Stand are awesome guys. Ecstasy now holds the tag titles with Aaron Stevens and Ronnie D is the CW Heavyweight Champ. The feud we were scheduled to face Destiny in, and subsequently with the ONS never happened. This WAS the first of our 5 titles we held at one time that we dropped. Only a night or two later, we dropped the EWA titles, only to regain them the following month.
---
To check out the most recent Eastern Wrestling Alliance shows with all of
the Damned's matches as well as a new NCW tape featuring many of the
athletes currently training with The Damned (like Chris Venom, Tim
Kilgore, Tripleicious and more):

www.puretapes.com

To see The Damned versus Mind & Matter from the UWF Benefit show OR any of
the events from Intercontinental Wrestling Alliance and the Pennsylvania
Wrestling Federation:

www.smartmarkvideo.com

OR

www.rfvideo.com

For Tapes of the Damned at the Premier Wrestling Federation, or for ANY of
their shows. Go to:

www.pwfprowrestling.com

To buy Steve Corino, Allison Danger, Chris Hamrick, Gino Giovanni, or PWF
shirts... or to get your OWN affordable and professional screen printed
shirts or merchandise made go to:

http://www.oldschoolsportswear.com
---
Finally for the Website of the Week:

http://www.fallenangel.com/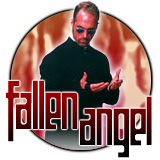 One of the top names in Independent Wrestling, The Fallen Angel, aka Japan's Curry Man, has been in teh WCW, ECW, and even the WWF. Now a star in the US and Japan, Daniels is... TREMENDOUS!
---
To buy the Damned Shirts (currently XL aka One Size fits Most)
They are usually $10 at events, $14 by mail (this includes Priority S&H)
e-mail us at damnedsite@aol.com
We will give you the address to send a money order to to get your very own.

---


Next issue...
More info on the progress of our band and more on what is going down in the world of the Damned!

See yah folks!

If Tim Kilgore won't take the move.... FUCK THAT! (Damned wrestling trainees philosophy on new spots)