Date: January 4,2002
HAPPY DAMNED NEW YEAR!
Welcome to another issue of the Damned Newsletter. We will be offering two versions in each mailing from now on. The text only version and the Web Version with graphics and more. The second offering will be well worth the time to load and you will be able to read it through your web browser.
---
In this issue:
Results
Draven's Year End Commentary
Year in Review
Upcoming shows
and the Usual bunch of Plugs.
---
December 22: ICCW returns to the Loomis Arena in Plainfield, CT.
Results from the show:
Young Guns Title
Triplelicious vs Young Guns Champion Tim Kilgore w/ JC Marxxx: Finish comes when Trip attempts to suplex Kilgore into the ring, JC hooks his leg and holds it as Kilgore gets the cheap win. Ref restarts the match when Deputy Commissioner Draven comes out and tells ref. In the restarted match, Triplelicious wins the ICCW Young Guns Title with a schoolboy.

#1 Contendership for CT Title
Duff vs. "The Enforcer" Larry Huntley: Larry Huntley apparently wins the match when "Bad Boy" Billy Black nailed Duff with a chain. "Revolution" Chris Venom runs out and tells the ref about the foreign object. Ref finds it in one of Black's pockets and reverses decision. Duff retains #1 Contendership.

#1 Contendership for the Heavyweight Title
Frankie Armadillo (w/Kid Krazy and JC Marxxx) vs. "The Shooter" Adam Booker: After a great match, Adam Booker pins Armadillo following a powerbomb/flapjack combo.

CT Title
Johnny Curtis vs. CT Champion "Extreme" Adam Hastey: Johnny Curtis regains the CT Title after a top-rope diving sunset flip into a powerbomb on Hastey.

Tag Title Match
Tommy Knoxville & KL Murphy vs. Kid Krazy & "Broadway" Kenn Phoenix (w/ Frankie Armadillo): A really good match, with Murphy getting the brunt of the beating by Krazy and Phoenix. As the match went on, KL was able to make the tag to Knoxville, who cleaned house. The match from there seesawed and several near-falls occurred. IN the end, KL Murphy turned his hurricanrana attempt on Kenn Phoenix into a pinning combination, and the young team of Murphy & Knoxville were the new champions.

The ICCW awarded "Revolution" Chris Venom with its wrestler of the year award. The presentation was interrupted by "Bad Boy" Billy Black, who broke the plaque over the head of Venom and beat him down badly.

"Schoolboy" Derik Destiny vs. The Beast (w/Ms. Green): The much smaller Destiny tried to use hit and run tactics, which eventually failed him leading to a submission win by the Beast. After the match, Beats would not release the hold and Ms. Green attempted to pull him off. The enraged Beast put his submission on Green, and did not let go, until Derik Destiny bribed him off with candy.

Next, the ICCW Tag Team of the year, and current PWF Universal Tag Team Champions, The Damned (who have been the ICCW Deputy Commissioner and Spokesperson) come to the ring. They make the major announcement that this is the last ICCW show. The ICCW has negotiated to become the Northeast territory of the Premier Wrestling Federation. Next month, PWF Northeast debuts. The Damned (who are not fan favorites in the PWF) suddenly turned on the fans destroying their Tag Team of the Year awards, while berating and belittling the shocked crowd.

Heavyweight Title
ICCW Heavyweight Champion "Big League" Brian Black vs. "Dancin Devil" Damian Houston: Good match that went back and forth, until Houston accidentally hit the ref with a spinheel kick. At this point, Houston managed to hit a reverse DDT on Black and hit his signature double springboard moonsault. He definitely had the champ pinned for more than ten seconds. Houston woke the ref and went for another pin, which Brian kicked out of. Houston went for another moonsault, but Black moved. Houston countered, landing on his feet, only to be hit with Black's Big League Slam (full nelson slam) for the three count.

"Bad Boy" Billy Black vs "Revolution" Chris Venom: Venom hobbles out barely making it to the ring. Venom fought back, only to be cut down by Billy Black. "Bad Boy" hit a number of his patented moves, that usually score him a pinfall, but Venom kicked out. Finally, "Bad Boy" resorted to a handful of tights in a roll-up to win the match. This feud is far from over.

Main Event: Last Ever ICCW match
ICCW Founding member "Primetime" Randy J returned after a four month hiatus to face ICCW's Most Improved Wrestler of 2001, "Heartbreaker" Ruy Batello(w/Sean Gorman). Randy took charge and hit with Ruys own finisher, the Stunner. As the ref's hand went to hit the mat for three, the lights went out. When they came back on, Tim Kilgore was in the ring and hit a reverse enziguri on Randy (The kick is straight to the face). Kilgore left, and Ruy was back on top, but not for long. The wrestled a little more, when Randy J managed to hit a "Rock Bottom". As the ref's hand fell for three, the lights went out again. This time when they came on, Kenn Phoenix was in the ring and DDT'd "Primetime". Ruy took the advantage, but soon lost it. Randy J went to the top rope and hit his leg-line-lariat. Once again, the ref went for three and the lights went out. This time Kid Krazy was in the ring and hit his patented Krazykick on Randy. Randy managed to finally turn things around again, and this time hit his top-rope Flying elbow. The ref made it to three this time and Randy J was the winner. All the guys who interfered earlier in the match hit the ring to beat down Randy J. Once again, the lights went out. This time when they came on, Randy J's former partner and manager, "Crippler" Craig Steele and Matt Burns, were in the ring and made the save cleaning house. The Showtime Posse had been reunited. The locker room emptied into the ring and the show ended with the wrestlers and fans chanting "ICCW" in unison.

With that said and done, we had to step up our speed and head to Providence's Castle Cinema for our weekly trip to see the Rocky Horror Picture Show, brought to us by the official RHPS cast of the Damned... The RKO Players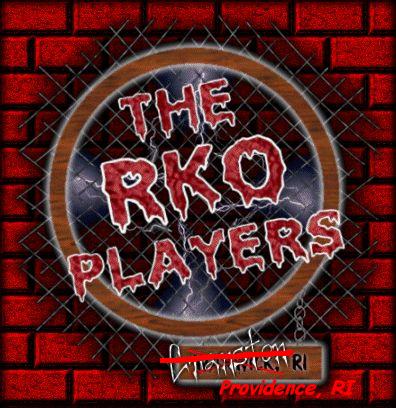 We had a special guest with us for this night of Rocky. PWF's Gino Giovanni. Gino, a Rocky Virgin, had to step up in front of the audience and recieve a hellacious kick to the groin by Draven, to "pop his cherry". Also in the gallery of Rocky Regulars were Stacey, myself, Draven and Spence-Money Fraggle. As usual, the cast was awesome. First, it was great to see our good friend Shaina (plug #1) at the show. Shaina (plug #2) was Mighty Molly to The Mullet's Hurricane a few issues back. Anyhow, we also met Shaina's (#3) boyfriend Jon, who is a prospective student of the Damned School of Wrestling. We were all jealous of the Rocky Horror Picture Show Hard-core Champion Ted, who on his birthday show, was the chair for an Amazing pre-show. Honestly, my list of who played who is not going to be that accurate. I didn't take notes or anything, and it was two weeks ago. Let me just say how everyone was great. Ted played the role of Rocky. The almighty Bill (who is a very big guy) played the role of Frank N Furter. The Mullet was Eddie, complete with him ACTUALLY playing the sax solo... mad f'n cool dude. Megan was Magenta, Ray was Riff, Nicole (the People's Columbia) was Brad, Kristen was Janet (much to Stacey's pleasure... LOL. .damn another week of Kristen is hot comments), I am blanking on the rest right now.... but I will say that the cast was quite good this week. I know Gino was totally blown away from the show (he hadn't a clue as to what he was going to see). Much love goes out to Becky, who wasn't there and was home for the holiday. After the show we made sure to wish everyone a Happy Holiday and headed home.
---
December 28: The Damned traveled, with Spence-Money, to Seabrook, NH for a Pro Wrestling show held at the Recreation Center. Just around the corner, we saw a drunk guy face plant off his bike. Normally this wouldn't be funny... but you had to see the stumbling execution to appreciate it. This show I do not have complete results of. The show was run by former WWF talent Sylvano Sousa (80's TV fans will remember him). As usual on his shows, a great bunch of guys were there. We talked with Abunai for a while about what he's been up to in NY (Abunai has had some great matches with the SAT and Red... and has one of the best looking gimmicks out there). Also on the show were a lot of the Yankee Pro guys we have known for years. It is like a homecoming when we get to see them. Guys like Baker and Ashworth helped me cut my teeth in the biz. Props also out to Alex Payne, who has always been a good friend.
On the show (what I do know):
Abunai defeated Mike Foster
"Nitemare" Nick Steele defeated Brickhouse Baker
Brickhouse Baker won a Rumble
Scott Ashworth beat Big Daddy Kahuna.
Also on the show Lance Silva, Mike Paiva, Blade, Terrance Thomas, and many more.
In our match, a four team elimination, The Damned (us) faced, YPW Tag Champs Stryker (not the one from NY) and Majors, XWF's The Power Company Twinz, and The Hott Boyz. In the first fall, The Power Company pinned Stryker to eliminate that team. Right after that fall, the Hott Boyz upset the Power Company, eliminating them. The Power Company came back out and hit DJ Hott with our chain helping us to win the match. Overall, as much as this match COULD have been bad (seeing as the four way elimination is usually a horror show), it ended up being very good. We talked with The Power Co after the match and were all very pleased with it. I thought it was funny that Majors admitted to being intimidated to work us, due to our "reputation". We headed home and chilled out, because I think we were all exhausted following the holiday, the previous week.
---
December 29th: To start the day off right, Draven, Dean Ripley and myself decided to hit the Golden Panda for some yummy Chinese Buffet. After we ate, we shot north for the NCW show in Natick, MA. We headed up to the show and got ready for our match, defending the NCW tag titles against the Elements of Suicide.
On the show:
Zero Tolerance (MTE & Ruy Batello) v. Stretcher Crew (Moco & Postal Pete)
Postal Pete took the match with a power bomb.

NCW Heavyweight Champion Tim Kilgore came out and gave an interview, running down his opponent "Hollywood" Johnny Nash and former champion Triplelicious. As Kilgore broke into a rendition of "Dream, Dream, Dream", Triplelicious came in the front door and attacked Kilgore from behind.

Derik Destiny v. Billy Black
These two had a very good big man/little man match. Destiny would rally with some of the higher risk moves in his arsenal, which you don't normally see him do. The finish came when Destiny went for a tomikaze and Black reversed it into an inverted spinning neckbreaker.

The match/promo/match/promo pattern was developed as Dean Ripley cut a promo discussing the stipulation of his next match. If his man, Beast, lost, then Psycho Mike gets five minutes in the ring with Ripley.

Beast v. Psycho Mike
Psycho Mike especially hit some nice power moves and won with a fireman's carry into a Michnoku Driver. After the match Beast knocked out Mike with a cell phone Ripley stalled and hesitated and when he tried to pin Mike, Mike kicked out. Ripley took Mike's finisher three times before Mike pinned him.

J. C. Marxxx, the owner, came out for another promo. He ran down Zero Tolerance and told them they'd have to face the now-feuding Triplelicious and Chris Venom later tonight to stay in his good graces.

Ken Phoenix v. Adam Hastey v. Larry Huntley v. T. J. Richter
TJ Richter went first thanks to Phoenix. Huntley went next when miscommunication allowed Hastey to roll him up. Hastey pinned Phoenix with a satellite splash..

Dr. Heresy & Frankie Armadillo v. Adam Booker and Kid Krazy Armadillo got Booker distracted out of the ring allowing Heresy to pin Krazy with a fireman's carry into a side spinebuster.

Johnny Nash v. Tim Kilgore (c) for the NCW heavyweight championship
Kilgore took the match with a neck-breaker variant.

Ruy Batello & MTE v. Chris Venom & Triplelicious
The ending comes when Marxxx turns on his men and Triplelicous turns heel. Venom and Triplelicious are announced as the new Zero Tolerance.

The Damned (Mad Dog & Draven) (c) v. Elements of Suicide (Onyx and Sinna) for the NCW Tag Championships. Our match had the added stipulation that the belts could change hands on a DQ. Once the hot tag came, things got schmozzed a bit. EOS's valet, Gina Marie, distracted the ref while their manager, Luke Gemma, entered the ring with a chair. Draven took the chair away from him and I threw him out of the ring, but Onyx also dropped and the ref turned, saw Draven with a chair and Onyx on the floor clutching his head and called for the bell. EOS were awarded the belts. Essentially we were screwed out of the titles. After the match, we attacked referee Adam Leclair with Total Damnation, and ran down NCW, quitting the promotion. We packed our stuff and left for home, and the Rocky Horror Picture Show!!!
This cast was mega tight... and we reclaimed what is rightfully ours. Front Row Right... well except for Spence, who just HAD to sit aisle-side left. The run down... First.. next to Becky & Nicole's Halloween pre-show, this is my favorite yet. For those who know, we are big ICP fans... and Rich, Ray, Nicole and Shannon did "The Neden Game". I was Psyched! Before the pre-show even happened, Bill provided some awesome entertainment. He carried in a six-foot high box wrapped for Becky and Nicole's Christmas Present. You know the old wrap things in a few boxes trick? Well Bill took the cake here. After a PILE of wrapping, tape, and other items (and Nicole taking about an hour to open it), a DVD was revealed. It was funny as hell. Becky gave a round of shoulder rubs to the Damned... WHOO HOO! and the show was getting ready to run. Jon & Shaina (plug #4) were there and we talked a little wrestling with them, before getting ready for the show to start.
OK.. so the cast... Megan was a great Frank, Nicole returned as The People's Columbia, Ted was Brad Majors... asshole... Shannon was Janet, Sean was back as Eddie (complete with VROOM) and Crimmie. Magenta was played by (LISA?) a girl we hadn't seen before. Trixie was done by the other Nicole. Dave was Riff. Bill stepped in as Dr. Scott. Once again we totally enjoyed the show. A bunch of people planned on going to the PLW show the next day, which made us even happier.
---
December 30: We prepared for a Krimzen practice, but arrived to find our space had guys repairing the heat. So instead, we hit the local Bolivian Breakfast place near my house (5 bucks will get you a HUGE breakfast). We then hung at my place and Draven finally saw Shrek ( I finally got a working DVD player).
We then headed to West Warwick Civic Center for the Power League Wrestling Benefit show for the RI Community Food Bank. First off, many people showed in support of the Damned (well maybe some showed for others too). Tim Kilgore and his girlfriend Rhyanedd, Stacey from Krimzen, Our good friend DJ Jimmy and his son little Jimmy, my fiancee Adrienne, her sister Meesh, her brother Jay, her sister all the way from England Linda and her boyfriend also from the UK Barney (yes the Damned have International fans), The Hott Boyz, Sylvano Sousa, and last-but-not-least... the RKO Players. Shaina (#5) and Jon showed up with signs for us. Jon was trying to kiss ass seeing as he tried ribbing me the night before. The Official Rocky Horror Hard-core Champ Matt "don't call me Ted" also brought signs and wore his Damned shirt in support. The Mullet (Derek) and his girlfriend Mullette (LOL) also joined the RKO group. It was AWESOME seeing them all come to the show. Becky & Nicole got the time for the show wrong, but called to tell us that they sent their love. That's a good consolation!
We cut a great vignette for the show, complete with Hamrick taking a leak, flying toilet paper, and a jar of mustard in a locker. This again is a must-see promo... simply for Hamrick "taking a Jason Jett and wiping his EZ Money".
On the show:
PLW Light-Heavyweight Champ "Revolution" Chris Venom beat Kid Krazy.
Local Policeman and long time ring vet Gary Apollo beat "Punisher" Don Vega.
Elements of Suicide defeated PLW Tag Champs Moco & Paul Lauzon (subbing for Jason the Slasher) for the Tag Titles.
PLW New England Champion Blackheart retained the title against "Schoolboy" Derik Destiny
Team OIC (two local cops) defeated The Perfect Ten (Mr Wrestling IV and Mr. Wrestling VI) in a comedy match.
Johnny Angel defeated PLW Champ Dr. Heresy to win the PLW Heavyweight Title.
Paul Lauzon won the Powerhouse Brawl (rumble style battle royal). At one point, Draven, Jose Perez and I had a Conga Line chopping the Creeper. We also pulled Krazy out of the ring and bumped him into the lap of Shaina (#6).. big pop and "RKO" chant. Derik Destiny eliminated me with an Homage to Wrestlemaina 2... He was Russ Francis and I was "Big" John Studd. See the tape. Get a copy, not from Steve Ricard... cause he doesn't pay us any royalties off our likeness. Get it from PLW!
In our match, we tagged with "Confederate Currency" Chris Hamrick against "Team Talented" "2 Hard to Handle" Matt Vandal, Protege, and Edward G. Exstacy, managed by "Talented" Dean Ripley. The match was tight. Lots of early brawling and then high flying by Draven (with his cannonball) and Hamrick (top rope Asai-style twisting somersault senton). We got the better of our opponents for a while, including a triple kick on Exstacy (Draven with a gut kick, me with a chest kick, followed by Hamrick's Mafia Kick). The other team took over on Hamrick a bit, until he was able to hit a facebuster on Vandal and tag Draven. Draven came in, but missed a double jump moonsault leaving him open to the assault of the rulebreakers. He finally managed to tag me following his fall-out DDT and made the tag to me. I cleaned house with Clotheslines, Hamrick came in and followed suit. We then worked all three guys to the corners and train wrecked them into each other. I followed Exstacy out and Draven followed Protege. Hamrick went for the rollup on Vandal, but was hit by Protege. Hamrick kicked out and hit the Suplex stunner on Vandal, but Protege made the save. Protege hit Hamrick with a move and went for the pin. Draven broke up the pin and hit the cradle suplex on Protege. Exstacy broke up the pin and Piledrove Draven. I broke up the pin and hit a spinning Bossman Slam on Exstacy. Vandal broke up the pin and hit me with a Falcon Arrow. Hamrick save me and went for a shot on Vandal. Vandal ducked and Protege held Hamrick for Vandal to clothesline. Hamrick ducked and Vandal sent Protege out of the ring. Hamrick rolled Vandal up for the pin. After the match Dean Ripley got in the ring berating the crowd and backed right into us. The crowd popped huge as we played them to see if they wanted us the crush Ripley. We hit a very special holiday Total Damnation. I hit the last ride, and Draven hit his frogsplash at the same time Hamrick hit The Confederate Jam. We walked out to a great reception from the crowd.
Special thanks go to all the people who also supported the charity and bought our shirts (with partial proceeds going to the charity as well).
After the show, we went to Chili's with Stacey, The Mullet and his girlfriend, Ted, Shaina (#7) and Jon. Our waiter was a dick.. but in a good way LOL. Overall it was a nice time, and as usual The Peppercorn Burger RULED. We then hit Copperfield's to see Adrienne for a little bit and I sang "Calling Dr. Love" by Kiss, and Draven did "Trav'lin Band" by CCR.
After that we headed home to get some rest. New Year's was the next night... USUALLY a tiring event.
---
December 31st: I had to work at 7AM and was exhausted by the time I got out. Adrienne and I opted to stay in and celebrate New Year's Eve at home. We watched a few movies and just enjoyed it that way.
Draven went with Spence, Kilgore and Rhyanedd to Ted's House to meet up with some of the Rocky Horror people to party there. Shaina (#8) was there, as was Jon. I dunno who else was there... cause I wasn't. Reports have it as a good time.
January 1st: Happy New Years!!!!
---
Krimzen Report: Well, the preparation for the first gig has really begun. We hit The Station in Warwick, either JAN 31st or FEB 7. Ted came to hang at practice the other night, which was cool to see him for like the 100th time that week LOL. Also if you want to check out the website (in construction) go to http://krimzenreign.tripod.com
---
Draven's Commentary:
A year to remember…. Whether good or bad.

(This first half of the commentary will be a more revealing tidbit to the inner workings of Draven…skip to thanks and shout outs if ya don't wanna read it)
This past year has brought a lot of things to me…. And taken just as many if not more away. This past year has seen me go from a carefree individual to a bitter and quiet person. I can't explain why I'm this way, but I can honestly say that I feel shutting the doors to the outside world is safer for me. It allows for less hurt to get through. I've spent all this time building up walls, making myself look like I'm invincible when it comes to pain and emotional turmoil. Yet within me is that guy who's simply crying, asking for all the hurt to end. Over the past year or so I've lost a fiancée, a home, people I loved, people I trusted. I began contemplating my retirement form this sport I saw my grandmother, the only one I've ever known taken from me. I saw the most stable male role model I've ever had in my grandfather, loose his cool and breakdown. I've watched my father fall into a sickness that he cannot get out of…. And I'm now, every day, watching my mother pass away before me. Yet through it all I'm the one who stands tall and moves on, remaining strong for everyone.
On a more positive note, I've seen my wrestling career begin to prosper, made countless friends and acquaintances, and seen my artwork get noticed more and so on…. Now does the good outweigh the bad…. That's for me to decide, but it's another year. Time to try and start all over and move on from here…. Now onto my shout outs for last year…. If I forget anyone I'm sorry

MadDog: Thanks for being there as not only a partner, but a brother as well. You've listened to me whine and seen me breakdown more than anyone else has. You've endured the roadtrips where I was pissed at the world, and the nights out when I just wanted to be left alone…. Here's to another good year bro

Steve Corino: You went from someone I watched on PPV, to someone I consider a close friend and a mentor in this sport. As with Mad Dog you've let me vent in your direction and always given me what advice you could. Thank you for the opportunities you've given us this past year…and for your friendship…. You're a class act and a hell of a person. May you accomplish every new goal you set for yourself.

Dylan Night and Candi: Two consummate professionals. Both of you have also become good friends to me. You've also done your share of listening to my complaints…I need to cheer up huh? Thank you both for everything, including your friendship….the locker room just isn't the same without you two there. You've both got BRIGHT futures ahead of you in this sport keep it up!

Allie Danger: you'll always have a special place with the damned. We were there for your first match, hell you whacked me in the nuts. Lol….we've done our share of problem sharing with one another and helped each other smile more than once….thank you for everything…..

Backseat Boyz and Donnie D: we had one hell of a feud this year, and it's not over yet. I hope to work with you two more often. Thank you for a series of great matches in the ring and your help out of it. The pleasure is always mine.

SAT's: Same goes to you guys, even though Joel carries the team and He and I always get caught between the ego struggles that Jose and MadDog have….damn, why do the little guys always gotta pay for their partners egos hehe…..we love you guys and consider it an honor every time I get to step in the ring with
You

Guillotine LeGrande: Road trip, road trip road trip!!!! It's not the same without ya there bro. You're definitely a part of the heel mobile until the day we all walk away from this sport. You're a damn good friend and a great guy to know….but you've got a lot to learn before you ever beat me in the Wrestling Name Game lol

Gino Giovanni: what can I say bro…9 years in this sport together and we're both still going strong. We had a lot of people try to screw thing up for both of us. Yet we still worked through and now we're in PWF sharing the heel mobile. Here's to another 9 years man!

Spence Monay: You know the deal bro, thank you for nothing, I hate you, get Rogaine….lol…we ribbed the hell outta you and still you stuck around. Too bad more people don't understand what it means to be a friend the way you do.

Demonica: The addition of you into the Damned has helped us up our game just a little bit more. Thank you for allowing us the honor of working with you.

Rob Dimension and the entire PWF: Thank you guys for everything you've done. From allowing us the honor to work with and for you…to simply welcoming us as a part of your family.

The EWA crew: Thanks for allowing me into your family guys....i feel completely at home in your locker room....
RKO Players: All of you have become what I consider friends. I enjoy, and consider it a privelage, to come and watch you perform each week. Even more so now that I can walk up to almost all of you and say hello and carry on some sort of conversation. Speaking of that see you this week.
Everyone else: thank you all for whatever it may be that you've done for me. I'm sorry I couldn't remember everyone, but if I did list each person individually I'd be typing forever.

Lastly, and most importantly My Mother: Thank you so much for everything you've done for me throughout my entire life. All the support, smiles, love, talks and just a shoulder to cry on. Words can't express how it pains me to sit up with you each night and see you cry while I can do nothing to help. If there was a way for me to take all of the pain your feeling onto myself I would. I'd give anything to see you smile that familiar smile again. I do my best to remain strong for you because I know you'd do the same for me. I love you

Happy New Year everyone…. Here's to a prosperous 2002 for everyone

Anyone wishing to contact me may do so at Draven090@aol.com
---
---
The Damned Year in Review (A month by month review of what major things happened with us)
January: We partied in New York with Spencer at Fraggle rock and went to an XFL game as well as hanging out with the boys after the final ECW Pay per View. The guys we knew were mad cool as always, and Jerry Lynne was awesome. We beat Skeeter Hooch and Draven McNight to win the IWA Tag Titles. Dumpy got ribbed by Mikey Whipwreck. We continued to get booked in three and four-way tag dances at SCCW. We were attempting to regain our HCI fire and regain the tag titles. Heresy and I teamed up to rib an entire locker room, with Tatanka's blessing. Draven partied it up at Fraggle Rock for a week.
February: We lost the Nittany Tag Titles to Fumar 2+3 (2 of the virtual thousands at Penn State). We actually wrestled Brian Black before he was "Big League". "Man Boobs" was created. Draven was molested by drunken party girls at a Chinese Restaurant and Mad Dog gets a standing Ovation for his lip-synching "Paradise by the Dashboard Light". We defeated The Matrix (Roam and Hadrian) in a "losing team must break up" match, setting them into a feud for the next six months. We lost the ICCW tag titles in a four way match with The Power Company, Tim Kilgore/Duff, and Carnage Inc (Billy Black/Kodiak). Sal Graziano, Spike Dudley, and Lil Guido all took our little tip to heart and ribbed the fuck outta Mike Dutch. Draven managed to pick up a hot chick in NY at "Bogart's" with a clever pick-up line. We won the SCCW tag titles from the Hott Boyz with a TOP ROPE "Last Ride" followed by the Frogsplash. Steve Corino begged for money to try and go to the Don Henley Concert.
March: The Hard-core Institute turns on us and attacks us. Adrienne hit a curb. We totally went to Long Island and Loved Daric and the Funbags, but hated the "Happy" Buffet (Harvest Buffet). He had a snowball fight with the Maine State Posse following a Chinese Restaurant visit. Actually we all teamed up against Frankie Armadillo and Johnny Curtis. Mike Dutch tried shooting on Heresy who schooled Mike. The Word/Phrase of the week debuted in the newsletter. We lost a friend when Dave Vicious passed away. We saw ICP in concert. We were named the first Pennsylvania Wrestling Federation Tag Team Champions. At the first show, we helped Dylan Night win the PWF Title from Steve Corino. In the main event, we tagged with Night against Corino, RF Maldonado and Hard-core Icon The Sandman. The ribbing of Mike Dutch continued with Steve Corino joining the fun. We witnessed Invader V's United States debut and subsequent getting his head stuck between two rings. The feud with the Backseat Boys and Donnie B. intensified, with us interfering in each other's IWA matches. "Guillotine Legrande is going Nowhere". We defeated Andy Jaxx and Curt Daniels in front of some 800-1000 or so people at the Shriner's Hall in Wilminton, MA. We watched Sylvano Sousa's final hurrah in a bloody cage match defeating Damon D'archangelo. Fraggle got us lost completely from CT to NY. Chris Venom and I wrestled a near-classic for NCW Title.
April: We lost the SCCW tag titles, and drank beers with Nasty Boy Brian Knobbs. The Damned debuted our Triple jumps. Draven with a triple jump cannonball, and me with a triple jump crossbody. The word "TULLYWEAR" was initiated by Damian Houston. Our feud with the Backseats hit the PWF, and our first match ended in a no-contest when the SAT interfered, initiating THAT feud. Mike Dutch turned Kamala on Gino and Blade. Draven and I held back Jack Victory when he turned on Steve Corino. In EWA we made our return aftre being ousted by the HCI, witha complete squash of the debuting EOS and then causing HCI's Shooters to lose their bid at the tag titles. Scotty 2 Hotty gave us some good pointers, and told us he liked the gimmick. EWA interview girl Kristy Thompson drank one of the nastiest concoctions I have ever seen as a dare. Gino stepped it up and had a fantastic match with Steve Corino for YPW, while Bobby Cruise left his job booking there. SCCW turned us babyface. Our second match with the Backseats, defending the IWA straps, becomes a street-fight no-contest as we brawl into the streets of Reading, PA. We took in a UCW show in Queens with the Fraggle. I danced on the Long Island Expressway. We drank with the Zoo (MTV's top coverband of 2000). I worked in a match with a leg brace.
May: Chris Venom and JC Marxx join us for a PWF show. Gino gets stuck in the car for 2 1/2 hours needing to pee, and turns Yellow. The SAT beat us and the Backseat Boys in a Threeway Dance for the PWF Tag Titles. We continued our feud with the HCI in EWA, once again costing the Shooters the EWA titles. We hit Sebago's after that show, waxed philosophical on the power of "the thumbtack and selective random acupuncture". We got to work a match against Mind & Matter, managed by legend Captain Lou Albano, who complimented us after the match as "very old school heels". JC, Kilgore and I saw "OHHHHHHHKLAHOMA". We defeated the ORIGINAL Shooters (Booker and Nick Steel) in a pretty good PLW match.
June: Tim Kilgore got me addicted to Mountain Dew Code Red. We met Chris Hamrick for the first time. We continued battling the HCI in EWA. I wrestled JP Black (from NWA SW) for Joe Rule's JWA. We talked with a number of great wrestlers, and became better friends with Guillotine Legrande. We debuted with the World Wrestling Alliance. Bill Alphonso was running the back room and was very cool and complimentary. The Taz rib happens at IWA on Brooklyn Bomber Tony Montana. A Hooters rib on Kid Krazy gets WAY over with him... I defeat Trent Acid on my Birthday in a singles match for the renamed Premier Wrestling Federation. We win a match against Krazy and Kenn Phoenix for ICCW (the last before we take over as producers). We are "fired" by SCCW & Steve Ricard for working for WWA.
July: July was a slow month over all. I think we had a couple shows, but nothing extremely eventful. The first ICCW show under the Damned happened at the Loomis Arena. We tagged against KL Murphy and Chris Venom in a great 30+ minute main event.
August: Adam Booker beat us and KL Murphy in a four way dance for the ICCW #1 Contenders match, and we bowed out of wrestling there and spent our time booking there instead. In NCW we faced The Big Unit (Joe Rules and Rick Silver) with a successful Title defense. We ended up getting our revenge on the HCI in EWA by beating the Shooters and then hitting Dr. Everette Payne with Total Damnation. The SAT beat us on Tradition Rules successfully defending the PWF Tag Titles. Two days later, on a joint NWA, IWA show, we were defeated by Dylan Night and Kevin Knight for the IWA Tag Titles. We went undefeated in three shows for WWA against Tappa Kappa Kegga and Lady Killers. Guillotine Legrande joined us and became the newest member of the Damned Road Crew.. all Hail the HEEL Mobile!
September: We dropped the NCW Tag Titles to Damian Houston and Johnny Curtis. Hiroshi Asai returned for one night. WWA saw us work the Lady Killers in singles matches, and then in tag the next night. The Ladykillers had Allison Danger in their corner, and we recruited our newest Damned member... Demonica. We lost in the very last part of an EWA tag title gauntlet, going through Kilgore/Murphy, Venom/Kildevil, The Asian Contingent, and finally getting beat by Champs EOS with a chair-assisted Mafia kick.
October: In PWF, we beat the Backseat Boys and JD Powers/Gino Giovanni in a three-way number one contenders match. In our match for the titles, we lost to new champions The Rachies (Adam Flash and Danny Rose). We defeated Damian Houston and Johnny Curtis with a top-rope Total Damnation to regain the NCW tag titles. Draven farted while upside-down in mid-air. Steve Corino named Beast "Tugboat" TOOT TOOT. The backstage ribs with the SAT get more frequent. "Shut the hell up!" Became RE-Hooked on Rocky Horror Picture Show.
November: We saw ICE-T at Bickford's. Wrestled tag team legend Jim "The Anvil" Neidhart in a Big East Wrestling match. I was in a movie (filmed that night releasing this spring). We saw the Bizzarro World Mike Dutch. We beat down some disrespectful kids. On Draven's Birthday we won the Premier Wrestling Federation Tag Titles. We met up again with Demonica in WWA, and worked to get her in other promotions with us too. At Rocky Horror Matt (Ted) goes mad hard-core and takes a 12 foot bump off a ladder through two tables!
December: We beat EOS twice this month in brawls. Once to retain the NCW Tag Titles, and once to win the EWA Tag Titles. Demonica debuted with us in PWF. We defended the titles successfully against The SAT. Two days later, we wrestled in the prestigious Ironman Tournament, placing second, losing to the SAT in the Finals. At the end of the month we lost the NCW titles to EOS in a Screwjob. We teamed with Chris Hamrick in PLW. Rocky still rules!
Also... I am giving MY year end awards for 2002:
Wrestler of the Year (WCW/WWF): Kurt Angle. With the injury to HHH earlier in the year, a wrestler was needed to pick up the ball and run with it. Angle kicked ass in matches and really became the entertaining guy to watch.

Wrestler of the Year (National Indies): Dylan Night. A good friend of the Damned. Along with his manager Candi, Dylan defeated The Blue Meanie, The Sandman, Nova, The Midnight Rider, Steve Corino, Johnny Kashmere and Reckless Youth. He also did very well in the match with NWA World Champ, legend Shinya Hashimoto. Steve Corino, Johnny Kashmere and Christopher Daniels are all close runners up.
Wrestler of the Year (Local): Adam Booker. Adam has shown that he is the real deal. He has had great matches with Jaime Knoble (WWF Developmental), plus tons of great matches locally with Frankie Armadillo and Dr. Heresy.

Tag Team of the Year (WCW/WWF): The Dudley Boyz. Once again, my favorite team in the majors keeps rolling along as THE team to beat.

Tag Team of the Year (National Indies): The SAT. I love both these guys and the Backseats to death, but in the long run, there is a big buzz about the SAT now, and with Kashmere and Trent doing a lot of singles... The Maximo brothers get my nod.

Tag Team of the Year (Local): Well you know I am going to say The Damned again this year.

Most Improved (Indies): Johnny Curtis: Once a comedy act under a hood for EWA, now Curtis is a kick-ass young high-flier. Great drive and work-ethic... plus you gotta love his ring music... WHOA Black Betty- Ram a lam.

Rookie of the Year (Indies): The Amazing Red. 1/3 of the SAT. this kid simply defies words with some of his moves.

Gimmick of the year: The Hurricane. Simple as that.. the one thing I really looked forward to seeing every week.

Hottest Valet (WCW/WWF): Tie: Stacey Kiebler and Torrie Wilson

Hottest Valet (Indies): tie... The PWF Women! (this saves me heat from any of you!!!)

and lastly:

Move of the Year: "The Spanish Fly" by the SAT. No competition. (Double moonsaulting rock bottom)

---
---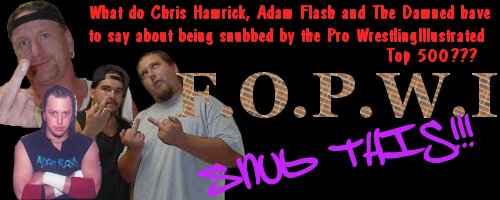 ---
---
Upcoming Shows:
January 19th: PWF Northeast debuts: Location TBA
January 25th: PWF Returns to the Renegade Wrestling School in Huntingdon Valley, PA.
January 26th: EWA at the High School in Lewiston, ME.
February 15th: EWA returns to the Stevens Ave Armory in Portland, ME.
February 16th: EWA debuts in Hennicker, NH at New England College.
More to be added soon.

For more information go to the following websites:

easternwrestlingalliance.itgo.com
www.PWFProWrestling.com
www.theNCWOnline.net
http://www.bigeastwrestling.com
http://www.powerleaguewrestling.com
www.wwanewengland.com
---
Drink of the issue:


MIDNIGHT MARGARITA

---
1 1/4 oz. CUERVO GOLD
3/4 oz. Blue Curacao
1/4 oz. Lime Juice
1 1/2 oz. Sweet & Sour Mix
Mix ingredients in shaker.
Shake.
Strain and pour into your favorite
margarita glass.


(We do not condone underage drinking and/or alcohol addiction)

---
Phrase of the issue: "Spring Cleaning"


Origination of word: Homer Simpson

Meaning: Taking a dump.

Ex: "Apu, do you have any of those potato chips that give you diarrhea? I have some SPRING CLEANING to do" -Homer to Apu on the Simpsons.

There is your new word.... use it, learn it, make it known!
---
To check out the most recent Eastern Wrestling Alliance shows with all of
the Damned's matches as well as a new NCW tape featuring many of the
athletes currently training with The Damned (like Chris Venom, Tim
Kilgore, Tripleicious, Ruy Batello. KL Murphy and more):

www.puretapes.com

To see The Damned versus Mind & Matter from the UWF Benefit show OR any of
the events from Intercontinental Wrestling Alliance and the Premier Wrestling Federation:

www.smartmarkvideo.com

OR

www.rfvideo.com

For Tapes of the Damned at the Premier Wrestling Federation, or for ANY of
their shows. Go to:

www.pwfprowrestling.com

To buy Steve Corino, Allison Danger, Chris Hamrick, Gino Giovanni, or PWF
shirts... or to get your OWN affordable and professional screen printed
shirts or merchandise made go to:

http://www.oldschoolsportswear.com
---
Finally for the Website of the Week:

Visit the website of the newest PWF Territory... the Premier Wrestling Federation Northeast.
---
To buy the Damned Shirts (currently L)
They are usually $10 at events, $15 by mail (this includes Priority S&H)
e-mail us at damnedsite@aol.com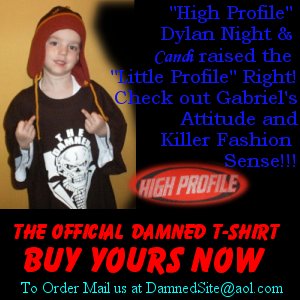 We will give you the address to send a money order to to get your very own.

---


Next issue...
Info coming off of all our events.. and more talk about our pals at Rocky Horror!!!!

See yah folks!

"My Teeth were clamped shut" -Tim Kilgore.. about New Year's Eve dare... no more details given.