Date: November 7, 2001
Welcome to another issue of the Damned Newsletter. We will be offering two versions in each mailing from now on. The text only version and the Web Version with graphics and more. The second offering will be well worth the time to load and you will be able to read it through your web browser.
---
In this issue:
Results
Upcoming shows
and the Usual bunch of Plugs.
---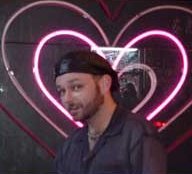 November 1: The Fraggle comes up a few nights early and comes to the Krimzen practice. After we rehearse, we head out to karaoke for the final night of Thursday Karaoke at Copperfield's. Among the gang hanging out were Draven, Adrienne, Jeff (singer of Krimzen), Stacey (drummer of Krimzen and former NEWA star Inferno/UCW star Dane), "The Revolution" Chris Venom and more. Let's get straight to the facts. I got plastered. I have not been drinking much at all over the last few months, trying to cut calories and work on making a slimmer Mad Dog. I made an exception and drank... and drank. By the end of the night, it was time to head home, but we decided on a trip to Bickford's. Mistake !!! The Bickford's we usually hit is the hub for all the strange people within 100 miles. Basically it is the most pierced, tattooed, dyed hair crowd around. It is always loud, and usually pretty nuts.In fact last week when we went, ICE-T was LEGITIMATELY there. This night was a little more quiet, although we did run into a friend from a few years ago, who coincidentally is Spike Dudley's brother-in-law. We are all having a good time, albeit a little loud, when a manager comes over and asks us to chill out a little bit. We bring the noise level down a little bit and then the Fraggle goes to get some condiments from the waitress station. (see the service at this Bick's is pathetically slow... and we have been encouraged in the past by many waitresses to get our own coffee, silverware, ketchup..etc.). The asshole manager comes over as Fraggle walks back with ketchup, Maple Syrup and A-1 and tells us to pay for our beverages and leave. "You can't be getting up and taking things" he says. Well basically we told him to get bent, and he couldn't throw us out and make us pay for things. Adrienne was ready to become the shooter that she can be, and the manager says "Well you can answer to the cops then." To be honest, I didn't find it worth it to have to go that far. We get ready to leave, but I will say this. "Eric Hunt" you are a piece of shit. We were not doing anything that would warrant kicking ANYONE out of the restaurant. There will come a time when I return to that Bickford's... and let the ribs begin. Douchebag!
---
November 2: The day started out with Draven, Adrienne, the Fraggle and I going to see "The One" starring Jet Li. Overall I left the movie feeling that it was well worth the time spent watching it. Great fight scenes, stunts, and action. Plus the Sci-fi underlying story was great and intriguing. On the Venom scale I'd give it 4 1/2 Junks out of 5. After the movie, we ran back to my place to pick up my bass guitar. I got a lead from Jeff about some killer gear dirt cheap. So we drove to this guys house in East Providence and I plugged in to check the stuff. Worth close to 1000 new, I took it off his hands (in great condition) for only 250. I have been in the search for a 2 x 10 cabinet to make better high end sound on my bass. This had that, a larger 15 inch cabinet and a 150 Watt Amp. After going back to the studio, and playing through the new gear at high volume, we wanted to jam a bit. Draven and I, with Fraggle on drums, ripped through a couple of songs before breaking down and heading out. I decided to keep my older, but more powerful Amp, but ditch my Cabinet in favor of the newer 15 incher and the 2 x 10. Next order of business was to hit Cranston Bowl for Karaoke.
A rare non-wrestling appearance by Kid Krazy! He joined Tim Kilgore and Chris Venom, along with Venom's buddy Dick (insert junk and Dick joke here). We ended up hanging out with Stacey again, as well as Jeff. This brought one of the funnier moments of the night when "The Damned School Of Wrestling" members got up and sang "Build Me Up Buttercup". Truly funny shit. We then cut out and hit the Charles Street Bar & Grille to close the place. Who was filling in for the DJ that night, but "I'm Not a Chicken" Sonny D! We all hung out and I did a killer rendition of "Bodies" by Drowning Pool. After the bar closed, we headed our separate ways.
---
November 3rd: Big East Wrestling debuts in Clinton. Believe it or not, Damned lackey Fraggle is one of the forces behind Big East (along with Adam "I bent my wookie and broke my other wrist" Herpes). Due to Fraggle forgetting us and going to pick up MTE for breakfast BEFORE picking us up, we were forced to rib him the whole way. This worked to our benefit as Fraggle paid for our lunch YUM! We arrived after eating and said hello to everyone. On the first show, we only were doing a promo to set up for our match later in the night with Jim "The Anvil" Neidhart. He would team with "American Eagle" Shane Simons. To be completely honest with you, I was scared after seeing a lot of the first show. The crowd was non-existant as was the heat. Some of the matches were sloppy and some just bad. A few high points were KL Murphy facing Beast and Tim Kilgore working RPW's Psycho Mike in the main.
results of the matinee show:
1. Max Ludicrous & Zanic d. Adam LeClair & Shawn Storm (LeClair walked out on Storm after Storm accidentally hit LeClair with a superkick.)
2. Freight Train d. Smooth Criminal
3. Kenn Phoenix (w/ JC Marxxx) & Legion Cage (w/ Chris Venom) battled to a Time Limit Draw and were both eliminated from Heavyweight Title Tournament
4. Widowmaker d. El Mascarado
5. Chris Venom (w/ Legion Cage) & Ruy Batello (w/ Kenn Phoenix & JC Marxxx) and both were eliminated from the Heavyweight Title Tournament
6. KL Murphy d. The Beast to become the 1st BEW New England Champion
7. Hardware d. Tommy Knoxville to advance in the Heavyweight Title Tournament
8. Hardcore Mafia(Joey "The Boss" Davino & Bruno) d. Shawn Tayzer & Johnny Nash (w/ Gina & Quentin Michaels) to become the 1st BEW Tag Team Champions
9. Tim Kilgore d. Psycho Mike to advance in the Heavyweight Title Tournament
I will mention a few things without naming names. One guy got pissed because the sound system had a problem and could not play his entrance music. Thus he kept an attitude throughout the show and left instead of working the second show... WEAK. Also I felt it necessary to talk with the promoters about one other "worker" on the show in particular. Of all that was not good on the first show, this guy was the worst. He could not even bump. He also ended up not working the second show. Don't get me wrong, I don't think I am better than anyone or anything, but to put someone who is just UNSAFE in the ring would have been short of criminal.
We were worried following the state of the first show. We headed back to get our stuff together when Jim Neidhart came in. First off, let me say how AWESOME he was. Jim is completely one of the nicest professional guys I have met. I hoped his presence would bring a better crowd for the second show... it did.
results of the second show:
1. Adam LeClair (w/ Johnny Nash & Dan Tanaka) d. Shawn Storm to become the 1st BEW Television Champion
2. Hardcore Mafia d. Max Ludicrous & Zanic to retain the BEW Tag Team Titles
3. Tim Kilgore d. Hardware to advance to the #1 Contender in the Heavyweight Title Final
4. Jim "The Anvil" Neidhart & Shane Simons d. The Damned (W/ Kid Krazy & Dean Ripley)
5. Chris Venom/Legion Cage & Kid Krazy d. Ruy Batello, Tripleicious & Kenn Phoenix (w/ JC Marxxx) after JC Marxxx turned on his team.
6. KL Murphy d. Mourning Star to reatin the BEW New England Title
7. Freight Train d. Psycho Mike
8. Tommy Knoxville & Beast battled Shawn Tayzer & Johnny Nash(w/ Gina & Quentin) battled to a NO Contest after Nash powerbombed his team.
9. Tiger Khan(w/ Quentin, Dean Ripley & Dan Tanaka) d. Tim Kilgore to win the BEW Heavyweight Title
I personally did not see most of the show seeing as I was on it. Paul Lauzon said overall, although he knew guys were green it was a "nice piece of business". He said he really enjoyed the show. Many of the fans echoed his sentiment. Neidhart completely showed his class when he donated all his polaroid profits to the charity (red cross) that the show was to benefit. Working Jim was majorly cool. I have to admit, growing up, there was a time when the Hart Foundation were my favorite team. I used to completely be a fan of Neidhart. This is back when I was completely sold on the storylines and everything. Meeting Jim and finding out that he was as great a guy as he is was a great experience. Working the "Anvvil" was even more fun. The match ran about 15 minutes. We were billed as the "Damned Foundation". We were accompanied to the ring by Kid Krazy and the Fraggle himself... Dean Ripley. I started with Neidhart and he showed his strength. (I have to admit it was cool knowing I am taller than him) We used some cheap tactics to put a little hurt on Jim, until he managed to catch a Draven body press and slam him, making the tag. Shane came in and started to clean house on Draven. The quick thinking of the Fraggle cut off Simons and we took over. A missed frogsplash by me allowed the tag. Neidhart came in and flurried with punches, clothesline and an old school double noggin knocker sending me out of the ring. Ripley jumped up, only to be punched by Anvil. Krazy snuck in and went for a Krazy kick, which was caught by Neidhart and spun into a slam. "Anvil" dumped Krazy over the top onto me. He then picked up a prone Draven and Shane Simons hit the Hart Attack for the win.
Neidhart cut a short promo for the still-in-development Best of the Damned tape... good stuff. The match will probably also be on the tape. I got changed and then we headed out after the show. We got talking with the sound woman, Kristina. Draven and her ended up talking a little more and she decided to take part in our post-show plans... Rocky Horror Picture Show at the Castle Theater.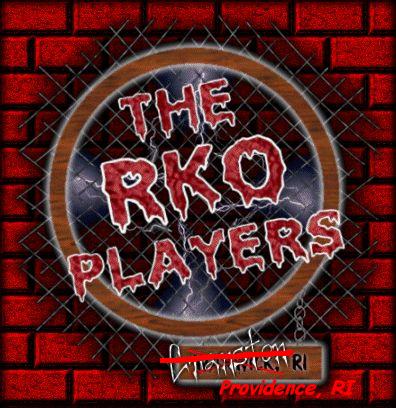 Beast also came along and lost his Rocky virginity. This was hilarious. The Beast had to do the "Chicken Dance". Still cool as ever, Criminologist was played this time by The Hurricane. (One kid has dressed as the Hurricane on the last two shows), icluding a trademark "Whazzup wit dat?" yell. FUNNY. After the show I went home and crashed out.
---
The weekend finished with another rehearsal by Krimzen. It went mucho well. We are getting close to playing out and dates and venues to where you can see us play should be available here in the next few issues!!!!
After the practice, I took the old gear I didn't want to Daddy's Junky Music. They paid me quite well for it. In fact, it worked out that I paid hardly ANYTHING for my new gear. Most Awesome!
---
---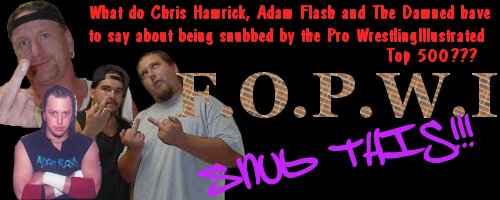 ---
---
Upcoming Shows:
November 10: ICCW at the Loomis Arena, Plainfield, CT.
November 21st: PWF at the Skating Ring in Warrinton, PA.
November 23rd: WWA in Leominster, MA
November 24th: WWA in North Attleboro, MA
November 30th: NCW at the American Legion in Natick, MA
December 8th: EWA in Portland, ME.
More to be added soon.

For more information go to the following websites:

www.ewawrestling.com
www.PWFProWrestling.com
www.theNCWOnline.com
www.powerleaguewrestling.com
www.wwanewengland.com
iccw2000.tripod.com - Soon to be updated
---
Drink of the issue:


Kahl˙a Banana Cream Fizz

Ingredients:

Mixing Instructions:

Blend 2 parts Kahl˙a, 1 part rum, 1 sliced banana, 3/4 part lime juice, 2 parts half & half and 1 cup of crushed ice until smooth. Pour into a tall glass. Add club soda and garnish with banana chunks.


(We do not condone underage drinking and/or alcohol addiction)

---
Phrase of the issue:

"Crop Dusting"

Orgination of word: The nefarious Guillotine LeGrande (a member of the Damned Road Crew and PWF Television Champion)

Meaning: Passing gas while walking. As you walk you allow the gas to escape and trail behind you without even stopping.

Ex: "Dude, I totally just crop dusted for the last 10 steps"

There is your new word.... use it, learn it, make it known!

---
Last year in Damned History (11-06-00 newsletter)
In non-Damned news... Special congratulations go out to ECW's King of Old
School, Steve Corino. The head trainer of the Cruel School of Professional
Wrestling (where many of the stars of the IWA train) won the ECW World
Heavyweight Title last night in a Double Jeopardy match by defeating The
Sandman and Justin Credible.

Since this time, ECW folded and Steve dropped the title to the Sandman, who lost to Rhyno minutes later. After founding the PWF, Steve then won the NWA World Heavyweight Title and brought back some credibility by defending it all over, including in Japan. Last month, it would seem that "The King of Old Schoo" wrestled his last North American match, retiring on a PWF event. Corino has also become someone we are proud to say is a good friend of the Damned. He has really done so much to help us in the business, and we really owe him. Thanks Bro!
---
To check out the most recent Eastern Wrestling Alliance shows with all of
the Damned's matches as well as a new NCW tape featuring many of the
athletes currently training with The Damned (like Chris Venom, Tim
Kilgore, Tripleicious and more):

www.puretapes.com

To see The Damned versus Mind & Matter from the UWF Benefit show OR any of
the events from Intercontinental Wrestling Alliance and the Pennsylvania
Wrestling Federation:

www.smartmarkvideo.com

OR

www.rfvideo.com

For Tapes of the Damned at the Premier Wrestling Federation, or for ANY of
their shows. Go to:

www.pwfprowrestling.com

To buy Steve Corino, Allison Danger, Chris Hamrick, Gino Giovanni, or PWF
shirts... or to get your OWN affordable and professional screen printed
shirts or merchandise made go to:

http://www.oldschoolsportswear.com
---
Finally for the Website of the Week:

http://www.jimtheanvilneidhart.com/


The World Wrestling Federation Tag Team Legend is online. Jim "The Anvil" Neidhart teamed with both Bret and Owen Hart in different make-ups of the Hart Foundation. The tag team name "Hart Foundation" is near legendary, and one of the best tag teams of the late 80's and early 90's.
---
To buy the Damned Shirts (currently XL aka One Size fits Most)
They are usually $10 at events, $14 by mail (this includes Priority S&H)
e-mail us at damnedsite@aol.com
We will give you the address to send a money order to to get your very own.

---


Next issue...
More info on the progress of our band and more on what is going down in the world of the Damned!

See yah folks!

Dean Ripley "You've had two Stellar matches tonite already!"
"Well the first was stellar, but the second was sloppy"- Tim Kilgore in an in-ring promo at the debut of Big East Wrestling.