Date: December 5, 2001
Welcome to another issue of the Damned Newsletter. We will be offering two versions in each mailing from now on. The text only version and the Web Version with graphics and more. The second offering will be well worth the time to load and you will be able to read it through your web browser.
---
In this issue:
Results
Upcoming shows
and the Usual bunch of Plugs.
---
Thursday November 29: Draven and I went to the Warwick indoor sports arena to join Tommy D and "The Zone" for indoor football. Honestly, we had some defensive fire in the second half, and I started to remember my old form from high school ball. Unfortunately the 4 picks thrown by our QB killed us. I think next week we'll be better off.
---
November 30: Being a Friday night, which is unusual for NCW shows, I had just enough time to get home from work, get my gear together and wait for Fraggle and Draven to pick me up. Well.. At least I THOUGHT it was that way. In fact I ended up with at least an hour before they got to get me. They picked me up and we were on our way. The trip wasn't taking that long. As we zoomed past exit 5 in MA, my phone rings. It is Kid Krazy asking how far along we are before we pick him up... Whoops, just flew by his house and southbound traffic on 95 was a parking lot. So we just left him and said let his juvenile ass find his own ride. Okay, I'll admit... I'm a babyfacee in real life, not a heel. I called Krazy and followed his directions for a back roads route to get him. (Still couldn't believe I forgot him). We picked up Krazy and shot back towards Natick, MA. We made it in great time. On the way out of the car, Fraggle is wheeling his bag and I watch as all his gear falls out the unzipped bottom. LMAO! We said some hellos at the front of the American Legion Hall and headed down to the locker room. I could see the wheels turning on Krazy. We pulled a few easy chairs (stored in the basement/locker room) and sat to relax. Krazy (with help from Draven) began to build a living room. This was the most Christmas-sy locker room ever. We had two trees, presents and a fireplace. Draven went to work and got the lights working and set up lights so it looked like we had a fireplace. We turned all the lights off and the area was lit only by Christmas lights. It was suddenly dubbed the Damned Krazy Christmas Corner. We chilled out until the show was set to start at 8PM (when the ring arrived). The show got underway around 8:30 or so.
On the show (from the NCW webpage's Bud Lite Column):
The first match was Kid Krazy against Kenny Majors The 2nd. Majors debuted as a partner to Chris Venom September 29th at Payback 2, however he looks strikingly like Fred Rogers, who wrestled once for NCW back in February. Anyway, a very solid opening contest and the best I've seen from Krazy in a long time. The match came to an end when Krazy nailed a superkick on Majors the the three. Definitely a good way to kick off this year's Rumble.
Up next was Adam Hastey one on one against the debuting Shawn Candido. Candido is a regular in SCCW (South Coast Championship Wrestling) and although I haven't seen alot of him I was very impressed with how he worked. Hastey of course is always entertaining, and is a regular in EWA (Eastern Wrestling Alliance). Unfortunately Hastey hasn't really been exposed as much down here for whatever reasons, but perhaps that is NCW's gain. A very competitive contest which saw each guy hit there stuff, leading to Hastey winning with the corkscrew plancha like move. A sight to be seen. Hopefully we will be able to see more of Candido in the future.
During these matches we were treated to Wink McClure, a lounge lizard who came into the ring between matches and threw out one liners at the crowd and ring announcer Tommy D. Given a little seasoning he could become a very well hated personality. I have also been able to see him at training sessions (Mad Dog note: "Wink" is one of our trainees at the Damned School) and he could also be a very talented wrestler if he is given a chance. By the end of his acts he was getting decent heat. A good sign.
Six Man Tag action was up next as TV champion Johnny Nash & Zero Tolerance took on The Stretcher Crew & Rukkus representing SCW. It surprises me how well MTE and Ruy have been recieved as fan favorites in the NCW. The fact that they are still linked with JC Marxxx yet still get babyface pops is also astounding. They have really been putting an effort forth, and this match with the popular Nash was no different, with everyone busting there ass. Also nice to see the reclusive Rukkus make an appearance. A little on the long side but still a fun match, keeping the NCW vs. SCW feud alive.
Up next was a 4 corners match with sudden death rules for the NCW New England title. Champion KL Murphy took on Big League Brian Black, Johnny Kurtys, who was replacing an injured Damian Houston, & Stephan Q. Ramsey was added to the list at the last minute. An pretty good match, with Black improving every time he steps in there. Kurtys I enjoy watching every time, and was not disappointed this time around. Murphy seemed to be taking it easy in there, but I have always liked his matches for the most anyway, and everyone seemed to mix well. Kurtys upset Murphy for the belt with a 'kurtys driver', surprising the Natick crowd. After the three count Murphy and Johnny shook hands, in a show of respect.
Up next was a promo with Chris Venom and Triplelicious. As Venom and Trip told the crowd there bond as a team would continue, and how much he respected him. The CEO JC Marxxx showed up and talked junk to Venom, setting up him vs. Armadillo later in the night. Unfortunately this didn't have the reaction they wanted, but it at least advanced the story.
Handicap match was on deck, as Beast & Psycho Mike took on Broadway Kenn Phoenix along with his manager Sean Gorman. A match I was a little disappointed with, but since I like all three guys I can let it slide. Psycho Mike impresses me a lot, and cant wait to see more of him soon as well. In this match Beast turned on Psycho and joined up with Mike's old manager Dean Ripley, who was at ringside doing commentary. Ripley has promised a new Beast come December 29th, so I am interested to see how that turns out.
The NCW Tag Team championships where on the line next, and it turned into a huge brawl all over the Legion Hall. The first thing that confused me was no Onyx, but he would show up later on. Referee Paul Hazard let this one fly, as Cinna, Rukkus, Mad Dog, and Draven killed each other using title belts, ring bells, chairs, and even the damn wall! The Damned came out on top in this crazy match, but what happened after was even more shocking as SCW Commissioner Luke Gemma attacked NCW Commissioner Scotty Angel brutaly, and shoved him out of his wheelchair! Woah, havent seen anything like that since The Damned did it to Angel back in March 2000. Heh maybe thats why Mad Dog & Draven didn't help him.
The Revolution Chris Venom was up next against Mr Muscles Frankie Armadillo in a very solid contest, possibly my favorite on the card. Armadillo is great and Venom has been impressing me as of late really stepping it up. After ref Chris Santone got splashed, Venom hit the 'btr' but with no ref to count Armadillo was able to rebound and hit his patented 'armadillonator' for the three. Great match, and hopefully the continued push for Armadillo remains, while Venom continues his spiral down.
The big match for the Heavyweight title was next, and Kilgore (with a separated shoulder) busted his ass out there and proved why he is where he is while Trip tried some new stuff never seen by him before. Good match without the heat it should have gotten, with Venom running in to "help" Triplelicious but ended up crotching Trip in the ropes, allowing Kilgore to head up for his own 'h-cube' and the Heavyweight title. The Venom/Trip story thickens.
Finally the Big City Rumble was up next, with everyone having a good time in there. My highlights was the comedy of the night, like Hardcore champion referee Adam LeClair and Mini-Marxxx fighting, or commentator Maniacal Mark stepping in the ring for some old school action, while my personal favorite had to be Batman making a guest appearance all the way from Gotham! Hollywood Johnny Nash won the whole damn thing, lastly eliminating Cinna in the exciting contest making Nash the Big City Rumble champion and will take Kilgore on one on one December 29th in Natick.
Now my notes on our match and the Rumble. Our match ended when Cinna and Ruckus attempted to hit us with the Title belts, we ducked and came back with our own versions of "Vandaminators". (Draven with a Mafia Kick and me with a Albert-style Bicycle Kick). From there Total Damnation was easy beans on Rukkus. After the pin, Draven picked up and hit HIS powerbomb on Rukkus, and I jumped up and finished the Total Damnation with MY Frogsplash. After the match Onyx came in and challenged us to a rematch. We cut a promo including the floowing Tre The Smooth Operating Gangsta tribute (WWA fans will get this). "EOS there are Three things the Damned like... Our Skrillaz in cash, Our Shorties Fast, and (this is where we left out the peanut butter) you asses pinned by us up and down the East Coast.".
In the Royal, we teamed with Kid Krazy as Team Damned. We were out to chop EVERYONE. We accomplished this. Even pulling Batman, and referee Santone into the ring for chops. Draven and Krazy ended up eliminating each other and I took the worst road of them all (LOL). With 6 people left in the ring battling in the corners, I saw and opportunity for another Bicycle kick. I whipped Ruy Batello into the ropes. Instead of the normal rebound, Ruy springboarded with stellar height off the bottom rope and hit me with a double axe-handle. He used opening to toss me out of the ring.
Was awesome to see Alex Payne and Paul Lauzon at the show. Always great to see old friends at shows. WHAZZZUP BROS!
After the show, we hit a Bickfords with Fraggle, our friend Stew and his fiancée Rachel, Tommy D, Maniacal Mark, Krazy and KL Murphy. We talked a bit, had breakfast and then left. To the guys having the "Business Meeting" at the Bick's... FUCK YOU!!!!! Buttflounders!!! (return of an old word of the ish).
---
December 1: With no shows set for the first, I took an easy day of chilling out until close to 7 PM, when we decided to meet up at the studio for an impromptu band rehearsal. On the way out, the middle aged drunk who lives in back of us decided to start screaming at Adrienne and I for no reason. He decided to accuse us for moving his stupid bicycle (which he leaves in the rear parking lot behind cars. Meaning if it doesn't get moved... it gets rolled over). The best part was, no one HAD touched his bike during the week. He continues to yell, and I tell him to go back to his apartment and sober up. He continued threatening to call the cops and yadda yadda yadda. I was pretty heated and when he walked back to his apartment, finally left. I walked into the studio with the adrenaline rush of wanting to kick the guy's drunk ass. I arrive at the studio and we start to play. "Awake" by Godsmack is coming along really well. Stacey is playing 100% better on Grandson of Drummenstein. After running some of our songs without Carl or Jeff, we started working on some riffs. This eventually led to the writing of music for a poem I wrote as lyrics a couple of years ago called "Fallen Angel" (about a stalker- great lyrics).
We hit Wes' Ribhouse next-door to the studio after practice. They got killer Buffalo Wings. We ate and chatted until 11:15 when we KNEW we had to head out. It is a Saturday... Which means Rocky Horror at the Castle Cinema!
I picked up the stuff I had bought for RHPS and we headed to the Castle Cinema. As usual the show was put on by the Official RHPS Cast of the Damned... The RKO Players.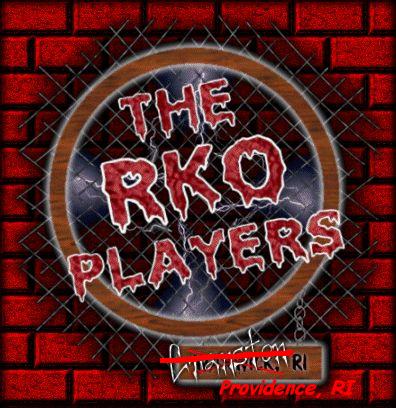 This was the first week back from the "males vs. the females" casts of the previous two weeks. The show started with Matt "Don't Call me Ted" reminding me I forgot his shirt. The official gopher of the Damned, Fraggle, ran back to my place to get it. Matt threw it on to wear as Eddie... and the pre-show started. All hail the Mullet. Derek, who had one of the best Halloween costumes I had seen, got people in a Christmas spirit with "Kill the Santa Claus" (from Nightmare before Christmas right??? either that or my cool points dropped below sea level). Speaking of his costume... Holy Sidekick! It's Hurricane and Mighty Molly!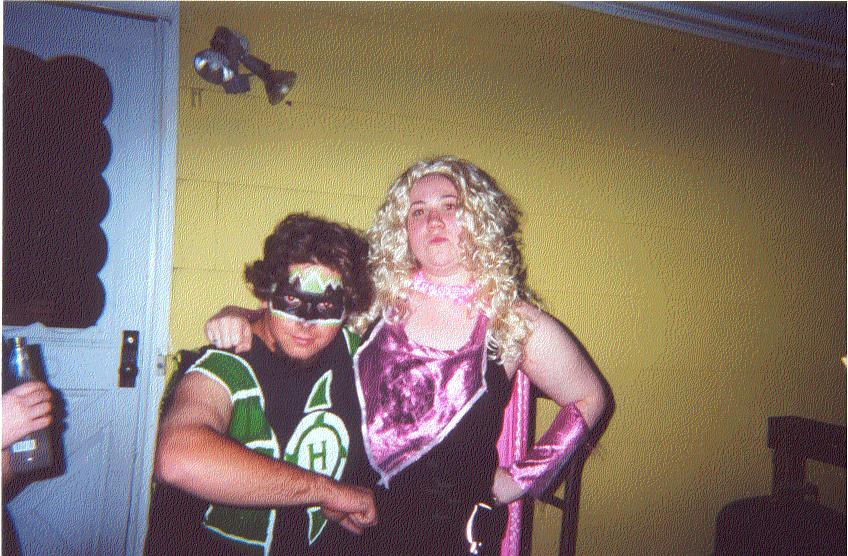 As for the show, it was really good as far as cast goes. In the rules, Rich plugged our website.. Whoo Hoo.. Cheap Plugs RULE! The People's Frank was back. Rich is a great Frank and as usual tore it up. Matt-Ted, the unofficial RKO Players Hard-core Champion, did double duty as Eddie and his uncle Dr. Scott (Sieg Hiel... TIMMMY!!!) complete with stuffed Kenny in his lap. The People's Columbia, Nicole, was an awesome Janet. I'll stop here to put over Bill, who hooked up Draven with a copy of IT (the video). I'll use this to make a segway. What show would be complete without Bill yelling a Wakko-esque "Bouncy Bouncy" as Becky is unwrapped as Rocky Horror? If you hadn't guessed, Becky was Rocky... You SOOO shoulda seen her pre-show before Halloween with The People's Columbia.... to quote Joey Styles... OHHH MYYY GAWWWDDDDD! I honestly am still working at learning other cast members names and stuff. Jess was a great Magenta (as an aside... Ice Cream Draven?). The young lady playing Columbia was also awesome. Anyhow, it was a really good show, in my opinion. The Brad looks sooo much like Barry Bostwick.. funny stuff (as another aside.. have you seen the new commercial with the former Brad... LOL). Anyhow, the show was great fun, as usual. Some of the little things people do are just funny as hell. Like the bedroom scenes and Janet and Frank...in the tank (Becky's facial expressions just crack me up).
After the show, I walked home and played a few hours of my new addiction, Everquest. DAMN YOU KL... DAMN YOU!!!! (LOL).
---
---
Krimzen Report: If you want to check out the In Construction website go to http://krimzenreign.tripod.com. We had a few practices off with Carl in Florida. As I mentioned, Draven, Stacey and I DID write the majority of a new song (with an Old Metallica/Megadeth sound). From what I heard, the owner of a local club liked the rough demo we gave him. That is a plus.
---
---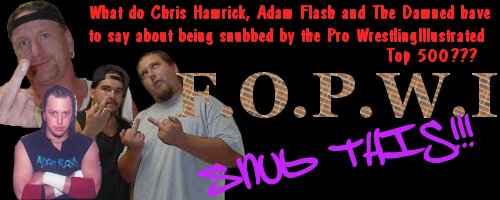 ---
---
Upcoming Shows:
December 8th: EWA at the Sports Center in Saco, ME.
*Versus EOS for the EWA Tag Titles in a Streetfight*
December 13th: PWF returns to the Sunnybrook Ballroom in Pottstown, PA.
*Defending the PWF Universal Tag Titles against The SAT w/Allison Danger*
December 16th: PWF at the Renegade Wrestling School in Huntingdon Valley, PA.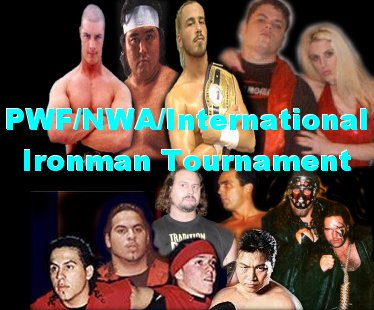 *PWF/NWA/International Ironman Challenge: Singles: Canada's SteveCorino, UK's Gary Steele, US's Dylan Night, Japan's Shinya Hashimoto. Tag: PWF's Damned & SAT, NWA's New Era Horsemen, International Tag of RED and Hosakawa from Japan's Zero-One promotion.*

December 16th: Big East Wrestling at Bob's Bar & Grille in Bridgewater, MA..

December 22nd: ICCW Year End Awards and Wrestling event at the Loomis Arena, Plainfield, CT.

December 26: PWF at the Warrington Skating Rink in Warrington. PA.

December 28th: Independent Show at the Recreation Center Seabrook, NH

December 29th: NCW returns to the American Legion Hall in Natick, MA.

*Defending against EOS, Titles can change hands on a DQ*

December 30th: tentative Power League Wrestling at the West Warwick Civic Center, West Warwick, RI.

More to be added soon.

For more information go to the following websites:

www.ewawrestling.com
www.PWFProWrestling.com
www.theNCWOnline.com

www.bigeastwrestling.com
www.powerleaguewrestling.com
www.wwanewengland.com
iccw2000.tripod.com - Soon to be updated
---
Drink of the issue:


Guinness Bottle Draft
The Guinness Bottling Company has come up with a 30 million dollar invention... The Rocket Widget. It releases CO2 and N2 every time you invert the bottle, giving it a fresh from the tap taste. This is good stuff. Guinness, the official beer of Mad Dog!

(We do not condone underage drinking and/or alcohol addiction)

---
Phrase of the issue:

"Boss"

Orgination of word: One of the kids that the Damned crunched in Warrington.

Meaning: A semi-sarcastic term for respect, turned to actually be EXTREMELY sarcastic.

Ex: "Hey Boss, was everything okay out there? Hey Boss, want to buy a Tee-shirt? We're OVER Boss."

There is your new word.... use it, learn it, make it known!

---
Last year in Damned History (12-13-00 newsletter)
Saturday December 9th, 2000; Waterville, ME
Eastern Wrestling Alliance at the Gillman St. Gymnasium.

After a long match where we basically beat the living hell out of him,
Adam Hastey managed to somehow defeat us for the tag titles. Alexander
Worthington III was scheduled as Hastey's tag partner, and had agreed
with us not to get involved in the match. Hastey managed to knock all
three of us our with a street sign.

Also on the show... El Tornado d. Adam Booker: Booker was making his debut
with the EWA, El Tornado is the protege of Mad Dog. This was a great
match, many said "Match of the Night". Both really stepped it up and
proved that given the opportunity they could be major players in the EWA;
The Asian Contingent & Larry Huntley d. Mind & Matter (w/ Bambi)... Larry
Huntley came out to the ring to "Good Ole Boy" (Theme from Dukes of
Hazard) more on this in a minute; Damian Houston d. Kildevil; Hard-core
Champion Frankie Armadillo d. Steve Ramsey; Mike Steele d. Alex Arion &
Bob Evans in a Triple Threat Match; Dr. Heresy won a Battle Royal last
eliminating Don Juan DeSanto.

OK... back to the Larry Huntley music thing... Josh Shea and some ofthe
other boys decided to switch his music as a rib. It was funny and stuff,
but not like what happened after. My fiancee, Adrienne, is the new DJ for
the shows. She handles the sound-related duties at the show. When Larry
got back in the locker room, he and I concocted a scheme to rib HER.
After the show, Larry comes out and starts berating her for playing the
music, etc. (Larry was trying to get an Oscar for this performance). I
step in to stand up for her and Larry shoves me... we get into a huge
fight that is suddenly surrounded by all the workers trying to break it
up. In the middle of the throng, Larry and I count... 1... 2... 3... and
we all turn and laugh at her... After the initial shock wore off,
Adrienne realized SHE had been ribbed and started laughing herself...

I dread the revenge!
Since this time, Booker has become quite a force in the New England area. His excellent work and great skills have gotten him matches in Florida and Georgia as well. The rib on Adrienne STILL makes me laugh to think about.
---
To check out the most recent Eastern Wrestling Alliance shows with all of
the Damned's matches as well as a new NCW tape featuring many of the
athletes currently training with The Damned (like Chris Venom, Tim
Kilgore, Tripleicious and more):

www.puretapes.com

To see The Damned versus Mind & Matter from the UWF Benefit show OR any of
the events from Intercontinental Wrestling Alliance and the Pennsylvania
Wrestling Federation:

www.smartmarkvideo.com

OR

www.rfvideo.com

For Tapes of the Damned at the Premier Wrestling Federation, or for ANY of
their shows. Go to:

www.pwfprowrestling.com

To buy Steve Corino, Allison Danger, Chris Hamrick, Gino Giovanni, or PWF
shirts... or to get your OWN affordable and professional screen printed
shirts or merchandise made go to:

http://www.oldschoolsportswear.com
---
Finally for the Website of the Week:

http://www.wrestlingplanet.com

Believe it or not, I now have a wrestling column on this site under my shoot name of Matt West. Check it our weekly on the Wrestler Columns section. Other columnists include Big Vito, The Power Company and "Z-man" Tom Zenk.
---
To buy the Damned Shirts (currently XL aka One Size fits Most)
They are usually $10 at events, $15 by mail (this includes Priority S&H)
e-mail us at damnedsite@aol.com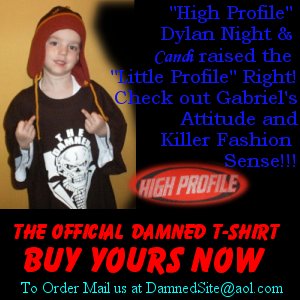 We will give you the address to send a money order to to get your very own.

---


Next issue...
Either an early week copy talking about our EWA Title Match debut in Saco, or in two weeks with information about the PWF shows as well!!

See yah folks!

<"OOOOOWWWWWWW" Tim Kilgore after bruising his collarbone in Natick>