Date: December 15, 2001
Welcome to another issue of the Damned Newsletter. We will be offering two versions in each mailing from now on. The text only version and the Web Version with graphics and more. The second offering will be well worth the time to load and you will be able to read it through your web browser.
---
In this issue:
Results
Upcoming shows
and the Usual bunch of Plugs.
---
December 6th: The Damned return to the world of indoor football. Tommy D and the Zone were ready this week, creaming our opponents with a Killer Defense and great pressure on the QB. The secondary stepped it up and Offense were able to get things going. We won 33-18. Awesome. Good fight on the line. Draven scored 2 sacks.
---
December 8th: The Eastern Wrestling Alliance made its return after a four month layoff. We headed towards Maine, with me driving to Saco, Maine in RECORD time. We were scheduled to face Elements of Suicide in a street fight for the EWA Tag Titles. On the way to the show, I picked up a ghetto nerf-football. We decided it would be good to play at the indoor sports facilities. We arrive and notice... VIDEO GAMES! Draven and I play Gauntlet Legends for a while, before I decide to go and chill out. Eventually the ring was set-up and a fairly good crowd was ready for a night of wrestling action.
on the show (from the EWA site):
In an exciting opener, newcomer Johnny Curtis defeated Tim Kilgore, Romeo St. Clair, and another newcomer 'Flash' Nick McKenna in a 'fatal four way' matchup. The fans and internet writers alike were buzzing about this match after strong debuts from both Curtis and McKenna. Curtis took the win with a top rope legdrop on St. Clair.

Commissioner Worthington then made his way to the ring, as always accompanied by his executive assistant, Dominic, and his new ally, Stephan Q. Ramsey. Worthington read off the evening's card, and then reinstated himself as an active competitor. Just as he was about to announce his opponent for the evening, Rick Fuller made his way to the ring. Fuller demanded that Worthington give him a heavyweight title shot that evening or face Fuller himself. It didn't take long before the new commissioner declared that the main event was a 3-way dance for the title.

Adam Hastey and Larry Huntley continued their winning ways with a victory over HCI members Chris Venom and Kildevil. Despite the HCI having an early advantage over Hastey (due in no small part to some help from HCI leader Dr. Everete Payne), Kildevil soon fell prey to Huntley's 'Tough Love' submission. Hastey and Huntley have stated that they will soon be looking for a shot at tag team gold.

Alexander Worthington III made his way to the ring and announced that his opponent would be Kamikaze. However, upon Kamikaze's entrance, Worthington demanded that his opponent 'lay down' or be fired. Kamikaze did as he was told, but referee Tom Wilson refused to count the pinfall, and a match soon ensued. Worthington was victorious in the end, using a variation of the Ace Crusher. He then informed his opponent that he was unemployed. A sad ending for a competitor like Kamikaze, who is a former 2 time tag team champion with Sundragon. The EWA lockerroom wishes Kamikaze the best of luck back in the Orient.

In what should have been a routine interview, EWA news personality Kristie Thompson has kidnapped by Frankie Armadillo and Dr. Payne. Payne stated the kidnapping of Thompson was an insurance policy against Adam Booker, who Payne claimed is involved with Thompson romantically. Booker promised payback later on that night.

Stephan Q. Ramsey and Dominic were victorious over Damian Houston and Brian Black with a significant amount of interference and cheating. Houston, wrestling with a separated shoulder, managed to hit his double jump moonsault and score what should have been a 3 count on Ramsey. However, Worthington then pulled the referee out of the ring. Black chased him around the ringside area, allowing Ramsey to sneak in and clock Houston with a chair for the win. After the match, Black was laid out with a chair by Worthington, and Ramsey proceeded to cut Houston's hair off. Houston has promised payback very soon!

In what has been called a show stealer of a match, Frankie Armadillo lost his Hardcore Title to 'The Shooter' Adam Booker. The match was a classic, which saw both men bloody and bruised, using ladders, tables, chairs, and even handcuffs to gain an advantage. The end came for Armadillo when he attempted a huracanrana from the top rope, only to be caught by Booker. Booker then powerbombed Armadillo, and quickly hit a unique 'flapjack' variation for the pinfall. Despite being shocked and shaken, Kristie Thompson was thankful that Booker was able to free her from the HCI. Afterwards, in the locker room area, Armadillo and Payne demanded that Commissioner Worthington grant them a rematch. No word on Worthingtons answer as of yet.

In the Main Event, Dr Heresy managed to retain his Heavyweight title by pinning El Tornado in a 3-Way Dance. The majority of the match witnessed Dr. Heresy being man handled by Rick Fuller. Fuller punched and tossed Heresy throughout the crowd and even slammed him onto a solid cocktail table, breaking it. Once back in the ring, Tornado took the Fuller Effect (chokeslam off the ropes). Fuller then charged toward Heresy, who used the referee as a shield. With the referee out cold, Fuller nailed Heresy with a vicious powerbomb. A second referee then ran out and counted three. Fuller was announced as the new Heavyweight champion, but Alexander Worthington III came out and ordered the match to continue, since it wasn't the official ref who made the count. Fuller chased Worthington to the back allowing Heresy to get the Couch Trip (second rope flatliner) on El Tornado to retain the title. Unfortunately for Dr. H, Fuller came back out after the bell and chokeslammed him, to a rousing ovation.

"In what may have been one of the most wild, out of control matches of the year, the Damned regained the Tag Team Championships from the Elements of Suicide in a street fight rules matchup. The EOS were accompanied by their new manager Gina Marie, who ended up being press slammed to the outside by the Damned. With that distraction eliminated, Mad Dog and Draven went on to finish the EOS with a lethal frogsplash on Cinna, as he lay prone inside a garbage can."
Basically that explains the match. It was wild. We tore the place apart and used whatever weapons presented themselves. The crowd really enjoyed the stiff weapon shots and the finish, where we hit Total Damnation. Draven refuse to do the frogsplash until Cinna was laying inside a trashcan. The can folded around Cinna, and we became the first three-time EWA tag champs, a year to the day from the end of our last reign.
We left after our match and burned rubber to the Castle Cinema. Despite Mother Nature attempting to foil our plans with snow, we made it just as the pre-show was ending. As usual the show was put on by the Official RHPS Cast of the Damned... The RKO Players.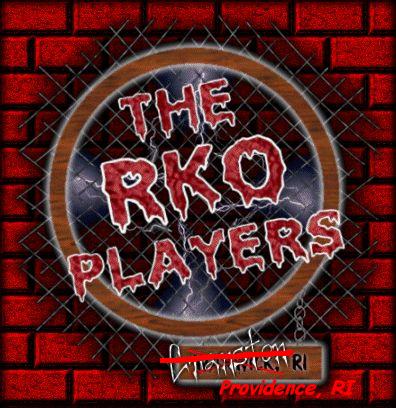 We arrive at the show, and catch the "Beetlejuice" tribute pre-show. Matt-Ted runs over when he sees us and is psyched that we made it, despite the snow. Nicole, the People's Columbia, stepped in as Frank... awesome as usual. Ted was Brad Majors... asshole... witha SHINY Gold Cummerbund (LOL). Roy was Rocky Horror (we're not worthy... we're not worthy). Derek The Mullet was Riff, Becky was Janet and, as usual, cracking me up with her innuendo and blatant sexual jokes (No Bill to yell "Bouncy Bouncy" Whazzup with Dat?). Anyhow, the cast was pretty good stuff. We didn't have any of the stuff we usually bring, and were disappointed at the lack there-of. We vowwed that next week, we would once again make Ron rue the day that he ever called us cheap for not bringing TP... go ahead... Start rue-ing. Due to the snow, and our lack of time to get in and get comfy, I'll make NEXT week more in depth!
---
December 13th:
Early morning came and it was time to start on the road towards Pottstown, PA. Destination: The Sunnybrook Ballroom. Goal: Defending our PWF Tag Team Titles against top contenders, The SAT. I pick up Gino Giovanni (damn babyface) and then get Draven and we head to get Guillotine Legrande and our new secret weapon for PWF, Demonica. On the way to NY, I zoom by a police cruiser in the rented Chrysler T&C van. Of course, I get pulled over. I was clocked in at doing 82 in a 65. I am given an envelope with my license and all that in it with a fine. I am polite and start on my way. I go to check the fine and see that it is only 80 dollars... not too bad... then I notice I am looking at the rental's registration. I find the real ticket and realize that I now owe the state of CT $278.00. Some Christmas spirit huh? Officer Anal Rimjob writes me a fat ticket right in the holiday season. CHINPOH!!!! Anyhow, I can do nothing other than head to NY in shock. We get Demonica and Guillotine, and rather than head right to the Ballroon, we go to the house of Steve Corino. We hang out and see one of the best matches of the year on tape. Don Montoya and Reckless Youth team against Steve and his Mystery Partner... his little son Colby! I was dying from beginning to end. Colby is a natural... give him ten years and the return of Old School will happen!! (This is probably an un-official record for youngest wrestler ever). Colby did hit a great hiptoss on Montoya and then cleaned house with two Prince of Pre-School Stunners.
We then headed to the Sunnybrook and got ready for the show. This crowd was extremely hot!
On the card...
Gino Giovanni defeated Quiet Storm w/F.A.G. to become the number one contender to the PWF TV title.

In a match to crown the PWF Mid-South Juniorheavyweight champion, Menace defeated Kid Krazy.
note: This KIDD Krazy was not the same one who travels with us.

The new team of Rockin Rebel and Billy Redwood, known as The Northern Rednecks, defeated The Rachies.

Matt Vandal defeated Stryker.

PWF TV champion Guillotine LeGrande w/F.A.G. defeated The Protege by DQ when Gino Giovanni jumped LeGrande. The locker room emptied as the two men went at it, with Quiet Storm helping LeGrande in the process.

The Amazing Red w/Allison Danger defeated Bax to become the new PWF Junior Heavyweight champion, using the awesome Red Star Press.

"High Profile" Dylan Night w/Candi defeated "Hi Flying" Chris Hamrick, after a masked wrestler interfered, setting Hamrick up for the "Good Night" piledriver. During the match Hamrick executed a death defying move, jumping off of Mike Kehner's shoulder to deliver the Confederate Currency leg drop. Kehner was sitting on the top rope at the time!

PWF champion Johnny Kashmere and Trent Acid, with Donnie B as the special ref, went to a 30 minute time limit draw. This match evolved into a falls count anywhere brawl, as chandeliers, tables, and even a Christmas tree were part of the carnage. Following the match, Dylan Night took advantage of the situation and defeated Kashmere in an impromptu match to become a 3 time PWF Universal champion
In our match, we once again had killer chemistry with the SAT and Allison Danger. The match was good stuff. Draven and Allison Both got "Holy Shit" chants from their dives, and Allison got a "She's Hard-core" chant. The people were solidly behind the SAT. Allison and Demonica both got physically involved in the match, with Allison getting the upperhand. The contenders tried to set Draven up for the Spanish Fly (double moonsaulting Rock Bottom), but I cut them off and Powerbombed both SAT off the top rope. Draven hit the frogsplash on Jose Maximo, and we had a successful defense. As we celebrated with Demonica and our titles, the SAT dropkicked Draven and I from the ring. They then grabbed Demonica and hit her with the Spanish Fly. I carried her out over my shoulder, as the crowd chanted "SAT SAT"
After the show, we hit the Limerick Diner with Corino, Legrande, Team High Profile and official Damned "groupie (LOL)" Steffie. We had a quick bite and headed for home. On the ride at home, we once again had a battle of "THE WRESTLING GAME". There is no need to talk about who won, but there is one notable thing. Demonica soooo kicked Gino's ass. He is throwing cheesy WWF gimmicks out and she is schooling him with former NWA champs and Japanese workers. She outlasted Gino by at least another 30 minutes. Nice Job Girl!
After almost getting lost finding the train station, we headed home. On our agenda for the weekend... Debut of "Not Another Teen Movie", an Indy show to WATCH.. and of course... ROCKY HORROR!!!
---
December 14: Draven, Adrienne, Krimzen drummer Stacey and I went to see "Not Another Teen Movie". Gross? yep, Racist? At Times. Immature? DEFINITELY! Funny???? OH YEAH!!! We all agreed that the movie was awesome. Definitely worth seeing. The Grease song and dance routine in the movie is worth the price alone. My favorite character was Bruce, the little white kid who thought he was Asian. After the show, we hit Newbury Comics. I bought the new No Doubt album, which is very much Dancehall, rather than ska. It is growing on me, and I love "Hey Baby". Also on my bill, the soundtrack from the movie we had just seen. Great covers of "Tainted Love" (by Marilyn Manson) and "99 Red Balloons" by Goldfinger. I picked up the DVD of Berry Gordy's Last Dragon... I can hardly wait to watch this one... "Kiss My Converse... LEEEEROY!"
Adrienne surprised me with the 25th Anniversary box set DVD of Rocky Horror.. simplay awesome!
---
December 15th: We headed out to check out the WCWA show in Clinton "this town is Dead", MA. It was nice seeing friends of ours at the show. Gino Martino was there and wished us luck for the International Ironman tourney the next day. I don't know the whole card, but the match of the night was definitely the opener of Kenny Phoenix vs. Chris Venom. Kid Krazy hung at the show with us. It was..um.. KRAZY. My old partner Kyle was being enterprising selling old Storm Brother and Dogs of War gimmicks (LOL.. I figured they were bird cage liners now). The main event of Tommy Knoxville and TJ Richter was very good too. I was disappointed in the match of KL Murphy and Tim Kilgore (wrestling El Mascarado and Dan Bidondi). It really seemed as the babyfaces were not willing to take major heat from Murph and Kilgore. This made the hot tag almost inconsequential.
After the show, we had time to pick up Stacey, and hit the Castle once again for Rocky Horror. But First... a stop to get "SUPPLIES"! We bought bread, and bread products, and cards.. and were ready to go... Don't forget the toilet paper. We arrive and find, WE CAN'T GO IN THE THEATER YET!! Due to a late start of "Serendipity" we had to wait. We started to get snacks, when Super sidekick Shaina came up and gave us a Christmas card. AWESOME! From there, we sat down and talked with Ray for a long time (Ray still has one of my favorite pre-shows with his "Weird AL". Rich cam by and asked to get on the newsletter mailing list. RICH... You are IN the newsletter. Becky, one of my personal faves, came over and volunteered a shoulder rub. I NEVER turn down a shoulder rub! When the Damned become rich and famous.. Becky.. you are Hired girl!!! We chilled outside talking with various cast members when the chick flick playing ended.
We headed in and got OK seats. Shaina sat near us and we played Go Fish... Seymour Shark.. SO OVER! Anyhow, Behold the Power of Mullet... Derek and Kimmy (insert South Park Timmy Voice) KIMMMMMIIIIEEEE did a lil preshow.. and it was time to START THE FUCKING MOVIE!
Kristen was playing Janet (which means we will endure weeks of Stacey's proclamations of "Rocky/Janet was hot") and Matt/Ted was the most Hard-core of Rockys. Ray was Brad (with some funny-ass glasses) and The People's Frank, Rich, returned in the role he is known for. The Amazing Roy Rossi (we're not worthy!!!) stepped in as a fucking AWESOME Riff Raff. (waslike watching Richard O'Brien in front of us). Shannon was Riff's incestuous sister Magenta. Ron was the most nazi-like Dr. Scott. Sean was a great Eddie (I crack up as he goes by on imaginary motor cycle making "Vroom" noises). I'm not sure who was Columbia/Trixie (site says Megan), but she was way awesome as well (something bout that smile could melt even the nastiest of wrestling heels). Something about this particular performance was just a lot of fun. There were a lot of little tech problems, but I don't know... I just had a WHOLE lot of fun. I also really like the fact that even though they are not in the show, regulars like Becky and The People's Columbia, Nicole, are there at the show. I noticed someting... I usually leave out Crimmy (this man had no fucking neck). I think this is because of the character being BEHIND us, as we usually sit as close to the front as we can. Last week was the Goth Crimmy Crystabell, while tonite was Laura (who I believe was Columbia weeks back).
I gotta be honest when I say that it is WAY cool that we are starting to get to know people in the cast and become regulars audience members. They are a great group of people, and I look forward to seeing them each week. So... GO TO THE CASTLE CINEMA, (Chalkstone Ave. Providence, RI)... SATURDAY NIGHTS... MIDNIGHT! (and save The Damned some seats on the front).
---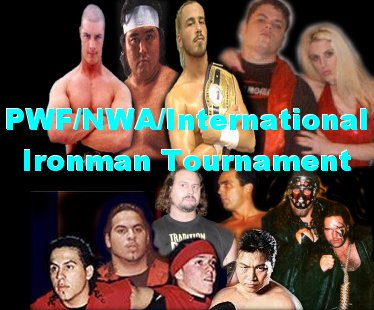 December 16th: Draven and I hit the road to pick up Guillotine. We get him and head to the Renegade Wrestling school. This would be the site for the PWF International Ironman Challenge. For more insight on this... check out my column, which should be up soon on www.wrestlingplanet.com. We arrived to the show, and I had to constantly coach Steffie, via cella-phone, on how to get to the show. Finally she found the Orange Cones and lighting and got there. We met up with new manager Demonica (who is clicking very well with us.. its very natural working with her.) We awaited the arrival of Japanese legend... Shinya Hashimoto. I was already impressed by the presence of a lot of Japanese press, and US Wrestling literary legend... Bill Apter.
After a while, Hashimoto and his second, Naohiro Hoshikawa arrived. Our first taste of Zero-One's talent had arrived. Being an Ironman tourney, we'd be in a round robin, wrestling 3 matches. A pin or submission earns a team 10 points, while a DQ or Count Out win was worth 5. Our opponents, the NWA East Tag Champs New Era Horsemen (Jimmy Anjel and Paul Atlas), The SAT (Jose and Joel Maximo... one of the best teams on the indies today), and SAT Member Red and Zero-One's Naohiro Hoshikawa. I'll give the results of the show, with my comments on each match in blue.
Quiet Storm beat Chris Devine These guys are usually the Tag Team Devine Storm. I am a big fan of both guys, especially Quiet Storm, as of late. Both were trained by Mikey Whipwreck and are part of the SAT crew. These guys know how to tear up a hall, and this match was no different.
The Damned beat Red & Hoshikawa Our opportunity to work Zero-One's Hoshikawa had come. Basically, I was lucky enough to be paired with Hoshikawa (extreme sincerity in that statement). Red and Draven had a short opening flurry and tagged in Hoshikawa and I. We worked a lot of chain wrestling (including a surprise front chicken wing take down that I nearly flotzed). Everything went smooth, except me literally sitting on the head of RED, as he was unable to move quick enough out of an attempt to counter a sunset flip. After a tag, Hoshikawa electrified the crowd, kicking Draven and I with tons of martial arts prowess. In the end, he miscued and sent himself into the ring post. Red attempted to 'rana me, and I caught him with the "Last Ride". Draven finished with the Frogsplash and we got Ten Points. During the match, Draven dislocated two of his fingers.
SATs beat The New Era Horseman. I didn't see this match, but I know the SAT won following a Swanton by Joel and a 450 Splash by Jose. The crowd really got on the Horsemen.
Guillotine LaGrande did an angle with Gary Steele. LaGrande insulted Steele and wouldn't let him answer any of his questions. Finally, LaGrande slapped Steele, which caused Steele to grab LaGrande. Dylan Knight ran in and attacked Steele. The SATs and Red made the save. This gave me time to tape up Draven's hand to protect his already swelling fingers.
The Damned beat The New Era Horseman. Jimmy Anjel had injured ribs, Draven an injured hand. We tried to take advantage of our opponents' weakness and exploit it. We unloaded with kicks and punches to the ribs of Anjel. I even worked some, uncharacteristic submission moves. Anjel went for a splash in the corner on me. I buried a shoulder into the injured side and held him in a bear hug. Draven mafia-kicked Atlas out of the ring and scaled the corner. I turned and lifted Anjel higher. Draven hit a top-rope missile dropkick on Anjel and we got another pin and 10 points... we actually had the crowd behind us in this one (like we were getting the pops.)
Red & Hosakawa beat The SATs. This match definitely will get the SAT to Japan in my opinion. Buy the PWF tape for the strength of this match alone (and get an amazing show anyhow). All four men were just at their best. The only thing holding the SAT back from being the best tag there is... lack of experience. Barring injuries, they will be the best and soon. Red and Hoshikawa score dual pins with a kick combo and the Red Star Splash. Upset win by the Zero-One star and his PWF Light-Heavyweight Champion Partner.
Red & Hosakawa versus The New Era Horseman ended in a double pin, resulting in both teams getting five points. I missed this match almost entirely, but heard that Hoshikawa was "warming the crowd up" for the stiff kicks they'd be seeing from Hashimoto later. This match was ruled a draw, with both teams getting 5 points a piece. This sets up the finals of the Ironman tourney. We led with 20 points, Red & Hoshikawa in second with 15, The SAT with 10, and the Horsemen with 5.
The SATs beat The Damned to tie The Damned in the Tag tournament. An overtime was declared and the SATs beat The Damned to win the round robin Tag Tournament. The first fall tied us both at twenty points. We traded a lot of really great stuff, with two highly awesome dives. Draven with his cannonball and Jose with his gorgeous Asai Moonsault. We then went back in the ring and hit some innovative moves on each other. Demonica made her presence known with some awesome whip shots on Jose. Jose hit me with a STIFF Dick Togo-style senton and made the tag. Joel cleaned house and worked Draven into a boston crab. I countered with a new move... the bicycle kick to the face of Joel. Jose went for a 'rana and I attempted to counter, like on Red earlier. Joel managed to hit me in the stomach and Jose rolled through with the 'rana to pin me. Due to the tied scores, we went to an overtime. This was filled with a ton of nearfalls. I ended up getting dropkicked to the outside, as Draven was climbing to hit the splash on Jose. As I climbed back on the apron, Joel dropkicked my knees out from under me, and I hit the rope. Draven crotched himself, leaving him a sitting duck for the "Spanish Fly". We climbed in the ring. The SAT had done it. They got two straight falls on us. We were PWF Universal Champs, but they were the Ironmen Champs. We had to give them their credit, and our show of respect brought what few people were still sitting to their feet. We left the SAT to enjoy their spotlight, knowing this would surely secure them a tag title shot. We came upstairs and the Sat met with us putting over the match huge. We are still working on getting it tighter, but we have a great chemistry with the SAT. I think our best is yet to come. By far, the Maximos are my FAVORITE people to work, period. Even if Joel tried to kill me with that plastic chair shot LOL!
The main event featured Shinya Hashimoto defending the NWA Title against Steve Corino, Dylan Night, and Gary Steele in a 30-minute Iron Man Match. Shinya Hashimoto won with four victories after making Steve Corino tap to a chokehold/sleeperhold with two seconds left and Steele, Corino, and Hashimoto all tied with three falls. The pins were as follow:
Gary Steele pinned Dylan Knight
Knight, Steele, & Hashimoto made Steve Corino submit. Hashimoto and Steele both applied armbars, while Knight applied a figure four, which is how each man got a pin.
Hashimoto beat Knight with a DDT.
Corino beat Knight after a superkick.
Corino beat Steele with an Old School Expulsion .
Knight pinned Steele after Hashimoto hit a double stomp from the top rope.
Hashimoto beat Steele after a spin kick.
Corino beat Knight.
Steele beat Knight after all of Knight's opponent's covered him, but Steele was awarded the victory due to being the one on top of Knight.
Finally, Hashimoto beat Steve Corino with a chokehold/sleeperhold to retain the NWA World Title.
My Wrestling Planet Column gets more into what I think of Hashimoto as champ (VERY POSITIVE). This match was worth the price of admission alone. If any tag match had "stolen the show", this match stole it back. There was nothing pretty about this match. This was a fight between four international competitors who wanted to be world champ. I have NEVER seen anyone as hard-hitting as Hashimoto. All I can say is that to be the warm-up match for this main event was a unique honor, I will never forget. Words basically can not do this justice. I'm just really proud being in this company and friends with Steve and Dylan. It was great meeting Gary, and an honor to meet Hashimoto, who shot a promo for the Damned tape!!!
Click below to go to Jim Quigley's 1Wrestling Hotshots page of shots from the Main Event!!!
http://www.1wrestling.com/hotshots/hotshots.asp?id=5838&page=1
After the show Rob Feinstein and the SAT cut some great promos for our tape as well. We got our stuff together and headed in search of food with Steve, Dylan, Candi (their kids.. Colby's future wife Nicole and my buddy Lil Profile Gabe!), Guillotine, Gary Steele, Steffie, Demonica, her b/f Mark, and Momma Night. The service at the place we finally found was horrible and the food was just a tad better. Gabe snored away. I amused people with my abundance of sugar-coffee ratio and Corino did cartoons. Everyone who worked Hashimoto looked like they were in a car wreck... but were in good spirits.
The ride home was quiet. Guillotine and I talked, while Draven passed out on pain meds from his dislocated fingers. We talked about direction in wrestling and the show of that night in general... CHINPO!!!
After dropping LeGrande off, I drove most of the way to CT, before Draven woke up. We drove almost to RI, when the sleep monster ALMOST made me doze at the wheel. We pulled over and I took a 3 hours (accidental) nap at the CT Welcome Center. Then we woke up and went home... completely psyched about being a part of the event the night before.
---
Krimzen Report: If you want to check out the In Construction website go to http://krimzenreign.tripod.com. We had a few practices off with Carl in Florida. As I mentioned, Draven, Stacey and I DID write the majority of a new song (with an Old Metallica/Megadeth sound). From what I heard, the owner of a local club liked the rough demo we gave him. That is a plus.
---
---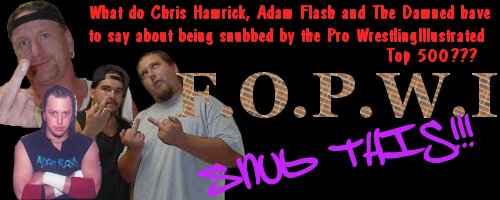 ---
---
Upcoming Shows:
December 22nd: ICCW Year End Awards and Wrestling event at the Loomis Arena, Plainfield, CT.
*Draven and I make a HUGE announcement *
December 26: PWF at the Warrington Skating Rink in Warrington. PA.
*Defending the PWF Universal Straps against The Backseat Boys*
December 28th: Independent Show at the Recreation Center Seabrook, NH
December 29th: NCW returns to the American Legion Hall in Natick, MA.
*Defending against EOS, Titles can change hands on a DQ*
December 30th: Power League Wrestling at the West Warwick Civic Center, West Warwick, RI.
*Show to Benefit the Rhode Island Community Food Bank*
January 25th: PWF Returns to the Renegade Wrestling School in Huntingdon Valley, PA.
January 26th: EWA at the High School in Lewiston, ME.
More to be added soon.

For more information go to the following websites:

easternwrestlingalliance.itgo.com
www.PWFProWrestling.com
www.theNCWOnline.com
www.bigeastwrestling.com
www.powerleaguewrestling.com
www.wwanewengland.com
iccw2000.tripod.com
---
Drink of the issue:


SEXY BANANA
2 shots Hot Sex
1 shot 99 Bananas

In a shaker over ice; Strain into shot glasses. Perfect for two!


(We do not condone underage drinking and/or alcohol addiction)

---
Phrase of the issue:

"CHINPO!!!"

Orgination of word: NWA World Heavyweight Champion Shinya Hashimoto

Meaning: The Battle Cry of the Damned Road Trippers (Mad Dog, Draven, and Guillotine)... Only we (and a few million Japanese) know what it means

Ex: "CHINPO!!!!!!!"
There is your new word.... use it, learn it, make it known!

---
Last year in Damned History (12-13-00 newsletter)
Thursday December 14th, 2000; Reading, PA
IWA at the Riverside Bene Hall.

Thursday morning we head out on icy roads in Rhode Island and by the time
we hit CT, the roads are bone dry. We make the 5 1/2 hour trip in just
under 4 1/2 hours. Upon our arrival, we relax a bit until the Kevin
Knight's IWF camp enters. We exchange hello's and a little catching up
talk. In walks Tony Montana (Brooklyn Bomber) with booker, Steve Corino,
who is followed very closely by his son Colby "The Prince of Pre-School".
IWA owner Terry comes in and welcomes us... next thing I know I'm being
assaulted from behind. Colby Corino is hitting me with his full repertoire
of Tajiri-kicks... punches.. and top rope maneuvers. (mind you Colby is 4
yeard old or so). Anyhow, he continues the assault until I high-tail it to
the locker room. I'm already beaten up, when I find out that we are
working The Matrix in a "loser leaves town" match. I get dressed (and find
out I've pulled a "Triplicious" and have my singlet on backwards... a
lengthy change and now I'm ready. (I'm probably not on my game from the 20
or so top-rope spots by "The Prince".) anyhow we head out and wrestle The
Matrix. (I look down and Colby is managing us now???? LOL) The Matrix in
all honesty are a GREAT young team. This match was really solid. Somehow
they came out on top! So now we have to leave the IWA. That sucks! (I'm
going to have our lawyer check the legality of the contract.)

Special Thanks go out to Terry for hosting us everytime we've come down,
the IWA talent who are top notch, and for booker Steve Corino, who will
make the IWA a very successful promotion. It was great working for and
with you all.

Well to start, Colby Corino has since debuted in the biz, setting an age record. Teaming with his dad, he beat Don Montoya and Reckless Youth. The Matrix won this match, but at a show a month later we came back under the heel commissioner and won the tag titles. We then beat the Matrix in a match where the losers could not team again in the IWA. This caused a bitter feud between Hadrian and Roman. Colby and his tag partner "lil Profile" Gabe Night are BOTH stiff as hell in their work. My money is on them being the Hashimotos of 2015. We haven't been to IWA in many months, but many of you regular readers know that Steve Corino went on to found the PWF and continues to be a great friend and one of our biggest supporters to this day. "Hail to the King" (and his hair at the restaurant last night)
---
To check out the most recent Eastern Wrestling Alliance shows with all of
the Damned's matches as well as a new NCW tape featuring many of the
athletes currently training with The Damned (like Chris Venom, Tim
Kilgore, Tripleicious, Ruy Batello. KL Murphy and more):

www.puretapes.com

To see The Damned versus Mind & Matter from the UWF Benefit show OR any of
the events from Intercontinental Wrestling Alliance and the Premier Wrestling Federation:

www.smartmarkvideo.com

OR

www.rfvideo.com

For Tapes of the Damned at the Premier Wrestling Federation, or for ANY of
their shows. Go to:

www.pwfprowrestling.com

To buy Steve Corino, Allison Danger, Chris Hamrick, Gino Giovanni, or PWF
shirts... or to get your OWN affordable and professional screen printed
shirts or merchandise made go to:

http://www.oldschoolsportswear.com
---
Finally for the Website of the Week:

http://www.kingofoldschool.com
Visit the all new website of the former ECW/NWA World Heavyweight Champion... "The King of Old School" Steve Corino
---
To buy the Damned Shirts (currently XL aka One Size fits Most)
They are usually $10 at events, $15 by mail (this includes Priority S&H)
e-mail us at damnedsite@aol.com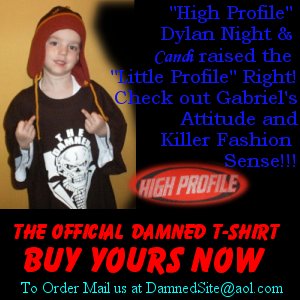 We will give you the address to send a money order to to get your very own.

---


Next issue...
Info coming off of all our events.. and more talk about our pals at Rocky Horror!!!!

See yah folks!

"OW My Nuts" -Tim Kilgore as he is getting press slammed in an EWA match.