Date: February 4,2002
PATRIOTS ARE WORLD CHAMPIONS!!!!!!!
Welcome to another issue of the Damned Newsletter. We will be offering two versions in each mailing from now on. The text only version and the Web Version with graphics and more. The second offering will be well worth the time to load and you will be able to read it through your web browser.
---
In this issue:
Results
Commentary
Upcoming shows
and the Usual bunch of Plugs.
---
January 19th:
Adrienne and I grabbed some dinner with KL Murphy and his girlfriend Rose. As we ate, the snow fell. It looked like we could be in for an interesting night... and we would be. I headed home and threw on my antiquated Dave Megget Patriots Jersey and met up with Draven, Fraggle, and Stacey at the Castle Cinema, home of the official Rocky Horror Picture Show Cast of the Damned.. The RKO Players. This time, we would not be in the full comfort of the Castle for Rocky Horror, but to watch the AFC East Champion New England Patriots play the AFC West Champion Oakland Raiders. Foxboro was covered in snow... and we were treated to a great game. Along with 100 other screaming fans, we partied and celebrated as our Pats won the game and progressed to the AFC Championship game versus the top AFC team, The Pittsburgh Steelers. Ted, who is the new asst. manager of the theater, was slinging beers like a champ. He was working his ass off keeping the masses happy with alcoholic goodness.
After the game, we hung out for the weekly Rocky Horror Picture Show... Rocky was the word for it, LOL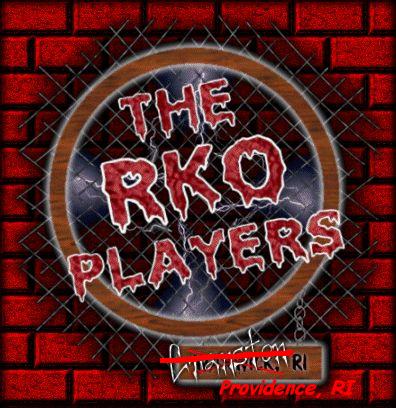 The cast was bare bones, as was the audience, due to the snow storm. There would be a special guest Rocky Horror that night... The Fraggle!!!! Honestly, Spence Money did not do badly at all. Bill was a rather large and entertaining Frank N Furter.. injuring my leg by sitting on me during I'm going home LOL... Honestly, my recollection of a few weeks back is not as it should be... but that is the problem with me not getting time to do the Newsletter until three weeks later
---
January 26: EWA at the Lewiston High School in Lewiston, ME.
Draven and I take the Mad Dog mobile and pick up the juvenile El Tornado to head up to Maine. We all laugh our asses off to Jackie "Jokeman" Martling's "Hot Dogs and Donuts", talk about a lot of funny shit. "Bulldog eating Mayonaise"... Best Punch line EVER!!! I imitated Dr. Heresy very adeptly, by having to make a ton of stops to relieve my bladder from all the water I was drinking. Anyhow, what seemed like a long trip a couple years ago, seemed mucho short today. We arrive to the High School and say our hellos. While waiting for the show to start, we got some stock footage set for the upcoming PWF Northeast. I helped KL Murphy become bald... LOL.. this wasn't an elaborate rib where we shaved his head, he wore a bald cap to wrestle as Stone Cold.
On the show:
-Alexander Worthington III announced that the evening was to be 'Stephan Q. Ramsey Appreciation Night". Worthington then decided that Ramsey needed some championship gold, so he ruled that El Tornado would face Ramsey for the EWA New England Championship.

-El Tornado defeated Stephan Q. Ramsey to retain the New England Title. 'Stephan Q. Ramsey Appreciation Night" was off to a rocky start.

-Chris Venom defeated ' Stone Cold' K.L. Murphy. Murphy continues his habit of emulating his favorite WWF Superstars, but was unsuccessful against Venom.
Just thought I'd add that this was most likely the best match of the night as both KL and Venom stepped it up and showed what awesome workers they are.

-'Big League' Brian Black defeated 'Alpha Male' Justin Powers.

-Frankie Armadillo, 'Flash' Nick McKenna, and Alex Arion defeated Adam Hastey, Larry Huntley, and Louis Barboza. The Lewiston native Barboza made an impressive debut in his first match, but fell just short of a win over the more experienced team. After the match, Barboza announced that he would get his hands on Armadillo in the Battle Royal later that evening.

-Damian Houston defeated Johnny Curtis is a high flying, 'lucha libre' style matchup.

-The Damned retained their Tag Team Titles against the team of Stephan Q. Ramsey and Dominic. Originally, the Damned were to defend their belts against the E.O.S., but Alexander Worthington announced that the E.O.S. had accepted a large sum of money and left, and that 'Stephan Q. Ramsey Appreciation Night" would continue, this time with Ramsey actually winning a title. Mad Dog and Draven would prove otherwise.

-Dr. Heresy successfully defended the EWA Heavyweight Title against Adam Booker. The match went back and forth, but ulimately, interference from Frankie Armadillo cost Booker the match and the EWA Heavyweight Title.

-Lewiston High School's own Louis Barboza was triumphant in the 20 man, over the top Battle Royal. Barboza looked impressive and gained a measure of revenge against Armadillo as he eliminated him last to win the match and the $5,000 prize money.
We finally left the high school. Tornado big leagued us and stayed with the Maine State Posse instead at Casa d'Armadillo. Along with KL Murphy and his better half, Rose, we hit a local pizza place to get some late night dinner. Note to self... Chocolate Milk and Pizza.. BAD MIX IN THE STOMACH... Thank god for air freshener!!!
---
Friday February 1st: I got the day off work due to the night before being a late one. I was still riding a high from our great debut gig at The Station in West Warwick, RI. I packed up my stuff and headed on my way for a weekend at Fraggle Rock. I was hampered for a few minutes arguing with the local U-Haul dealership, who tried to screw me on a rental. I cleared that up (I won hehe) and drove solo to Long Island. The CD that really sticks out for that ride as what made the time pass was The Mighty Mighty Bosstone's "Live at the Middle East" from the Hometown Throwdown Concerts. Another thing that sticks out... Why the hell is New York so Money Hungry??? They have tolls on every bridge... a normal trip to Fraggle Rock costs a minimum of $14 in tolls alone. Geez.
Anyhow, I arrived at the Rock in three hours, making decent time despite really shitty road conditions. Spence and I headed out for some dinner and then back to the "Rock" so I could throw together a quick tape of a few Damned matched. We then hit Mulcahey's Pub to see The Zoo, a killer cover band we have mentioned in here before. The show was really good, with Randy the singer remembering me as "The Wrestler" (seeing as I haven't seen them in like 8 months or so). Spence knows the band as he is a regular fan. Being a Bud Light promotion, the band was throwing out tee shirts and glow sticks and other bud stuff. A guy threw a glow stick back up at them (the place being packed at this time, it was hard to really see who it came from) and Randy asked for people not to throw things and be stupid. Fraggle's friend Tony proved he was a MORON by not even talking to Fraggle's other friend Amanda.. who is Mad cool. In set three, The same dickhead throwing the light stick and chucking the bird at the band all night threw what appeared to be a tee shirt at the band. It missed Randy and hit Ginger, the female singer. When the shirt hit the floor, it was obvious that a beer bottle was put in it. Tuck, the bass player who is fucking cool as hell, jumped off the five foot stage and started beating the guys ass in mid-air. It was by far one of the coolest things I have ever seen. He continued to beat the shit out of the guy until the security pulled them apart. They carted the other guy off and Tuck hit the stage again.I look at Spence and make two movie quotes.... "I've seen a lot of things... but that was... AWWEEESSOOOMMMEE" (Tommy Boy) and a few seconds later "Tough night, huh? Everybody's Kung Fu Fighting" (Wayne's World).
One of the guy's friends was all acting like he was going to step up, to which Tuck replied "That's right... the 'faggot' in the tie, just beat his ass... and now you want to step up... why? Because your girlfriend wants to fuck me??" That guy was pulled out too. A certain group of people were yelling something about Tuck and him being Hardcore... dunno what that was all about *smirk* The set was cut short and we talked to Tuck and said good byes to the band. Overall we left the place in high spirits.
Fraggle and I hit "Scobee" for some tasty breakfast and then headed back to the Rock to get some sleep.
---
February 2: We woke up close to noon and headed out to stop for Fraggle's little brother's birthday. They were having it at a place called Net Town. You basically go and play on high speed computers. They played a game called Counter Strike, where CTs (counter terrorists) try and take out terrorists in a "Doom"-like game. You could be on team CT or be a terrorist. It was pretty cool looking. Seeing 12 and 13 year old playing and swearing up a storm, South Park-style was also funny. We hit some Chinese Food for lunch and then went back to the Rock to get ready for the Jersey All Pro Russ Haas Tribute Event.
The trip to Jersey was quick and easy from Fraggle Rock. We arrived and headed into the show. I handed a tape to Fat Frank from JAPW, who I joked with about how long it took me to get it to him (promised it to him last year at the ECW Final PPV). Then I went and bullshit with Rob "F.A.G" Feinstein and Doug Gentry from RF Video. I was also surprised to see Jack Soul of the Soul Brothers at the event. Very cool. We found a good place to watch and the show stared with a very moving tribute to Russ, who recently passed away.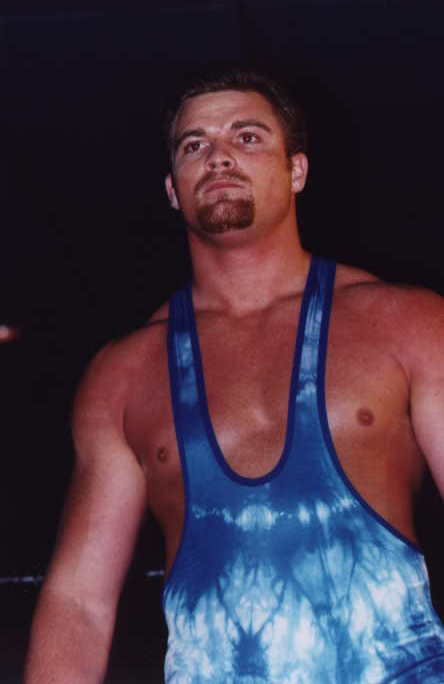 I'm not going to get into show results... but overall, I had a really good time. It was great to finally see Low-Ki in action live.. he lives up to the hype. His opponent, Kid Kruel, was also very good. Maybe from the guidance of his gorgeous manager... what was her name??? um.. something or other Danger??? maybe was it.. uh.. Allison? Anyhow, also on the show was The Big Unit working Don Montoya and Mike Quackenbush. this was hilarious. These guys put on a really good show. Very clever stuff, including the Michinoku spin, jump kick spot. Slyk Wagner Brown and Stryker looked good in their match. Crobar (announced as Devon Storm) and Simon Diamond were scheduled to work each other, but called out Russ Haas' brother Charlie (now "R.C. Haas" in HWA as a tribute to his bro) to face them. The crowd went nuts. Charlie look fantastic and the match flowed really well, with Charlie winning. The final two matches were great. The HUGE Shane Twins from IPW in Florida and The Hit Squad faced off. This match was really solid, with a team finally making the normally indestructible Hit Squad look like they had a weakness. Finally, the main event was killer. Homicide stepped it up with Insane Dragon and Dixie. The match had a ton of great spots and a surprise finish. Overall very enjoyable. The show ran a little long for my taste (3 1/2 hours). It raised $5000 for Russ' wife Deidre.
After the show, we went and talked to Stryker, who was psyched to see us there. We talked a bit about PWF Northeast and then saw Allison Danger come out. Talked to her for a while, before getting BIG LEAGUED (LOL). I got to say hellos to Homicide and Monsta Mac of the Hit Squad before we were preparing to leave. Charlie Haas came out and I went to say hello. He remembered me and I passed my condolences about Russ.We chatted a few and then I said good-bye (as tons others were waiting to talk with him). Fraggle and I took off and stopped at the newly Renovated Lombardi Service stop for some eats and then back to the Rock. At that point, for some reason, I figured it would be easier on me to drive home that night. So I did. At 2 AM, I left the rock and headed home listening to all sorts of great music on the way home.
---
February 3rd:
Draven, Stacey and Draven's sister came over and we watched the SUPER BOWL. The 14 point underdog Patriots (my favorite team as long as I can remember) defeated the "Greatest Show on Turf" The St. Louis Rams 20-17. Draven, also a life-long Pats fan, and I were going nuts at the win. Who can believe that the 5-5 team closed out its season with 9 straight wins to become World Champs. They beat the AFC West Champs The Raiders, The #1 team in the AFC and AFC Central Champs The Steelers, "The Best Team in Football" The 14-2 NFC Champions The Rams. No one thought they could do it. Now, you can call them "lucky", you can call them the "Patsies"... but now you HAVE TO CALL THEM "CHAMPS".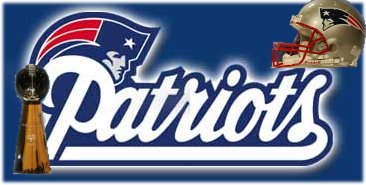 ---
---
Krimzen Report: We had our first gig!!! People in attendance gave us a great response, and reviews have been good so far. We will keep you updated on upcoming gigs. Soon, pictures from the show and sound bytes will hit the web site. Thanks to all of you who came out and supported us! http://krimzenreign.tripod.com
---
---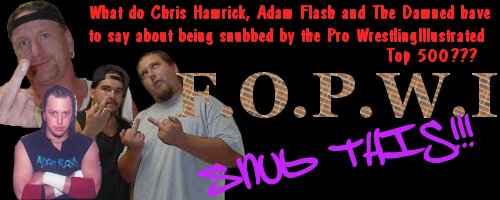 ---
---
Upcoming Shows:
February 8th: EWA at Dartmouth College, New (Cow) Hampshire.
(**first meeting defending the EWA Titles against NECW champs The Egomaniacs**)
February 15th: EWA Returns to the Stevens Ave. Armory in Portland, ME.
(**Featuring former ECW star CW Anderson**)
February 16th: EWA at New England College in Henniker, NH.
(**featuring former ECW star CW Anderson**)
February 22nd: EWA at the Auburn Middle School, Auburn, ME
(** Benefit event for Kildevil**)
February 23rd: Rescheduled PWF Northeast debut, Location TBA.
February 24th: PWF returns to the Academy Hall in Pottstown, PA.
(** Tag Title Unification as we defend against the Phoenix Championship Wrestling, ECWA, and UPW Tag Champs "Evolution"... Nova and Frankie Kazarian**)
Dates in March and April Already being set... will be announced soon.

For more information go to the following websites:

easternwrestlingalliance.itgo.com
www.PWFProWrestling.com
http://www.powerleaguewrestling.com
www.wwanewengland.com
---
Drink of the issue:


Sam Adams Light

---
Finally, a micro-brew light beer that tastes like a micro brew. At only a 120 calories per bottle, Sam Adams Light tastes just like a classic Sam Adams. Fantastic work to Jim Koch, Sam Adams brewmaster for this great beer


(We do not condone underage drinking and/or alcohol addiction)

---
Phrase of the issue: "Hashimoto"


Origination of word: Allison Danger, big-leaguing Red fan (yeah, I know Brandi was driving, I'm teasing)

Meaning: v. "To totally destroy", "To put serious hurting on"

Ex: "You guys didn't use my phrase for the newsletter.. I'm soooo going to get Hashimoto on your ass for that."

There is your new word.... use it, learn it, make it known!
---
To check out the most recent Eastern Wrestling Alliance shows with all of
the Damned's matches as well as an NCW tape featuring many of the
athletes currently training with The Damned (like Chris Venom, Tim
Kilgore, Tripleicious, Ruy Batello. KL Murphy and more):

www.puretapes.com

To see The Damned versus Mind & Matter from the UWF Benefit show OR any of
the events from Intercontinental Wrestling Alliance and the Premier Wrestling Federation:

www.smartmarkvideo.com

OR

www.rfvideo.com

For Tapes of the Damned at the Premier Wrestling Federation, or for ANY of
their shows. Go to:

www.pwfprowrestling.com

To buy Steve Corino, Allison Danger, Chris Hamrick, Gino Giovanni, or PWF
shirts... or to get your OWN affordable and professional screen printed
shirts or merchandise made go to:

http://www.oldschoolsportswear.com
---
Finally for the Website of the Week:

Visit the website of the World Champions... the New England Patriots.
Heart, Desire, Destiny, and a whole lot of class.
---
To buy the Damned Shirts (currently L, XL, and XXL)
They are usually $10 at events, $15 by mail (this includes Priority S&H)
e-mail us at damnedsite@aol.com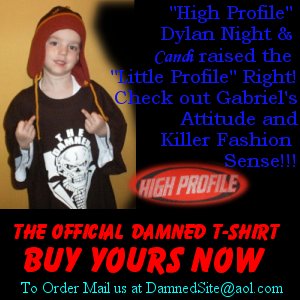 We will give you the address to send a money order to to get your very own.

---


Next issue...
Info coming off of all our events.. and more talk about our pals at Rocky Horror!!!!

See yah folks!

"Got a Girlfriend, Got a Girlfriend, Got a Girlfriend, Got a Girlfriend, "-(actually said 8 times) Tim Kilgore... proving that some people can't take a hint even when you tell then you are in a relationship.