Date: March 4th,2002
PATRIOTS ARE WORLD CHAMPIONS!!!!!!!
Welcome to another issue of the Damned Newsletter. We will be offering two versions in each mailing from now on. The text only version and the Web Version with graphics and more. The second offering will be well worth the time to load and you will be able to read it through your web browser.
This newsletter is written in loving memory of Adrienne's grandfather, Raymond Davis, who passed away this past saturday. He always made sure to ask how my wrestling was going, worried about me getting hurt. We'll miss you Papaw!
---
In this issue:
Results
Commentary
Upcoming shows
and the Usual bunch of Plugs.
---
February 15th: Dean Ripley and Draven drove to my place and picked Adrienne and I up and we headed up to return to the Portland National Guard Armory in Maine. After a lengthy absence, EWA made its return to its home base. The trip was pretty quick as I dozed most of the way up, which is unusual for me. We arrived with about an hour before the show. Our first bit of bad news was that CW Anderson's flight was cancelled, and he wouldn't be in Portland. Also, KL Murphy was pretty sick and unable to wrestle, so Donny Marine would be out of action that night. We ended up working Chris Venom and "Flash" Nick McKenna of the Hard-Core Institute. As regular readers know, we are always talking about how talented Venom is. McKenna was wrestling only one of his first few matches. Honestly, McKenna did awesome. The guys worked their asses off. In the end, We hit Total Damnation on McKenna for the pinfall and the win in the tournament for the vacant tag titles.
Also in action:
Dominic and Stefan Ramsey (w/Alexander Worthington III) beat The Power Company
Egomaniacs beat Damian Houston and Brian Black
Elements of Suicide (w/Gina Marie) beat Adam Hastey and Larry Huntley. Huntley turned on Hastey and joined his rivals for almost 2 years, The Hard-Core Institute.
Non-tournament matches:
Chi Chi Cruz beat Johnny Curtis
EWA Heavyweight Champion Dr. Heresy pinned EWA New England Champion El Tornado
Frankie Armadillo (w/Dr. Payne) defeated Adam Booker (w/Christy Thompson) in a Ladder match to win the EWA Hardcore title.
This match was amazing. Frankie and Booker worked for nearly a half hour (or it seemed like it). At the end, Booker took an insane bump off the top of the ladder in the ring, through a table on the floor of the Armory. These guys definitely amazed the crowd and the locker room with their great efforts and performance.
After the show, Draven, Adrienne and I hit Applebee's with our friend Jen, and ripley. Then we headed back to Rhode Island, stranding Ripley in Maine (lol... that is the newsletter version). The drive home was fairly quick and painless as we blasted the radio on the way home.
---
Saturday, February 16th:
Draven drove up and picked me up and we headed up to Henniker, Maine. Along the way, we noticed what shitty gas mileage the Money-truck was getting. After beating the Fraggle into putting a gas treatment in, the thing ran great. Sure, after we burned a pocketful of money on the damn thing. We get to the school and see stuff getting set up. First thing we see is that CW Anderson arrived for the show. We exchanged hellos with CW then made our rounds. It was way cool seeing CW hanging, playing 'HORSE' with Draven and a few others and even helping set up stuff. Not often a headliner does this stuff. Just goes to show what a humble and class act he is. (More on that in a bit).
We head back stage and get ready for the show.
Our match was a three-way dance (YUCK) against the EOS w/Gina Marie and HCI Members (Larry Huntley and Chris Venom) w/ Dr. Everette Payne. The match started as a big crazy three way brawl. Eventually EOS were in the ring together and dove out through the ropes onto the rest of us. Their manager did a flipping plancha off the top rope. Everette Payne tried a bodypress onto us. Draven hit his cannonball plancha. Referee Paul "Pee Wee" Hazard had seen enough and pulled a Mike Kehner, doing his own cross body press off the top rope. Draven and Huntley got back in the ring brawling, and I stepped in as Draven ducked a punch of Larry. Draven set Larry right into Total Damnation. I hit the big power bomb and Draven hit the frog splash to eliminate Lars. EOS were on us immediately attacking us from behind. They got in a good amount of offense on me, including an unsportsman-like 8 shots to the family jewels. Finally Cinna missed a moonsault and I tagged in Draven. He cleaned house and we were finally able to hit Total Damnation on Cinna for the win.
EWA New England Champion El Tornado beat Stefan Ramsey (w/Dominik)
EWA Hardcore Champion Frankie Armadillo (w/Dr. Payne) pinned Brian Black
Adam Hastey defeated Chi Chi Cruz (w/Donny Marine)
EWA Heavyweight Champion Dr. Heresy beat Damian Houston in a Ladder match
Johnny Curtis and Mike Torres beat Kid Krazy and Poet 4:20
C.W. Anderson beat Adam Booker (w/Christy Thompson)
C.W. put over the whole EWA company on his website (www.enforcercw.com). That was mad cool, as is he. With any luck we'll look across the ring one day in the near future and see Anderson waiting to try and hit the Damned with the best damn spine buster in the business.
We hightailed it home, with Ripley back in the car. He managed to hitchhike a ride to Boston and then hitched another ride with C.W. to get to NH. (In reality driving with Larry Huntley to pick up Anderson).We made it home in time to catch our weekly fix of The Rocky Horror Picture Show brought to us by the official cast of the Damned, The RKO Players at the Castle Cinema.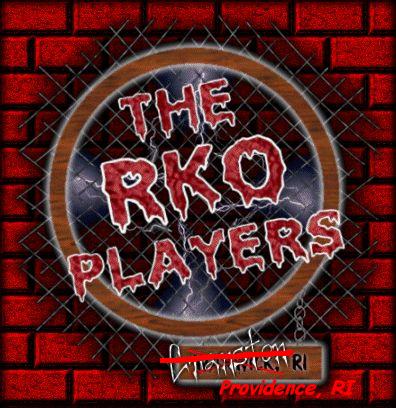 Unfortunately I have completely forgotten who played what roles on the show. I know that it was a great show, as usual, and we had a blast. I have become an irresponsible Damned columnist. Damn me! LOL.
Anyhow, after the show, I went home and crashed as I knew I had band practice in the morning.
---
February 22nd: Draven and Dean Ripley picked me up and we headed on the long drive to the Middle School in Auburn Maine. This was a very long trip, and leaving late, we hit traffic. EWA ended its four show run in February with teh Kildevil Benefit I touched on last edition. Finally upon our arrival, we found we'd be working HCI Members Larry Huntley and Nick McKenna w/Dr. Everette Payne. We got prepared for the show and I had a lot of great stuff planned, it never happened. The match was a big messy brawl with me and Huntley, and it got a little technical with Draven schooling McKenna, until a cheap shot would get them to take Draven down. Finally Draven made the tag and I cleaned house on the HCI. We hit Total Damnation on Huntley and then left the ring. As it turns out, Huntley took the Damned ride straight to being concussed.
Also on the show:
Louis Barboza pinned Frankie Armadillo (w/Dr. Payne) to win the EWA Hardcore Title
- Johnny Curtis beat Adam Hastey
- Adam Booker (w/Christy Thompson) beat Chris Venom (w/Dr. Everett Payne)
- EWA New England Championship Gauntlet Match: Stephan Ramsey beat K.L. Murphy (w/Donnie Marine); Stephan Ramsey beat Brian Black; El Tornado pinned Stephan Ramsey to retain the title
- EWA Heavyweight Championship Match: Dr. Heresy beat Damian Houston.
We drove home in somber moods thinking about Huntley going to the Emergency Room. You hate to see another worker get injured, especially in your match. We did a lot of talking, and singing GLAM ROCK tunes. More on the talks in Commentary.
---
February 23rd: PWF Northeast debuts in Planfield, CT at the Loomis Arena. We were lucky enough to have a packed house, standing room only, for the first event "Genesis". The show was centered around the filling of the three vacant titles: The Heavyweight, Jr. Heavyweight, and Tag Team. There would be a 10 man tournament for the Heavyweight championship.
results directly from www.pwfnortheast.com
The standing room only Loomis Arena in Plainfield, CT played host to the first ever PWF Northeast event called "Genesis". The show was centered around a tournament for the vacant Heavyweight Title. At the top of the show it was announced that a handful of the scheduled guys had been injured/unable to make the event.

Dean Ripley introduced 1/2 of the PWF NE broadcast team, TJ Wyld, who pumped up the crowd for the TV taping (show coming soon to WorldWrestlingNetwork.tv).

In the opening contest, "Revolution" Chris Venom defeated Triplelicious with an amateur chicken win pinning combo. Triplelicious looked to have his friend/tag partner Venom beaten, but Venom managed to reverse into the amateur combo for the win. After the match, and angry Triplelicious seemed to refuse the handshake of Venom. When he finally accepted a handshake and hug, Trip countered with his H-cubed (Diamond Cutter) and left cursing Venom and the fans.

In the next contest, "Heartbreaker" Ruy Batello with "The Mouthpiece of the East" Sean Gorman faced Tuesday's Fixx (subbing for an injured Damian Houston). Fixx amazed the crowd with an array of luchadore-like moves, but finally succumbed to Ruy's new finisher "Ru-anation" (Chris Daniel's Angel's Wings.... sit-out pedigree).

"Enforcer" Larry Huntley came out to accept a forfeit win over Adam Hastey (who he brutally attacked the night before after a match at the Eastern Wrestling Alliance event in Auburn, ME).

"Bad Boy" Billy Black drew local home-town favorite Duff for his opening round contest. Duff, as usual, was incredibly over with the crowd... while "Bad Boy" was taunted with one of the longest "WHAT" chants ever. "Bay Boy" managed to reverse Duff's TKO attempt into his own "Bad Day" finisher (reverse spinning neckbreaker) to advance to the quarter finals.

In a non-tournament handicap match, Man's Best Friend (The Beast and Derik Destiny) faced the debuting Psycho Mike. Mike held his own against the popular tag duo, but then brawled with Beast until a double count-out. As Destiny stood in the ring, PWF Universal Tag Champions, The Damned ran out and hit him with a unique double arm-wringer into a double backbreaker. Destiny rolled out and TJ Wyld came to Interview the Damned. After choice words about former partners by Mad Dog, The Damned hit Wyld with "Total Damnation" (last ride powerbomb followed by a frogsplash).

In Quarter final action, "Revolution" Chris Venom face "Heartbreaker Ruy Batello. Ruy put a serious beating on Venom, who was able to reverse a Ruy whip into a chair, causing Ruy to be knocked nearly unconscious. A swanton bomb later and Venom would be in the semifinals of the tournament.

In the other quarter final. "Criminal Intent" was set to explode. "Bad Boy" Billy Black, possibly the most hated man in PWF NE, faced his stooge and partner, "Enforcer" Larry Huntley. Black told Huntley to know his position and to lay down for him. Huntley countered that he wanted the title. The two argued and the crowd was solidly behind Huntley, cheering as he asked if they wanted him to kick the butt of "Bad Boy". In the end, it was just a mind game, as Huntley simply laid down for Black and let him pin him. "Bad Boy" advances to the semi-finals agaist Chris Venom.

The next non-tournament match was a "Double Jeopardy" match for the vacant PWF Northeast Jr. Heavyweight Title. Two matches going on simultaneously in one ring at one time. The first two matches were KL Murphy facing Tim Kilgore and Johnny Curtis battling "Broadway" Kenn Phoenix. Kilgore and Phoenix have had history as stable-mates and tried to help each other from the get-go. After a flurry of high flying moves, Phoenix went to hit Murphy with a pair of brass knuckles and accidentally hit Kilgore, who Murphy pinned to win his match. A minute later, Phoenix rolled up Curtis to pin him. Kilgore came back to rindside as Murphy and Phoenix fought. KL reversed a Phoenix move attempt into his finisher, "Murphy's Law" (moonsaulting reverse DDT). After the match, Phoenix attacked the new champion. Kilgore came in and prepared to hit Murphy with the brass knucks from earlier, instead nailing Phoenix purposely. He helped up Murphy (who he has had numerous heated matches with in the past) and shook his hand, giving the new champ the title belt in respect. KL Murphy is the first PWF Northeast Jr. Heavyweight Champion.

Dr. Everette Payne of the Hard-core Institute came out and introduced himself to the crowd. At his side was his newest Marketing Dept. member, Zachary. (Krazy and even Johnny Curtis were members years ago, both becoming fine professional wrestlers.) He announced that he had come to PWF NE to guide two of his former students to success in a new territory. Payne called out Frankie "Mr. Muscles" Armadillo and Kid Krazy. Due to the Showtime Posse being unable to make the event, the PWF NE Tag Team Titles were given to the new HCI tag team. As they went to leave, ring announcer Dean Ripley informed the HCI that although they WERE the new PWF NE Tag champs, they WOULD have to defend the belts against a debuting team. Emerald Fusion (Blade & Mike Paiva) w/Mercedes came out. The four men, and Mercedes put on a highlight reel of a match. After untimely interference by Payne and Mercedes, both were banned from ringside. The match continued with Zachary interfering, and getting blasted by both of Emerald Fusion for his troubles. Armadillo charged at Paiva witha chain in his hands, only to be backdropped to the floor. Krazy tried a roundhouse with a chain onto Paiva, who ducked, trying to counter witha belly-to-back suplex. Halfway through the suplex, Krazy nailed Paiva with the chain and easily crawled to pin him. Frankie Armadillo and Kid Krazy, the HCI, are the PWF Northeast Tag Team Champions.

In the first semi-final of the Heavyweight Title Tournament, the final ICCW Heavyweight Champion "Big League" Brian Black faced the #1 Contender "Trendsetter" Adam Booker. Due to their rankings in the final ICCW ratings, both were given a bye to the tourney semifinals. These two pulled out all the stops. In an attempt to take short cut, Brian Black threw a handful of powder into the eyes of Booker. He then tried to hit the blinded Booker with a chair. Ref Pepe Sanchez grabbed the chair and threw it away. Booker charged Black and accidentally collided with the ref in a Gore attempt. Booker fought back and hit a powerbomb-flapjack combo and ref Pee Wee Sherman ran in to count the three. As the crowd cheered, Sanchez came to and reversed the decision, DQing both men for use of powder and for spearing him. The match is a double DQ and the other semi-final match would now be for the vacant PWF Northeast Title.

In the main event, "Bad Boy" Billy Black defeated "Revolution" Chris Venom to become the first ever PWF Northeast Heavyweight Champion. Both men worked their butts off striving to be the man who would lead the promotion as its champion. In the end, three hard matches took their toll on the back of Venom, who injured himself on a swanton attempt and couldn't capitalize for a pin. A miscue saw Huntley punch Billy Black, but as Venom nailed Huntley, it gave "Bad Boy" an opening to hit his "Bad Day" for the pinfall win

After the show, we congratulated the guys for a great debut show. We headed back to Providence, with Derik Destiny promising to pay for our movie not to beat him up again (LOL in reality driving there and back with us). We ended up having a great crew to go to Rocky Horror. Adrienne made her first visit in a long time. The team of Man's Best Friend were there, Beast does well at the movies LOL. Draven, his sister, Stacey, and newest member of the Krimzen/Damned circle of friends... the "Lil Hippy Chick" Mandi. Tim Kilgore and Rhyanedd also showed up. Fun stuff!!! I will send a special commendment to Bill for being a FANTASTIC Trixie!!! "BONG!!!"
It was a good and MESSY show, as we bought 30+ rolls of toilet paper and 4 loafs of untoasted toast. Great time. After the show, once again, I had very little sleep to look forward to after knowing I had to catch band practice and a PWF show to drive to.
---
February 24: Draven and I get out of band rehearsal and head to New York to pick up our buddy Chaz and our manager Demonica. The ride there is spent talking about all sorts of stuff, especially music. Draven caught some sleep on the way there, a favor which I would return on the drive home. We hit Long Island and meet up with Charlie and Demonica. We load into the car and BS on the trip to the Academy Hall in POttstown, PA. On the ride to Long Island, I will say that I set a new world Damned Record for eggroll eating, as Draven's sister gave me a bowl at band practice. We get to the Hall, and talk with Steve Corino about some important stuff, commentary will clue you in, and then prepare to defend our PWF Tag Team Titles. Originally, we were scheduled to face Evolution (Frankie Kazarian and Nova). Nova saw fit to big league us and work on the WWA PPV (and win his match even,... congrats bro!!!) and Kazarian ended up getting a shot at Red's Jr. Heavyweight Title. Somehow, PWF TV Champion Guillotine LeGrande got himself a title shot, and found himself a true old school legend to team with... Jack Victory!

Earlier in the night, Gino Giovanni, who had pissed us off by blowing us off and traveling to PA with UWF owner Bobby Cruise, decided to return to his old (gay) ways. He joined with "The Well Hung Warriors" (Mark Smart and Greg Spitz) and defeated PWF Senior Referee Mike Kehner in a singles match. After the match, the three tripled on Kehner. Now I won't lie and say we've never had our problems with Mike Kehner. In fact, Kehner holds a win over us (with James Proper) in IWA. We threw personal stuff behind us and ran out to save Mike. Gino bailed, and Smart got nailed, just before we hit Spitz with Total Damnation. The challenge was made for us to find a partner to face the three "Well Hung Warriors", we looked no further than Kehner. So April 7th, we tag with Mike Kehner against Gino Giovanni, and his "Well Hung Warriors".

We came out for our title defense later riding on unusual PWF crowd approval. We took it right to LeGrande and Victory. They managed to get over on Draven and start to beat him down. Finally, he was able to tag me and I cleaned house on both. Guillotine accidentally crushed ref Brian Logan in the corner and was then victim of the shoulderbloc/splash/legdrop combo. Victory was hit with my Bossman slam (biggest one I've ever had to try). Draven came off the top and hit Jack-o with the frog splash for the pin. Logan was unconscious. I checked on him and LeGrande hit me in the back of the head with Victory's cowboy boot. He then nailed Demonica and Draven, rolling Victory over for the pin and the win. Yes, we lost the PWF Tag Titles.

also on the show:

"Platinum" Mike Preston defeated Chris Devine.

Rob Dimension delivered a speech, praising all of the efforts of the PWF titleholders. However, his failing to mention TV champion Guillotine LeGrande prompted the disgruntled titleholder to hit the ring, and run down the PWF, Dimension, and the fans. "High Profile" Dylan Night then hit the ring, and praised the fans for respecting his efforts throughout the year 2001, particularly at the Ironman Challenge. LeGrande and Night had words, and out of nowhere "The Old School Heroes" Steve Corino and Jack Victory stormed the ring and joined Guillotine in beating down "High Profile". Corino declared that the fans and their money meant nothing to him, and that Night was a fool for even acknowledging their existence. He promised to "kill" Night in their title match later in the night.

Quiet Storm defeated Bax with the Storm Cradle Driver.

The S.A.T. defeated The Ballard Brothers.

Rockin' Rebel & Matt Vandal defeated The Rachies. Due to a pre-match stipulation, "Doomsday" Danny Rose and Adam Flash can never team again in the PWF.

The Amazing Red defeated Frankie Kazarian with the Red Star Press to successfully defend the PWF Junior Heavyweight title.

Steve Corino defeated Dylan Night with the katahajime, forcing "High Profile" into a state of unconsciousness. Both men were cut open by steel chairs, with Corino bleeding heavily throughout the match. As Night was locked in the hold, he made an effort to reach the ropes, but a ruthless Corino moved his hand away from the chin and directly onto the jugular, causing the champ to pass out. Corino, Victory, and LeGrande now control the majority of the belts in the PWF.

After the show, we hit the local Limerick Diner with Corino, Victory, LeGrande, Demonica, Allison Danger and the sleeping Prince Colby. We all talked a whole lot about different things, with Jack Victory telling some hilarious stories about Beds in Atlanta and "Big Cat" Ernie Ladd ("Come ON Ice Cream") LMAO!!! I slept a great deal of the way home, as I had to work at 7:30 in the morning. Overall it was a fun trip.
---
March 1st: Tim Kilgore and his woman, Rhyanedd stopped by our house, planning on going to see a movie at the Castle Theater. It ended up showing that the time advertised was WRONG. Adrienne, Tim, Rhyanedd and I hit Johnny Rockets on Thayer Street for dinner, complete with a few calls to Kid Krazy to harrass him (TWWWOOOOO FOOOOOOT COOOCCCCCCKKK!!!). After, we had talked about hitting a midnight showing of "Monty Python and the Holy Grail", but hanging at our apartment watching "American Pie 2" ended up tiring us old folks out, so we planned on getting together another time. It was mucho fun hanging out with Tim and Rhyanedd without wrestling involved.
---
March 2nd: We got the word of Adrienne's grandfather's passing, so we made appropriate arrangements and I got her a plane ticket immediately and put her on the first available flight to Austin, Texas. I got home and chilled out alone watching TV. At 11PM, I headed to the Castle to see Rocky Horror, without the usual gang. Overall the cast was good stuff, although Becky and Nicole were away. Violent Ray did a good Army of Darkness pre-show. After, the cast did a good show...and Ted aka TJ Wyld seemed to be recovered from his beating at our hands at the PWF NE show.
After, I hung out and grabbed food at the Castle. We watched "Jay & Silent Bob Strike Back" on the big screen... God that movie rules. After that, home to my...sniff... empty bed.
---
Commentary: Here is the commentary I thought I would never be writing. I don't know how to start it, but I guess I should dive right in. Wrestling has been a major part of my life for the better of the last ten years. In that time, I have seen partners and friends come and go. I have met some true legends. I have had the opportunity to work with some world renowned athletes. I even got to cross check a Boston Bruins Hockey Legend (Lyndon Byers STILL rules). Along with Draven, The Damned became a popular indy tag, traveling up and down the coast. We had some great matches with some of the best talent there is. We have had the opportunity to be involved in the training of a great bunch of guys. We have helped expand the Premier Wrestling Federation territory to New England. I promised myself that I would stay in this business as long as it stayed something I loved. In recent months, the excitement of heading out on the road has diminished greatly. Draven has been injury plagued for a while now, but works hard without complaining. Most promoters wouldn't even know the pain he has been in lately. The same goes for me. My upper back was injured early in my career by a green worker screwing a bodyslam up. It never really healed correctly. So we looked at the pros and cons, and for the first time, the pros are not outweighing the cons in the business. Our fire is going down and our desire to travel is not there like it once was. After a long talk after the Kildevil Benefit, we came to a decision. It is getting close to our time to bow out and hang up our boots.
June will be 10 years in the business for me, a milestone I want to pass before getting out. As it is right now, we are planning on wrestling our last match in either late June or July. Most likely this will be for PWF Northeast, which I will continue heavily in running. We are trying to organize one hell of a show for that event, including a proposed main event of our Last match ever against "The King of Old School" Steve Corino and a partner we are trying to arrange (maybe C.W. Anderson). Maybe something will present itself in the next 4 months that will spin our heads and change our minds, but as it is right now, Draven and I plan on getting out before we have been too worn out. We want to get out on our terms, not because an injury forced us out.
Other than the promoters we work for and the other wrestlers, you are the first fans to hear anything about this. We wanted you all to be the first to know before any promotions release it. Thanks for being there for us.
I'm sure we will touch on this way more before the date comes up... watch the newsletter for more info.
---
---
Krimzen Report: Mark your caledars! The next Krimzen gig is March 14th (Thursday) at the Living Room in Providence, RI. We are one of four bands playing and should hit the stage at 10:45. http://www.krimzen.net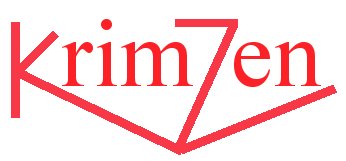 ---
---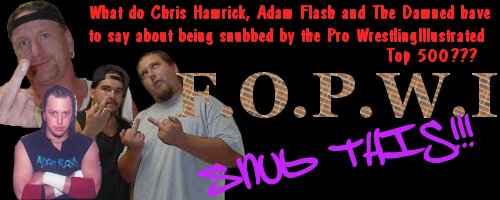 ---
---
Upcoming Shows:
March 9th: United Wrestling Federation debuts at the High School in Whitman, MA.
(**One of the best cards in New England Indy History as K Kwik faces Low-Ki and Xavier. Plus PWF Universal Champ "High Profile" Dylan Night & Candi make their New England debut against Slyk Wagner Brown w/ April Hunter. Allison Danger, and another chapter will be added to the Damned-Egomaniacs feud. Plus many more! See "The Queen of Extreme" Francine as well.**)
March 15th: EWA at the Steven's Avenue Armory in Portland, ME.
(**Tag Title Tourney Continues with us versus Stefan Ramsey & Dominic**)
March 30th: PWF Northeast at the Almeida VFW Hall, Bristol, RI.
Dates in March and April Already being set... will be announced soon.

For more information go to the following websites:

easternwrestlingalliance.itgo.com
www.PWFProWrestling.com
www.unitedwrestlingfederation.com
http://www.powerleaguewrestling.com
www.wwanewengland.com
www.pwfnortheast.com
---
Drink of the issue:

DESERT DEATH
This is a SHOT!
Equal amounts, straight up, chilled or over ice:

Creme de Banana Liqueur
Malibu Rum
Midori
151 Bacardi Rum
Cranberry Juice
Pineapple Juice



(We do not condone underage drinking and/or alcohol addiction)

---
Phrase of the issue: "Jaded"


Origination of word: Mad Dog & Draven

Meaning: "Feeling betrayed and crossed about something"

Ex: "God, I wish all these rookies would stop feeling so Jaded by the biz, they haven't got a thing to be pissed about!!!"

There is your new word.... use it, learn it, make it known!
---
To check out the most recent Eastern Wrestling Alliance shows with all of
the Damned's matches as well as an NCW tape featuring many of the
athletes currently training with The Damned (like Chris Venom, Tim
Kilgore, Tripleicious, Ruy Batello. KL Murphy and more):

www.puretapes.com

To see The Damned versus Mind & Matter from the UWF Benefit show OR any of
the events from Intercontinental Wrestling Alliance and the Premier Wrestling Federation:

www.smartmarkvideo.com

OR

www.rfvideo.com

For Tapes of the Damned at the Premier Wrestling Federation, or for ANY of
their shows. Go to:

www.pwfprowrestling.com

To buy Steve Corino, Allison Danger, Chris Hamrick, Gino Giovanni, or PWF
shirts... or to get your OWN affordable and professional screen printed
shirts or merchandise made go to:

http://www.oldschoolsportswear.com
---
Finally for the Website of the Week:

---
To buy the Damned Shirts (currently L, XL, and XXL)
They are usually $10 at events, $15 by mail (this includes Priority S&H)
e-mail us at damnedsite@aol.com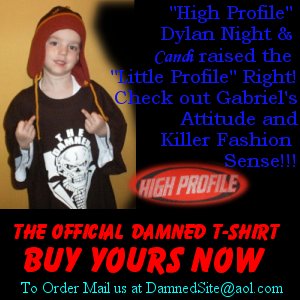 We will give you the address to send a money order to to get your very own.

---


Next issue...
Info coming off of all our events.. and more talk about our pals at Rocky Horror!!!!

See yah folks!

"Tim, why do you smell like Oreo O's???"
"Cause the box says that it arouses desires in even the strongest of souls!"-Tim Kilgore... to his girlfriend, Rhyanedd, after an interesting turn of events.