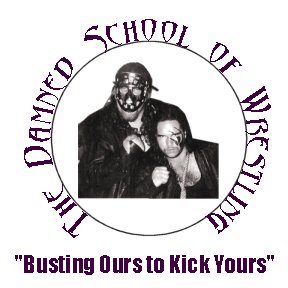 There are really great wrestling schools out there these days. Choosing one can be a tough decision. Two things that often are factors for prospective students are time demands and price of training. Located in rural Plainfield, CT (easily accessible off Route 395), the Damned School is open one night a week for a three hour workout. Due to this fact, you do not get as much ring time in a week as you would in a school that is open 5 days a week. Accordingly, we do not charge an unreasonable amount of money to join and continue training. We do not guarantee you will make it to the WWF, or even make any sort of money in the wrestling business. If you have the heart and the desire, we will do our best to make sure you can realize your dream of stepping in the ring. Our program has been utilized by former "backyard" wrestlers who are now realizing their dreams of becoming legitimate wrestlers, working shows for great crowds all over New England.
A few questions we get:
What are your qualifications for training?
Both Draven and Mad Dog have been in the business for close to ten years. Both starting in the NEWA, both knew that in order to succeed they would have to find a place to get formally trained in order to move on. Mad Dog trained under Gino Caruso ("The Falcon" for Tony Rumble's Century Wrestling) at the NeWF Training Facilities. Draven trained with Sylvano Sousa (who even did shots for the WWF). Both currently work for many promotions, including Steve Corino's Premier Wrestling Federation, The United Wrestling Federation, The Eastern Wrestling Alliance, and have stepped in the ring with some of the best talent on the Indies today (The SAT, Steve Corino, The Sandman, The Backseat Boys, Jack Victory, Roadkill, Christian York/Joey Matthews, Jim "The Anvil" Neidhart & more). Since we began training wrestlers, Mad Dog was involved in the training of Andy Jaxx, Kid Krazy, and more. Draven was involved in the training of Don Juan Desanto and Dr. Heresy. More recently both are training Chris Venom, KL Murphy, Ruy Batello, "Psycho" Mike Osbourne, Triplelicious and Zachary Richards who work area independents, and were involved in the training of Blade of Fuzion. Our trainees are starting to get consideration from promotions outside of New England, and may be doing some touring later this year. Some have already appeared for the Premier Wrestling Federation in PA, The National Wrestling Alliance Wildside and New England territories and more.
How long before I get in the ring?
That is a two-fold question. You will begin training in a ring your first night you join the school. As far as being "show-ready", that is up to your progress training. Some people are ready to start wrestling after 4-6 months, others after more than a year.
What do you learn?
We teach our students the aspects of the business, such as the physical performance (learning moves, how to do them properly), psychology (how to run a match), character development (coming up with a wrestling persona that is right for you), promo skills (doing interviews, talking), and etiquette (how to act professionally at shows, etc).
Why is the school less expensive than other schools?
Unfortunately, we are unable to run our school 5 or even 3 times a week. We have training one night a week. Our gym is a converted barn with our ring in it (the ring is one of the better rings in the area). We do not have a weight room or other workout materials. We do have a great deal of "crash pads" for when wrestlers are ready to start working higher risk maneuvers. Basically, if you are looking to be in the ring 5 nights a week and to get your workouts at the gym, our school is not for you. If you are, like many of our guys, working full time and unable to devote a TON of time weekly to training, we might be an option for you.
How old do I have to be?
Our average enrollment requirements state you must be 18 or older to enter our program. We do allow 16 and 17 year olds to join with parental permission and liability waivers. Occasionally we selectively allow a younger person to join, but that is handled on a person by person basis.
Do you accept females?
We train men and women to wrestle, manage, and referee.
Do you have any references?
Anyone who is curious about our training can contact both Steve Corino and Chris Hamrick for references. Both former ECW stars can be reached through their websites. www.stevecorino.com and www.hiflyingchrishamrick.com
If you are interested in getting involved with the Damned School of Wrestling, or if you have any more questions we did not touch on... Please feel free to mail us at Damnedsite@aol.com